Westmount Here & There
January 4, 2018
A look at events happening in and around Westmount
WHS Talk: Making the Most of Shade
On Tuesday, January 9 from 7 pm to 9 pm, at the Westmount Public Library, 4574 Sherbrooke W, the Westmount Horticultural Society presents guest speaker Larry Hodgson, blogger, lecturer and author of over fifty gardening books.
"No, shade is not the enemy of the garden! If you know how to use it, it can even be your friend", says Larry, who will present on how to plan, plant and maintain your shade garden. He will also introduce dozens of plants that thrive in shady conditions.
Doors open 6:30 pm for tea, coffee and homemade cookies.
Entrance: members free, guests $5.
Everyone welcome.
More information at 514 233-2788.
Image: anoldent via StockPholio.net

Coming soon! City of Westmount Winter Carnival
The City of Westmount's 35th Winter Carnival will take place at King George Park on Saturday, February 3 from 10 am to 4 pm. A fun-filled day of skating, old-fashioned sleigh rides, games on ice, and a sugar shack!
Information at 514 989-5353 (Sports and Recreation).
In the event of inclement weather, some activities will take place in the Westmount Recreation Centre.
Centre Greene Activities
Centre Greene, 1090 Greene, is host to a wide variety of activities for young and old, including a Caregiver's Tea, Themed Activity Nights, Drop-in Daycare, After School Program, Kids' Kitchen, Tumbling Tots Playgroup, Seniors' Lunches, and more!
NEW! Free fitness program for seniors!
Information at 514 931-6202 or consult centregreene.org
Image: courtesy of Centre Greene
Activities at Contactivity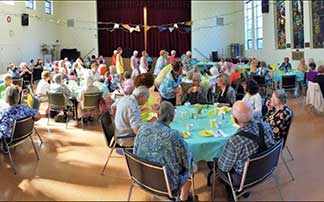 Contactivity Centre, 4695 de Maisonneuve W, is a non-profit community centre that provides a welcoming, caring and safe place for autonomous seniors 60+, where a sense of community and social engagement can be fostered. The centre hosts various courses and interest groups that encompass the mind, body and soul. For information on the Centre's activities call 514 932-2326 or consult contactivitycentre.org
Image: courtesy of Contactivity Centre


Events at Westmount Public Library

4574 Sherbrooke W, Westmount
Events are free but registration is required.
Register at the Adult Desk or call 514 989-5299.
Wednesday, January 10 from 10:15 am to noon
Poetry Workshop with Ann Lloyd. The Westmount Poetry Group meets to compose poetry together. Members propose themes at the beginning of each session and every two weeks after that. Everyone is welcome! In the Boardroom.
Tuesday, January 16 from 12:30 pm to 1:30 pm
Lecture – Celebrating the Cello and the Montreal Chamber Music Festival with Denis Brott, C.M., cellist and founder/Artistic Director of the Montreal Chamber Music Festival. The Westmount Public Library is proud to collaborate with the Women's Canadian Club of Montreal to present a series of monthly lectures. Tickets $10/lecture, available at the door only. A sandwich lunch is available from 11:15 am to 12:15 pm for $6. In Victoria Hall.
Wednesday, January 17 from 7 pm to 9 pm
Reading Group for Joyce's Finnegans Wake: The Boaters and Sifters of ALP. Every third Wednesday of the month, join the circle skimming the surface or sifting through the layers of Finnegans Wake to see what is conceived. Bring an open mind and a copy of the book. In the Westmount Room.
Westmount Library's Events and Programs for Kids
Thursday, January 11 from 4 pm to 5 pm
English Book Club for Teens – Our Favourite Books! Come discuss some wonderful books with other teens. This book club meets once a month. In the Boardroom. (13 to 17 year olds)
Saturday, January 13
From 2 pm to 3 pm (4 to 6 year olds)
From 3 pm to 4 pm (7 to 12 year olds)
LEGO®CLUB
And over at the Atwater Library…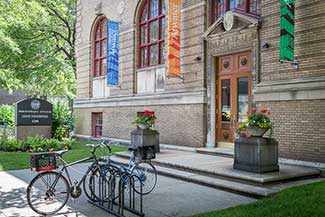 1200 Atwater, Westmount
Information at 514 935-7344.
The Library will close for the holidays on Friday, December 22 at 6 pm and re-open on Tuesday, January 2 at 10 am.
LUNCHTIME SERIES
The Atwater Library Lunchtime Series features once-a-week presentations by leading writers, musicians, intellectuals, scientists, and many more people sharing their knowledge and experience with the Atwater Library community. Lunchtime Series events usually take place on Thursdays (but sometimes are on other days), from 12:30 to 1:30 pm. Admission is free though donations are appreciated! Everyone is welcome and coffee and biscuits are served.
Thursday, January 11 from 12:30 to 1:30 pm
Journalist and author Kristian Gravenor shares some of the nostalgic and little-known true stories in his book, Montreal 375: Tales of Eating, Drinking, Living and Loving.
Thursday, January 18 from 12:30 to 1:30 pm
Geoff Dowd gives an illustrated presentation on his two-brother bicycle journey across the United States via the Southern Tier route from San Diego, California to St. Augustine, Florida, in early 2017.
---
ALZHEIMER CAFÉ
The Atwater Library is partnering with the Alzheimer Society of Montreal to provide a monthly Alzheimer Café for Montrealers in the Library's elegant Reading Room. Each session features socializing, refreshments, live music, and discussion about aspects of life with dementia. Admission is free and everyone is welcome. For more information, contact Tanya Mayhew at tmayhew@atwaterlibrary.ca or 514 935-7344.
Tuesday, January 16 from 1 pm to 3 pm
Marie-Pier Foucault, coordinator of services for people living with dementia with the Alzheimer Society of Montreal, on Ideas for spending quality time with a person who has Alzheimer's disease.
Image: Frédéric Ryan – instagram (@feddomtl)
---
Consult our community calendar for more events.
---
---