Westmount Here & There
June 7, 2018
A look at events happening in and around Westmount
An Unexpected Kindness Youth Exhibition
An Unexpected Kindness, a Westmount community art project, continues at The Gallery at Victoria Hall, 4626 Sherbrooke W, until Friday, June 15. Organized by the Visual Arts Centre, sponsored by the City of Westmount and undertaken in collaboration with the Westmount Public Library, coordinators of the McEntyre Writing Competition. The art projects were created by elementary students in Westmount with the collaboration of artists from the Visual Arts Centre.
Monday to Friday: 10 am to 9 pm
Saturdays: 10 am to 5 pm
Sundays: closed
More information at 514 989-5521.
Image: courtesy of the City of Westmount
Tulips for Breast Cancer
Until mid-June, Montreal Florist John Rodosousakis opens his tulip fields in Laval to support Breast Cancer Research. Choose from over 500,000 tulips of different varieties at this first of its kind U-Pick Tulip Field.
Entry fee: $5 for adults, $3 for children under 5 years
Cost per tulip: $1 with 15 cents going to the Pink in the City charity
The field is located at 4154 boulevard Dagenais O, Laval
More information at 450 639-5145, info@tulipes.ca or visit tulipes.ca
Image: StockPholio.com
Tony Shoes Annual Hotdog BBQ Lunch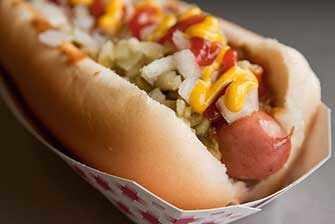 Friday, June 8 and Saturday, June 9 at Tony Shoes, 1346 Greene, it's the Annual Hotdog BBQ Lunch, a charity event for the benefit of the Queen Elizabeth Health Complex. Come enjoy a great hotdog lunch and donate for a great cause!
More information at 514 935-2993.
Image: Steven Depolo via StockPholio.com
Westmount Youth Orchestra Invitation à la danse
On Saturday, June 9 at 7:30 pm in the concert hall of Victoria Hall, 4626 Sherbrooke W, the Westmount Youth Orchestra invites you to the last concert of it's 2017-2018 season under the theme of dance! On the program: A suite from Tchaikovsky's Swan Lake, Brahms' Hungarian Dances no. 5 and 6, Dvorak's Slavonic Dance op. 72 no. 2, and Danzon no. 2 from Marquez. Come live a colorful evening with the Westmount Youth Orchestra!
Tickets: adults $ 15; students and seniors $ 10; children $ 5
Available online at ojw.ca
Lyric Theatre Singers' Journey to Broadway
The Lyric Theatre Singers return to Concordia University's DB Clarke Theatre, 1455 de Maisonneuve (corner of Bishop) June 14, 15 and 16 with four presentations of Journey to Broadway. This new original musical theatre revue, created by directors and longtime Lyric collaborators, Bob Bachelor and Cathy Burns, features forty performers and five musicians.
Join the Singers as they traverse the globe via the Caribbean, Russia, the American Midwest and the high seas! Scheduled musical stops include selections from Anastasia, Chicago, Once on This Island, Company, Rent, Titanic, Waitress, the 2017 Tony Award-winning Dear Evan Hansen, and timeless songs penned by Rodgers and Hammerstein, Kander and Ebb, Cole Porter and many others.
Show dates and times: Thursday, June 14 at 8 pm; Friday, June 15 at 8 pm; Saturday, June 16 at 2 pm and 8 pm. Reserved seating – Wheelchair accessible.
Tickets: $38 regular; $34 students/seniors; $17 children 12 and under.
Group orders of 15+ tickets at $30
Call 514 743-3382, or purchase online at lyrictheatrecompany.com
Image: Tam Lan Truong
Climate Café at Westmount Park United Church
On Friday, June 15 from 7 pm to 9 pm, the public is invited to attend a Climate Café at Westmount Park United Church, 4695 Maisonneuve W.
The Climate Café is a non-religious event open to everyone, organized by Westmount Park United Church as part of its Faith in Nature Centre, a community committed to building lasting relationship and partnerships for the well-being of the environment. Come to meet the growing number of neighbours who are concerned and want to make a difference!
This month Climate Café Montreal is pleased to present A Guided Walk in Westmount Park. You will discover the secret life of trees and the history of Westmount Park followed by a picnic!
Please reserve at westmountparkuc@videotron.ca
Image: Andrew Burlone

Bloomsday Events in Westmount
June 16 is Bloomsday and Westmount joins hundreds of cities around the world that mark this special anniversary for the much-loved Irish author, James Joyce.
Do not miss these dramatic readings from Ulysses by local media personalities and actors. Insight and context comes along with Joycean experts, who will introduce each reading.
"Ulysses Alive": Dramatic Readings
In the Westmount Room of the Library
4574 Sherbrooke W
11 am to 3 pm
Free event. Register at bloomsdaymontreal.com/project/ulysses-alive/
Molly Bloom Soliloquy & Irish Literature/Culture with Kathleen Fee
The Gallery at Victoria Hall
4626 Sherbrooke W
4 pm to 6 pm
Free event. Register at bloomsdaymontreal.com/project/molly-bloom
More information at 514 989-5299.
Centre Greene Activities
Centre Greene, 1090 Greene, is host to a wide variety of activities for young and old, including a Caregiver's Tea, Themed Activity Nights, Drop-in Daycare, After School Program, Kids' Kitchen, Tumbling Tots Playgroup, Seniors' Lunches, and more!
Information at 514 931-6202 or consult centregreene.org
Image: courtesy of Centre Greene
Activities at Contactivity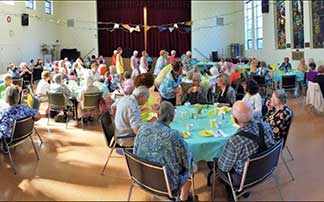 Contactivity Centre, 4695 de Maisonneuve W, is a non-profit community centre that provides a welcoming, caring and safe place for autonomous seniors 60+, where a sense of community and social engagement can be fostered. The centre hosts various courses and interest groups that encompass the mind, body and soul. For information on the Centre's activities call 514 932-2326 or consult contactivitycentre.org
Image: courtesy of Contactivity Centre
Events at Westmount Public Library
4574 Sherbrooke W, Westmount
Events are free but registration is required.
Register at the Adult Desk or call 514 989-5299.
Fridays until June 29 from 1 pm to 3 pm
Tales and Travels. The Tales and Travels Series is a weekly activity for individuals with Alzheimer's disease and other forms of dementia. Spots are limited. Registration is required. For more information, please contact Daniel Míguez de Luca at 514 989-5530 or at dmiguez@westmount.org
Tuesday, June 19 from 7 pm to 9 pm
English Book Club – The Left Hand of Darkness by Ursula K. Le Guin. With Claire Holden Rothman. A lively discussion ensues over coffee. In the Westmount Room.
Wednesday, June 20 from 2 pm to 4 pm
2 O'Clock Series – Rembrandt in Westmount. With Lora Baiocco, Librarian and Archivist at the Westmount Public Library. Tickets available at the Main Desk four weeks prior for library members, remaining tickets one week prior for the general public. In the Westmount Room.
Wednesday, June 20 from 7 pm to 9 pm
Reading Group for Joyce's Finnegans Wake: The Boaters and Sifters of ALP. Every third Wednesday of the month, join the circle skimming the surface or sifting through the layers of Finnegans Wake to see what is conceived. Bring an open mind and a copy of the book. In the Westmount Room.
Westmount Library's Events and Programs for Kids
Registration is required for all events. To register, present your child's library card at the Children's Desk. For more information, call 514 989-5229.
Storytimes take place until June 7.
Baby Rhyme Time (6 to 13 months – in English)
Wednesdays, Group A: 10:35 am to 10:55 am; Group B: 2:10 to 2:30
Babies and Books (0 to 18 months – in English)
Thursdays from 11:15 to noon
Books for Babies (14 to 24 months – in English)
Wednesdays, Group A: from 10:10 am to 10:30 am; Group B: from 11:10 am to 11:30 am
Tales for Toddlers (2 to 3 year olds – in English)
Tuesdays from 10:30 am to 11 am
Storytime & Craft (3 to 6 year olds – in French)
Tuesdays from 4 pm to 4:45 pm
Storytime & Craft (4 to 6 year olds – in English)
Wednesdays from 4 pm to 4:45 pm
Caring Paws (7 to 13 year olds – bilingual)
Wednesdays from 5 pm to 6:30 pm
4 O'Clock Club (7 to 13 year olds – bilingual)
Thursdays from 4 pm to 4:45 pm
---
Friday, June 8 from 5 pm to 6 pm
Reception – Christina Anderson's Stained Glass Panels. Join in for an afternoon tea celebrating the official donation of Christina Anderson's stained glass panels to the Children's Library. The Walter Crane inspired panels will now overlook the Storytelling Garden. In the Storytelling Garden.
Monday, June 11 from 4 pm to 5 pm
Father's Day Craft. In the Storytelling Garden. (4 years +)
Thursday, June 21 from 4 pm to 5 pm
Magic of Science. Do you believe in magic? Discover how magical science can be and the science behind some magic tricks. In the Storytime Room. (7 years +)
Friday, June 22 from 6:30 pm to 7 pm
Launch – StoryWalk® with Anne Villeneuve, Loula and Mister the Monster. A StoryWalk® is a fun actvity that places a children's book along a path in the park. Share your photos with us using the hashtag #WPLStorywalk. Special launch with author and illustrator Anne Villeneuve to kick off the Saint-Jean National Day celebrations in the park. In Westmount Park.
And over at the Atwater Library…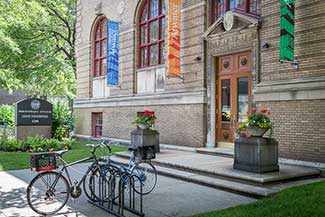 1200 Atwater, Westmount
Information at 514 935-7344.
Image: Frédéric Ryan – instagram (@feddomtl)
LUNCHTIME SERIES
The Atwater Library Lunchtime Series features once-a-week presentations by leading writers, musicians, intellectuals, scientists, and many more people sharing their knowledge and experience with the Atwater Library community. Lunchtime Series events usually take place on Thursdays (but sometimes are on other days), from 12:30 to 1:30 pm. Admission is free though donations are appreciated! Everyone is welcome and coffee and biscuits are served.
Thursday, June 7 from 12:30 to 1:30 pm
Helen Antoniou gives a talk on her new book, Back to Beer… and Hockey: The Story of Eric Molson, in conversation with Atwater Library President John Aylen.
Thursday, June 14 from 12:30 to 1:30 pm
Festival Bloomsday Montréal presents a talk by historian Sam Allison on The Irish in Canada: Before, During and After the Famine with a focus on Montreal. The Quebec Anglophone Heritage Network is a co-sponsor.
---
ATWATER LIBRARY BOOK CLUB
The Atwater Library Book Club is led with intelligence and skill by author Mary Soderstrom.
Wednesday, June 13 from 7:30 to 9 pm
The Noise of Time by Julian Barnes. A novel based on Russian composer Shostakovich's fraught relationship with the Soviet regime.
---
ALZHEIMER CAFÉ
The Atwater Library is partnering with the Alzheimer Society of Montreal to provide a monthly Alzheimer Café for Montrealers in the Library's elegant Reading Room. Each session features socializing, refreshments, live music, and discussion about aspects of life with dementia. Admission is free and everyone is welcome. For more information, contact Tanya Mayhew at tmayhew@atwaterlibrary.ca or 514 935-7344.
Tuesday, June 19 from 1 pm to 3 pm
Carol Jones, dance therapist at the National Centre for Dance Therapy / Les Grands Ballets Canadiens Dance therapy.
---
Consult our community calendar for more events.
---
---