Westmount Here & There
December 6, 2018
A look at events happening in and around Westmount
The Gallery at Victoria Hall – Anthony Hobbs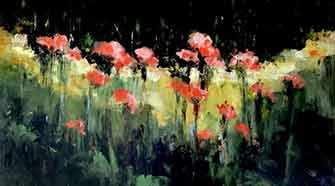 The Gallery at Victoria Hall, 4626 Sherbrooke W, presents paintings by Anthony Hobbs until Friday, December 14.
Gallery hours – Monday to Friday: 10 am to 9 pm / Saturday: 10 am to 5 pm.
More information at 514 989-5265.
Image: painting by Anthony Hobbs
Chanukah Celebration
On Thursday, December 6 from 5 pm to 6:30 pm, the City of Westmount, in collaboration with Congregation Shaar Hashomayim and Temple Emmanu-El-Beth Sholom, invite the community to celebrate the festival of lights.
Candle lighting and reception at the Lawn Bowling Clubhouse, 401 Kensington, followed by ceremonial lighting outside City Hall. Friends from all backgrounds, faiths, and religions are welcome!
Information at 514 989-5226.
Image: via StockPholio.com
Candlelight Christmas 2018
The Lyric Theatre Singers return to Concordia's beautiful Loyola Chapel, 7121 Sherbrooke W, Montreal, to present their highly anticipated Candlelight Christmas concerts from December 6 to 9.
Musical director Bob Bachelor and the Singers present fresh and unique arrangements of carols, holiday standards and rare gems, ranging in styles from Celtic and Gospel to Pop and Swing, including Traditional, Jazz and seasonal Broadway tunes. Lyric's rich sound is further enhanced by a small but impressive team of musicians: Chad Linsley (piano), Sheila Hannigan (cello), Tim Malloch (flute), Robin Best (harp), Carolyn Peters (violin), and Chris Barillaro, returns to Lyric to take up his position on keyboard and percussion for the festive musical feast.
Show dates and times: Thursday, December 6 and Friday, December 7 at 8 pm ; Saturday, December 8 at 4 pm ; and Sunday, December 9 at 1:30 pm.
General admission seating – wheelchair accessible
Tickets: adults $30 / students and seniors $28 / children 12 and under $14
Parking $6 on Campus, adjacent to the Chapel
Box Office: 514 743-3382, lyrictheatreboxoffice@gmail.com or lyrictheatrecompany.com
Image: courtesy of The Lyric Theatre Singers
The People's Gospel Choir Concert
The Rotary Club of Westmount presents its annual concert featuring the People's Gospel Choir on Saturday, December 8, at 7:30 pm, in Victoria Hall, 4626 Sherbrooke W. In addition to Holiday favourites, the Choir and special guest Sylvie DesGroseilliers will perform an exceptional tribute to Aretha Franklin.
Tickets: $25 adults / $10 children under 12. Cash only.
Tickets available at Victoria Hall or purchase online at Eventbrite.
More information at 514 935-3344
Image: courtesy of the People's Gospel Choir
Neighbourhood Carolling
On Sunday, December 9 from 1 pm, there will be an afternoon of carolling at the Westmount Lawnbowling Club House, 401 Kensington. Bring your family and join your neighbours for an afternoon singing all your favourite holiday songs!
Hot beverages and soft drinks will be served. Please bring a sweet or savoury treat to share. Donations will be accepted for Chez Doris, The Open Door and the Old Brewery Mission.
More information at 514 989-5226.
Image: Janet Beasley via StockPholio.net
International Human Rights Day / Sing-Along Messiah
Monday, December 10 from 4 pm to 6:30 pm at Christ Church Cathedral, 635 Sainte-Catherine W (McGill Metro), there will be an interfaith event honouring the 70th anniversary of the Universal Declaration of Human Rights.
Doors will be open at 4 pm for conversation, tea and an opportunity to sign letters of support for victims of injustice as suggested by Amnesty International. The formal programme of music, readings and prayers starts at 5:30.
More information at humanrightsday@montrealcathedral.ca
---
And on Saturday, December 15 at 4:30 pm, singers are invited to join a great Christmas tradition in Montreal, the ever so popular Sing-Along Messiah.
The concert starts with a dress rehearsal of the chorus parts, followed by a shortened execution of the Messiah, including professional soloists as well as an orchestra of "la crème de la crème" of the Schulich Music School of McGill University, all under the direction of the marvellous raising conductor, Walter Mahabir.
Donate to the Messiah fund at canadahelps.org 
Image: Martin New – Montreal in Pictures
27th Annual Toy Tea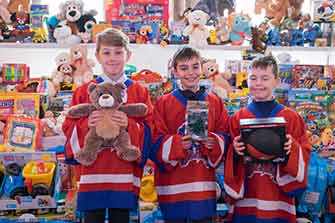 Wednesday, December 12 from 9:30 am to 2:30 pm at Victoria Hall, 4626 Sherbrooke W, it's the 27th Annual Toy Tea with more than one dozen Montreal school choirs performing throughout the day.
Everyone is welcome to attend. There is no entrance fee, but guests are asked to bring a new, unwrapped, non-violent toy for children aged 13 and under.
For teenagers, there is a collection to purchase gift cards at various Montreal stores.
For more information visit toyteamontreal.org 
Image: courtesy Toy Tea Montreal
Christmas Tree Lighting
On Wednesday, December 12 at 6 pm, join City Council members for this holiday celebration in the Lawnbowling Club, 401 Kensington.
The tree lighting will be held outside City Hall, followed by music, hot chocolate and treats in the Lawn Bowling Clubhouse.
More information at 514 989-5226.
Image: Pierre Tourigny via StockPholio.net
NDG-Westmount Comité de bon voisinage
The next meeting of the NDG-Westmount Comité de bon voisinage will be held Wednesday, December 12 from 7 pm to 9 pm, at Westmount City Hall, 4333 Sherbrooke W. In order to continue the dialogue initiated by the McGill University Health Center (MUHC), the Department of Transportation, Sustainable Mobility and Transportation Electrification (MTQ) has set up a Comité de bon voisinage (good neighbour committee) in Notre-Dame-of-Grâce/Westmount.
All citizens concerned by the current Turcot reconstruction project are urged to attend.
Image: Chicoutimi – Own work, CC0, commons.wikimedia.org
Climate Café at Westmount Park United Church
The Climate Café is a non-religious event open to everyone, organized by Westmount Park United Church as part of its Faith in Nature Centre, a community committed to building lasting relationship and partnerships for the well-being of the environment. Come to meet the growing number of neighbours who are concerned and want to make a difference!
Climate Café relaunches this month with the second of two vegetarian cooking classes, taking place on Thursday, December 13 at 6 pm and animated by Rekha from Contactivity luncheons. The event will be held in the WPUC kitchen.
5$ entry fee  to cover for ingredients.
Places are limited so please RSVP at faithinnature.wpuc@gmail.com
For more information contact Rev. Neil Whitehouse at westmountparkuc@videotron.ca
Image: Patricia Dumais
December Social: Projecting the WHA's Image
On Thursday, December 13 from 7 pm to 9 pm at Victoria Hall, 4626 Sherbrooke W, the Westmount Historical Association will hold its traditional December celebration with drinks and sweets in the Gallery at Victoria Hall. An opportunity to see how the WHA's image is projected visually through its website, newsletters, and posters.
Doors open at 6:30 pm.
Free for members and $5 for non members.
Additional information at info@westmounthistorical.org
Dramatis Personae's Imagine This…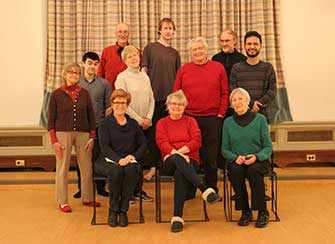 Dramatis Personae, Westmount's community theatre, presents its Fall production for 2018, Imagine This… , a selection of six short and quirky plays directed by Christopher Moore. Enjoy a show that promises to take you out of the ordinary and into other imaginary places.
In the Lodge Room of Victoria Hall, 4626 Sherbrooke W.
Thursday, December 13 at 7:30 pm; Saturday, December 15 at 2 pm; Sunday, December 16 at 2 pm and Monday, December 17 at 7:30 pm
Admission: suggested donation of $10.
Limited seating. Reserve at theatrewestmount.com
More information at 514 484-2016.
Image: courtesy of Dramatis Personae
Handel's Messiah
Friday, December 14 at 7 pm in Victoria Hall, 4626 Sherbrooke W, the Award-winning Montreal group Ensemble Caprice will perform Handel's Messiah
Tickets: $10
Available at Victoria Hall, the Westmount Public Library, or online at Eventbrite.ca
More information at 514 989-5226.
Image: courtesy Ensemble Caprice
Westmount Youth Orchestra Christmas Gala Concert
Saturday, December 15 at 3 pm in the Oscar Peterson Concert Hall, 7141 Sherbrooke O, Montreal, come listen to the biggest classical Christmas hits from Handel, Bach, Vivaldi and Leroy Anderson, played by the 150 musicians of the three ensembles of the Westmount Youth Orchestra.
The String Ensemble, Dolce Musica and the Symphony Orchestra offers you a wonderful concert under the direction of Jean MacRae, that will not miss the occasion to put you into the Christmas spirit!
More information at 514 395-9425 or visit ojw.ca 
Tickets can be purchased from members of the orchestra, at the door or online at ojw.ca/shop 
Orpheus Singers Christmas Concert
Come join the Orpheus Singers on Saturday, December 15 at 7:30 pm for their Von Himmel Hoch Christmas Concert with music by Bach, Buxtehude and Mozart, at the Church of St. John the Evangelist, 137 Président-Kennedy, Montréal (Métro Place-des-Arts, bus 80). Featuring Federico Andreoni on organ and a musical ensemble.
Tickets are $20 at the door / students and seniors $15 at the door
More information at 514 693-1634 or visit orpheusmontreal.org
Image: courtesy of the Orpheus Singers
Centre Greene Activities
Centre Greene, 1090 Greene, is host to a wide variety of activities for young and old, including a Caregiver's Tea, Themed Activity Nights, Drop-in Daycare, After School Program, Kids' Kitchen, Tumbling Tots Playgroup, Seniors' Lunches, and more!
Information at 514 931-6202 or consult centregreene.org
Image: courtesy of Centre Greene
Activities at Contactivity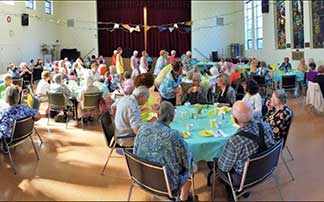 Contactivity Centre, 4695 de Maisonneuve W, is a non-profit community centre that provides a welcoming, caring and safe place for autonomous seniors 60+, where a sense of community and social engagement can be fostered. The centre hosts various courses and interest groups that encompass the mind, body and soul. For information on the Centre's activities call 514 932-2326 or consult contactivitycentre.org
Image: courtesy of Contactivity Centre
Events at Westmount Public Library
4574 Sherbrooke W, Westmount
Events are free but registration is required.
Register at the Adult Desk or call 514 989-5299.
Fridays until December 14 from 1 pm to 3 pm
Tales and Travels. A weekly activity for individuals with Alzheimer's disease and other forms of dementia. Registration is required and spaces are limited. More information at 514 989-5530 or at mdenisdaigneault@westmount.org. In the Westmount Room.
Wednesday, December 12 from 10:15 am to noon
Poetry Workshop with Ann Lloyd. The Westmount Poetry Group meets to compose poetry together. Members propose themes at the beginning of each session and every two weeks after that. Everyone is welcome! In the Westmount Room.
Wednesday, December 12 from 2 pm to 4 pm
2 O'Clock Series – Alexander Calder: Radical Inventor. With Grace Powell, Montreal Museum of Fine Arts. Tickets available at the Main Desk four weeks prior for library members, remaining tickets one week prior for the general public. In the Westmount Room.
Wednesday, December 19 from 7 pm to 9 pm
Reading Group for Joyce's Finnegans Wake: The Boaters and Sifters of ALP. Every third Wednesday of the month, join the circle skimming the surface or sifting through the layers of Finnegans Wake to see what is conceived. Bring an open mind and a copy of the book. In the Westmount Room.
Westmount Library's Events and Programs for Kids
Registration is required for all events. To register, present your child's library card at the Children's Desk. For more information, call 514 989-5229.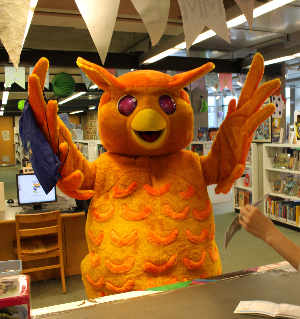 Thursday, December 6 from 4 pm to 5 pm
English Book Club for Teens – And Then There Were None by Agatha Christie. Come discuss some wonderful books with other teens. This book club meets once a month. In the Boardroom. (13 to 17 year olds)
Thursday, December 6 from 4 pm to 5 pm
Advanced Readers Book Club – Number the Stars by Lois Lowry. Come discuss some challenging books with other kids. Meetings are once a month. (9 years +)
Saturday, December 8 from 2 pm to 3:30 pm
Writing Workshop for Tweens. With Andrew Katz, MA in Creative Writing. In the Westmount Room. (9 to 13 years)
And over at the Atwater Library…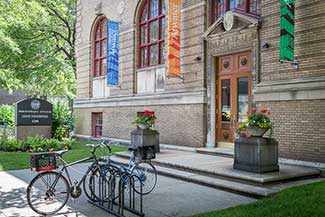 1200 Atwater, Westmount
Information at 514 935-7344.
Image: Frédéric Ryan – instagram (@feddomtl
LUNCHTIME SERIES
The Atwater Library Lunchtime Series features once-a-week presentations by leading writers, musicians, intellectuals, scientists, and many more people sharing their knowledge and experience with the Atwater Library community. Lunchtime Series events usually take place on Thursdays (but sometimes are on other days), from 12:30 to 1:30 pm. Admission is free though donations are appreciated! Everyone is welcome and coffee and biscuits are served.
Thursday, December 6 from 12:30 to 1:30 pm
Author and collector Peter Blair presents Scotland in 3D. Prepare to be astounded by Victorian ingenuity and the beauty of Scotland. 3D glasses will be provided.
Thursday, December 13 from 12:30 to 1:30 pm
A trio of singers from Opéra Café Concert collective sing Christmas carols and seasonal favourites: Christine Jay, soprano; Jaime Sandoval, tenor; and Léo McKenna, bass-baritone. Facebook event.
Thursday, December 20 from 12:30 to 1:30 pm
Poet Bill Evans, a Celt by birth, reads Dylan Thomas' A Child's Christmas in Wales.
---
ATWATER LIBRARY BOOK CLUB
The Atwater Library Book Club is led with intelligence and skill by author Mary Soderstrom.
Wednesday, December 12 from 7:30 pm to 9 pm
A discussion on The Little Red Chairs by Edna O'Brien.
---
ALZHEIMER CAFÉ
The Atwater Library is partnering with the Alzheimer Society of Montreal to provide a monthly Alzheimer Café for Montrealers in the Library's elegant Reading Room. Each session features socializing, refreshments, live music, and discussion about aspects of life with dementia. Admission is free and everyone is welcome. For more information, contact Tanya Mayhew at tmayhew@atwaterlibrary.ca or 514 935-7344.
Tuesday, December 18 from 1 pm to 3 pm
A presentation on The Holidays and Dementia: A Space between Stress and Resilience by Christiane Proulx, M.A. Creative Arts Therapies, counsellor at the Alzheimer Society of Montreal. Discussion with refreshments.
---
Feature image: Andrew Burlone
Consult our community calendar for more events.
---
---