Westmount Here & There
December 13, 2018
A look at events happening in and around Westmount
The Gallery at Victoria Hall – Anthony Hobbs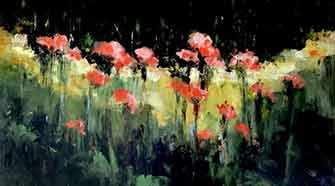 The Gallery at Victoria Hall, 4626 Sherbrooke W, presents paintings by Anthony Hobbs until Friday, December 14.
Gallery hours – Monday to Friday: 10 am to 9 pm / Saturday: 10 am to 5 pm.
More information at 514 989-5265.
Image: painting by Anthony Hobbs
Climate Café at Westmount Park United Church
The Climate Café is a non-religious event open to everyone, organized by Westmount Park United Church as part of its Faith in Nature Centre, a community committed to building lasting relationship and partnerships for the well-being of the environment. Come to meet the growing number of neighbours who are concerned and want to make a difference!
Climate Café relaunches this month with the second of two vegetarian cooking classes, taking place on Thursday, December 13 at 6 pm and animated by Rekha from Contactivity luncheons. The event will be held in the WPUC kitchen.
5$ entry fee  to cover for ingredients.
Places are limited so please RSVP at faithinnature.wpuc@gmail.com
For more information contact Rev. Neil Whitehouse at westmountparkuc@videotron.ca
Image: Patricia Dumais
December Social: Projecting the WHA's Image
On Thursday, December 13 from 7 pm to 9 pm at Victoria Hall, 4626 Sherbrooke W, the Westmount Historical Association will hold its traditional December celebration with drinks and sweets in the Gallery at Victoria Hall. An opportunity to see how the WHA's image is projected visually through its website, newsletters, and posters.
Doors open at 6:30 pm.
Free for members and $5 for non members.
Additional information at info@westmounthistorical.org
Dramatis Personae's Imagine This…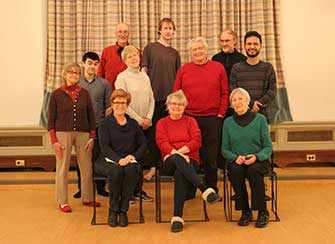 Dramatis Personae, Westmount's community theatre, presents its Fall production for 2018, Imagine This… , a selection of six short and quirky plays directed by Christopher Moore. Enjoy a show that promises to take you out of the ordinary and into other imaginary places.
In the Lodge Room of Victoria Hall, 4626 Sherbrooke W.
Thursday, December 13 at 7:30 pm; Saturday, December 15 at 2 pm; Sunday, December 16 at 2 pm and Monday, December 17 at 7:30 pm
Admission: suggested donation of $10.
Limited seating. Reserve at theatrewestmount.com
More information at 514 484-2016.
Image: courtesy of Dramatis Personae
Handel's Messiah
Friday, December 14 at 7 pm in Victoria Hall, 4626 Sherbrooke W, the Award-winning Montreal group Ensemble Caprice will perform Handel's Messiah
Tickets: $10
Available at Victoria Hall, the Westmount Public Library, or online at Eventbrite.ca
More information at 514 989-5226.
Image: courtesy Ensemble Caprice
Westmount Youth Orchestra Christmas Gala Concert
Saturday, December 15 at 3 pm in the Oscar Peterson Concert Hall, 7141 Sherbrooke O, Montreal, come listen to the biggest classical Christmas hits from Handel, Bach, Vivaldi and Leroy Anderson, played by the 150 musicians of the three ensembles of the Westmount Youth Orchestra.
The String Ensemble, Dolce Musica and the Symphony Orchestra offers you a wonderful concert under the direction of Jean MacRae, that will not miss the occasion to put you into the Christmas spirit!
More information at 514 395-9425 or visit ojw.ca 
Tickets can be purchased from members of the orchestra, at the door or online at ojw.ca/shop 
Orpheus Singers Christmas Concert
Come join the Orpheus Singers on Saturday, December 15 at 7:30 pm for their Von Himmel Hoch Christmas Concert with music by Bach, Buxtehude and Mozart, at the Church of St. John the Evangelist, 137 Président-Kennedy, Montréal (Métro Place-des-Arts, bus 80). Featuring Federico Andreoni on organ and a musical ensemble.
Tickets are $20 at the door / students and seniors $15 at the door
More information at 514 693-1634 or visit orpheusmontreal.org
Image: courtesy of the Orpheus Singers
Centre Greene Activities
Centre Greene, 1090 Greene, is host to a wide variety of activities for young and old, including a Caregiver's Tea, Themed Activity Nights, Drop-in Daycare, After School Program, Kids' Kitchen, Tumbling Tots Playgroup, Seniors' Lunches, and more!
Information at 514 931-6202 or consult centregreene.org
Image: courtesy of Centre Greene
Activities at Contactivity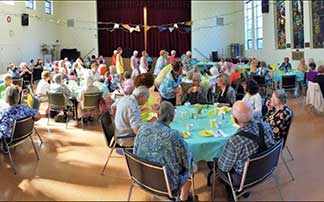 Contactivity Centre, 4695 de Maisonneuve W, is a non-profit community centre that provides a welcoming, caring and safe place for autonomous seniors 60+, where a sense of community and social engagement can be fostered. The centre hosts various courses and interest groups that encompass the mind, body and soul. For information on the Centre's activities call 514 932-2326 or consult contactivitycentre.org
Image: courtesy of Contactivity Centre
Events at Westmount Public Library
4574 Sherbrooke W, Westmount
Events are free but registration is required.
Register at the Adult Desk or call 514 989-5299.
Fridays until December 14 from 1 pm to 3 pm
Tales and Travels. A weekly activity for individuals with Alzheimer's disease and other forms of dementia. Registration is required and spaces are limited. More information at 514 989-5530 or at mdenisdaigneault@westmount.org. In the Westmount Room.
Wednesday, December 19 from 7 pm to 9 pm
Reading Group for Joyce's Finnegans Wake: The Boaters and Sifters of ALP. Every third Wednesday of the month, join the circle skimming the surface or sifting through the layers of Finnegans Wake to see what is conceived. Bring an open mind and a copy of the book. In the Westmount Room.
Westmount Library's Events and Programs for Kids
Registration is required for all events. To register, present your child's library card at the Children's Desk. For more information, call 514 989-5229.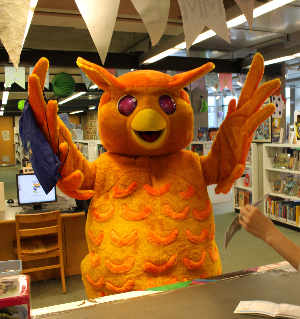 Thursday, December 6 from 4 pm to 5 pm
English Book Club for Teens – And Then There Were None by Agatha Christie. Come discuss some wonderful books with other teens. This book club meets once a month. In the Boardroom. (13 to 17 year olds)
Thursday, December 6 from 4 pm to 5 pm
Advanced Readers Book Club – Number the Stars by Lois Lowry. Come discuss some challenging books with other kids. Meetings are once a month. (9 years +)
Saturday, December 8 from 2 pm to 3:30 pm
Writing Workshop for Tweens. With Andrew Katz, MA in Creative Writing. In the Westmount Room. (9 to 13 years)
Thursday, December 27 at 2 pm
Holiday Film – Incredibles 2. In the Westmount Room. (6 years +)
And over at the Atwater Library…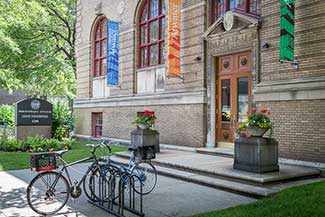 1200 Atwater, Westmount
Information at 514 935-7344.
Image: Frédéric Ryan – instagram (@feddomtl
LUNCHTIME SERIES
The Atwater Library Lunchtime Series features once-a-week presentations by leading writers, musicians, intellectuals, scientists, and many more people sharing their knowledge and experience with the Atwater Library community. Lunchtime Series events usually take place on Thursdays (but sometimes are on other days), from 12:30 to 1:30 pm. Admission is free though donations are appreciated! Everyone is welcome and coffee and biscuits are served.
Thursday, December 13 from 12:30 to 1:30 pm
A trio of singers from Opéra Café Concert collective sing Christmas carols and seasonal favourites: Christine Jay, soprano; Jaime Sandoval, tenor; and Léo McKenna, bass-baritone. Facebook event.
Thursday, December 20 from 12:30 to 1:30 pm
Poet Bill Evans, a Celt by birth, reads Dylan Thomas' A Child's Christmas in Wales.
---
ALZHEIMER CAFÉ
The Atwater Library is partnering with the Alzheimer Society of Montreal to provide a monthly Alzheimer Café for Montrealers in the Library's elegant Reading Room. Each session features socializing, refreshments, live music, and discussion about aspects of life with dementia. Admission is free and everyone is welcome. For more information, contact Tanya Mayhew at tmayhew@atwaterlibrary.ca or 514 935-7344.
Tuesday, December 18 from 1 pm to 3 pm
A presentation on The Holidays and Dementia: A Space between Stress and Resilience by Christiane Proulx, M.A. Creative Arts Therapies, counsellor at the Alzheimer Society of Montreal. Discussion with refreshments.
---
Feature image: Andrew Burlone
Consult our community calendar for more events.
---
---