Westmount Here & There
July 25, 2019
A look at events happening in and around Westmount
Summer Group Exhibition 2019
The Gallery at Victoria Hall, 4626 Sherbrooke W, is proud to present the works of Carlos Angel, Hala Farhat, Jaroslava Miler, Lisa Osterland, Tom Thompson and Maureen Tracey, until Friday, August 16.
Open Monday to Friday, 10 am to 9 pm; Saturday, 10 am to 5 pm; Sunday, closed.
More information at 514 989-5265.
Image: courtesy City of Westmount
SUMMER CONCERTS 2019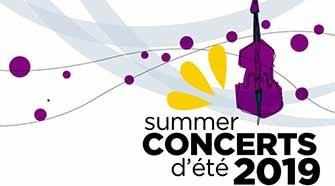 Enjoy jazz, classical and popular music on Sundays at 2 pm by the lagoon in Westmount Park – bring your picnic and a chair!
July 28 – Duo Contra-Danza
Classical
August 4 – Lady and the Tramps
Blues
August 11 – Words and Music
Rain venue: Victoria Hall, 4626 Sherbrooke W.
More information at 514 989-5226.
Frank Scott Poetry Day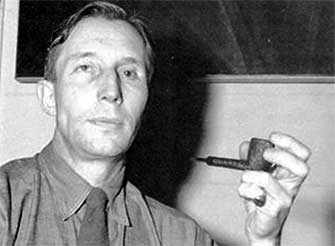 Frank Scott Poetry Day events will take place on Thursday, August 1 at Centre Greene, 1090 Greene.
SCHEDULE
2 pm to 3:30 pm – Workshop: Serious Play – Generating and Revising Poetry with Surrealist Techniques
With Mark Yakich, Poet, Gregory F. Curtin, S.J., Distinguished Professor of English at Loyola University, and editor of New Orleans Review. His most recent books are Spiritual Exercises, a collection of poems, and Poetry: A Survivor's Guide, an unconventional guide to reading and writing poems.
Admission: $15
4 pm to 5:30 pm – Workshop: Becoming the Acknowledged Legislators of the World (Writing with Passion)
With George Elliott Clarke, OC ONS, Canadian poet, playwright and literary critic who served as the Poet Laureate of Toronto from 2012 to 2015 and as the 2016-2017 Canadian Parliamentary Poet Laureate.
Admission: $25
7:15 pm to 8:30 pm – Frank Scott Birthday Reading
Featuring George Elliott Clarke, and others.
Admission: $10
LIMITED SEATING
Reserve a seat or register for a workshop at publicpoetry@gmail.com
Image: courtesy Library and Archives Canada/PA-1162815
Shakespeare-in-the-Park – Measure for Measure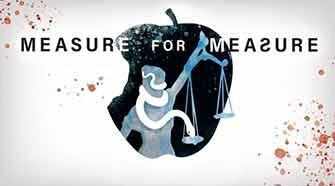 Repercussion Theatre presents Shakespeare's, Measure for Measure. Bring a chair and enjoy the bard under the stars.
Power. Corruption. Morality and justice. Surviving in a gritty world without getting your hands dirty isn't easy. Written over 400 years ago, Shakespeare's dark comedy might just as easily have been ripped from today's headlines. With a company of ten outstanding actors and a striking design, this funny and provocative show will have audiences talking all the way home from the park.
Saturday and Sunday, August 10 and 11 at 7 pm in Westmount Park.
Entrance is by freewill donation.
More information at 514 989-5226 or repercussiontheatre.com 
Centre Greene Activities
Centre Greene, 1090 Greene, is host to a wide variety of activities for young and old, including a Caregiver's Tea, Themed Activity Nights, Drop-in Daycare, After School Program, Kids' Kitchen, Tumbling Tots Playgroup, Seniors' Lunches, and more!
Centre Greene Summer Day Camp
For children 5 to 11 years old. Runs from June 25 to August 16.
Summer Day Camp Info Brochure
For more information, call 514 931-6202 or visit centregreene.org 
Image: courtesy of Centre Greene
Activities at Contactivity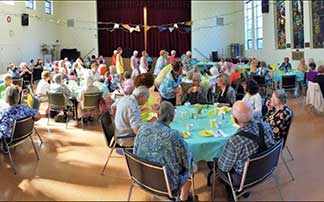 Contactivity Centre, 4695 de Maisonneuve W, is a non-profit community centre that provides a welcoming, caring and safe place for autonomous seniors 60+, where a sense of community and social engagement can be fostered. The centre hosts various courses and interest groups that encompass the mind, body and soul. For information on the Centre's activities call 514 932-2326 or consult contactivitycentre.org
Image: courtesy of Contactivity Centre
Events at Westmount Public Library
4574 Sherbrooke W, Westmount
Events are free but registration is required.
Register at the Adult Desk or call 514 989-5299.
Tuesday, July 30 from 2 pm to 4 pm
Summer Film Club – Won't You Be My Neighbor? (2018). Movies are free and do not require a ticket. In Victoria Hall.
---
Westmount Library's Events and Programs for Kids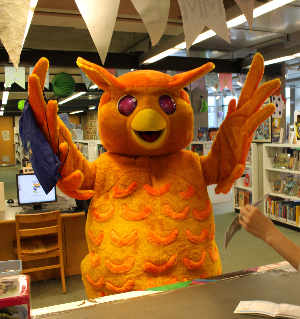 Registration is required for all events. To register, present your child's library card at the Children's Desk. For more information, call 514 989-5229.
Tuesdays until August 20 from 4 pm to 4:45 pm
Sensory Storytime. With Isabelle Toussaint. Circle storytime and crafts for kids on the autism spectrum. In the Westmount Room (5 to 11 years)
Wednesdays until August 21 from 10:30 am to 11 am
Family Storytime and Songs. No registration is necessary. Participants will be welcomed on a first-come, first-served basis. In the Storytime Room.  (6 months to 36 months)
Thursday, July 25 from 4 pm to 5 pm
Fossils. With the Redpath Museum. Learn about fossils such as dinosaurs from Alberta and even older animals such as trilobites that lived around Montreal 500 million years ago! Make yourself a plaster replica of a small fossil. In the Storytime Room (6 years +)
Wednesday, July 31 from 4 pm to 4:45 pm
The Natural World: Art and Stories – Cool Campout. In the Storytime Room (3 to 6 years)
Thursday, August 1 from 4 pm to  5 pm
Walloping Weather! With Mad Science. Are you fascinated by the weather? Come try out tools that meteorologists use to measure weather. In the Storytime Room (5 years +)
Tuesday, August 6 from 4 pm to 4:30 pm
Findlay's Campout – photos! Join in at Findlay's Campout where there will be picture taking of you and your favourite book with mascot Findlay Featherton!
Wednesday, August 7 from 4 pm to 4:45 pm
The Natural World: Art and Stories – Frogs and Friends. In the Storytime Room (3 to 6 years)
Thursday, August 8 from 11 am to noon 
Nature Music in the Park. With music educator Alison Notkin. Learn songs about birds, bees, squirrels, caterpillars changing into butterflies and earthworms turning the garden's soil. In Westmount Park (3 to 7 years)
Saturday, August 10 from 6:30 pm to 9:30 pm
After Hours Campout in the Library. Join in for some songs, stories, and games! (8 years +)
---
And over at the Atwater Library…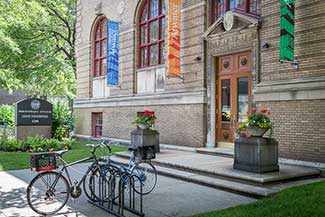 1200 Atwater, Westmount
Information at 514 935-7344.
Image: Frédéric Ryan – instagram (@feddomtl
SUMMER BREAK
The Lunchtime Series, Financial Literacy Series, Book Club, and Alzheimer Café recess for most of the summer and resume in September.
---
ATWATER LIBRARY CONNECT TO A DIGITAL LIFESTYLE PROJECT
Wednesdays all summer from noon to 3 pm
Internet Peer Café, a series of gatherings of seniors and young people working on digital media projects. Come and enjoy collaboratively creating digital stories, blogspots and podcasts for part or all of the afternoon. ADVANCE REGISTRATION is required: Richard Cassidy at 514-935-7344 or richard@atwaterlibrary.ca
With funding from the Government of Canada.
Thursdays all summer from 1:30 pm to 3:30 pm
Digital Help Hub. A computer instructor will be in the main lobby to provide 20 to 30 minutes of FREE help with your cell phone, tablet or computer. ADVANCE REGISTRATION is required: Richard Cassidy at 514-935-7344 or richard@atwaterlibrary.ca
With funding from the Government of Canada.
---
LAWN BOOK SALE
Thursday, August 1 from 10 am to 3 pm
On the Library's beautiful grounds with a wonderful variety of books at rock-bottom prices.
NOTE: the regular book sales – Wednesday through Saturday, noon to 3 pm – have been relocated to the main-floor Computer Centre for the duration of the elevator construction project.
---
SEED LIBRARY
Calling Gardeners! The Seed Library has resources to get you started this season with packets of seeds for planting indoors – beans, peas, tomatoes, lettuce and other vegetables – as well as a growing collection of books on gardening and seed saving. One example is Starting Seeds: How To Grow Healthy, Productive Vegetables, Herbs and Flowers From Seed by Barbara W. Ellis.
---
Feature image: Duo Contra-Danza, courtesy of Duo Contra-Danza

Consult our community calendar for more events.


---
---