Westmount Here & There
August 22, 2019
A look at events happening in and around Westmount
ExpoCity Photo Contest
The City of Westmount is looking for beautiful photos that showcase the best of the community's beauty, vitality and diversity. The contest winner will have his or her images displayed in the reception area of City Hall for an entire year.
The theme of the contest is The Spirit of Westmount in images.
Residents are invited to submit their three best photos to westmount.org/expocity no later than September 1, 2019.
Carmina Choir Summer Sing-alongs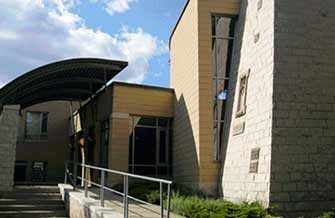 Join in for fun and relaxed summer sing-alongs, each Tuesday evening all summer long from 7:30 pm to 9 pm in the Phoenix Hall of the Unitarian Church of Montreal, 5035 de Maisonneuve W (Metro Vendome). You are invited to bring copies of a favorite song to sing and share with the group, or just come along and see what musical surprises await in this fun and relaxed chorale atmosphere.
Contact Aldyth Harrison at 514 739-3830, lithjama@gmail.com or Susan Fitch at 514 733-8935, susanruthfitch@yahoo.ca
Image: courtesy of the Unitarian Church of Montreal
Westmount Park Campout
Does your family enjoy camping? Bring your tent and spend the night in Westmount Park! BBQ, activities, and breakfast organized by the Westmount Scouts.
Friday, August 23
4 pm to 7 pm: Check-in and set up
5 pm to 7:30 pm: BBQ dinner; all items $1- $3
8 pm: Movie in the Park. How to Train Your Dragon: The Hidden World (2019)
10:30 pm: Lights out!
Saturday, August 24
7:30 am to 9 am: Pancake breakfast ($2)
10:30 am: Break camp
$15 per family. Westmount residents may register their families in person at Victoria Hall (4626 Sherbrooke W). Recent proof of address required. Space is limited! Bring your own mug or reusable water bottle.
More information at 514 989-5226.
Image: courtesy of the City of Westmount
Centre for Community, Peace and Ecology
On Thursday, August 29 at 7 pm at Westmount Park United Church, 4695 de Maisonneuve W, a discussion to create a citizen-run not-for-profit to manage and increase the programme of activities at Westmount Park United Church will take place.
Those interested in attending this meeting should contact the church for an invitation at westmountparkuc@videotron.ca
Image: Patricia Dumais
STARGAZING AT THE LOOKOUT
On Saturday, September 7 at 7:30 pm at the Summit Lookout, join members of the Montreal Centre of the Royal Astronomical Society of Canada to observe the night skies through their telescopes. Learn about the planets and stars from knowledgeable astronomers.
This free event is organized by Westmount's Healthy City Project and Community Events Division. In the event of rain or poor viewing conditions, the event will be cancelled.
More information at 514 989-5226.
Image: a4gpa via StockPholio.com
Centre Greene Activities
Centre Greene, 1090 Greene, is host to a wide variety of activities for young and old, including a Caregiver's Tea, Themed Activity Nights, Drop-in Daycare, After School Program, Kids' Kitchen, Tumbling Tots Playgroup, Seniors' Lunches, and more!
Centre Greene Summer Day Camp
For children 5 to 11 years old. Runs from June 25 to August 16.
Summer Day Camp Info Brochure
For more information, call 514 931-6202 or visit centregreene.org 
Image: courtesy of Centre Greene
Activities at Contactivity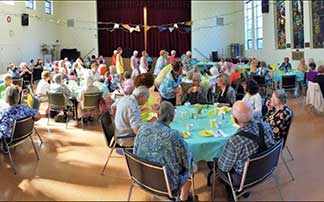 Contactivity Centre, 4695 de Maisonneuve W, is a non-profit community centre that provides a welcoming, caring and safe place for autonomous seniors 60+, where a sense of community and social engagement can be fostered. The centre hosts various courses and interest groups that encompass the mind, body and soul. For information on the Centre's activities call 514 932-2326 or consult contactivitycentre.org
Image: courtesy of Contactivity Centre
Events at Westmount Public Library
4574 Sherbrooke W, Westmount
Events are free but registration is required.
Register at the Adult Desk or call 514 989-5299.
Wednesday, September 4 from 7 pm to 9 pm
Film Club – Documentary: The Biggest Little Farm (2018). Documentarian John Chester and his wife Molly work to develop a sustainable farm on 200 acres outside of Los Angeles. Discussions are led by Katherine Kasirer, NFB librarian. Tickets available at the Main Desk four weeks prior for library members, remaining tickets one week prior for the general public. In the Westmount Room.
---
Westmount Library's Events and Programs for Kids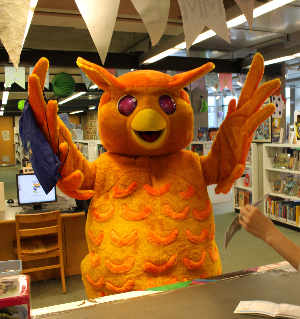 Registration is required for all events. To register, present your child's library card at the Children's Desk. For more information, call 514 989-5229.
Friday, August 23 at dusk
Movie Under the Stars – How to Train Your Dragon: The Hidden World (2019) Bring your lawn chair and blankets, and enjoy an outdoor screening of a film. In Westmount Park.
Saturday, September 7 at 2 pm
TD Summer Reading Club Closing Party. With Rag & Bone Puppet Theatre's Owl at Home. Be there – prizes, entertainment, food! TD Summer Reading Club members may pick up their free tickets at the desk. In Victoria Hall.
---
And over at the Atwater Library…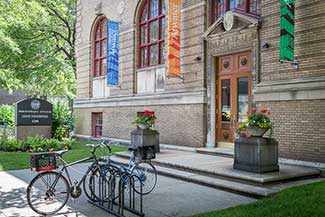 1200 Atwater, Westmount
Information at 514 935-7344.
Image: Frédéric Ryan – instagram (@feddomtl
LUNCHTIME SERIES
The Atwater Library Lunchtime Series features once-a-week presentations by leading writers, musicians, intellectuals, scientists, and many more people sharing their knowledge and experience with the Atwater Library community. Lunchtime Series events usually take place on Thursdays (but sometimes are on other days), from 12:30 to 1:30 pm. Admission is free though donations are appreciated! Everyone is welcome and coffee and biscuits are served.
Thursday, September 5 from 12:30 to 1:30 pm
Author Susan Doherty discusses her acclaimed new book The Ghost Garden: Inside the lives of schizophrenia's feared and forgotten.
---
ATWATER LIBRARY CONNECT TO A DIGITAL LIFESTYLE PROJECT
Wednesdays all summer from noon to 3 pm
Internet Peer Café, a series of gatherings of seniors and young people working on digital media projects. Come and enjoy collaboratively creating digital stories, blogspots and podcasts for part or all of the afternoon. ADVANCE REGISTRATION is required: Richard Cassidy at 514-935-7344 or richard@atwaterlibrary.ca
With funding from the Government of Canada.
Thursdays all summer from 1:30 pm to 3:30 pm
Digital Help Hub. A computer instructor will be in the main lobby to provide 20 to 30 minutes of FREE help with your cell phone, tablet or computer. ADVANCE REGISTRATION is required: Richard Cassidy at 514-935-7344 or richard@atwaterlibrary.ca
With funding from the Government of Canada.
---
Feature image: Andrew Burlone

Consult our community calendar for more events.


---
---