On Saturday, September 28 at 7 pm in ellist Leah Plave and pianist Tong Wang will serenade you with select pieces by Louise Farrenc, Arvo Pärt, and Dvorak.
Free tickets available at Victoria Hall, the Westmount Public Library, or online at Eventbrite.ca
More information at 514 989-5226.
Image: courtesy of the City of Westmount
Family, Medicine and Madness: the 2019 Low-Beer Lecture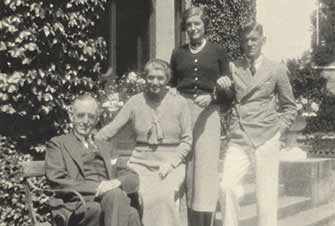 On Thursday, October 3 at  7 pm at Oscar Peterson Concert Hall, 7141 Sherbrooke W, Ami Québec presents the 2019 Low-Beer Memorial Lecture with guest speaker James FitzGerald, author of What Disturbs Our Blood: A Son's Quest to Redeem the Past.
What was it like growing up surrounded by depression and psychosis in a time when no one talked about mental illness? Don't miss James FitzGerald's talk about the legacy of his grandfather and father, both prominent figures in Canadian health care, who, despite their remarkable achievements, were tormented by depression and psychosis in times when such experiences were largely hidden.
Free admission. The lecture will be presented in English.
More information at 514 486-1448 or visit jamesfitzgerald.ca
Image: courtesy of James Fitzgerald 
Westmount Climate Debate

On Thursday, October 3 at 7 pm, a non-partisan environmental debate will take place at the Unitarian Church of Montreal, 5035 de Maisonneuve. Across Canada, 100 non-partisan environmental debates will be held with local candidates from each political party.
Candidates invited:
Robert Green, Green Party / Confirmed attendance
Franklin Gertler, NDP / Confirmed attendance
Jennifer Jetté, Bloc Québécois / Confirmed attendance
Marc Garneau, Liberal Party of Canada / Awaiting confirmation
Neil Drabkin, Conservative Party / Awaiting confirmation
I Am Eleven Film Screening Fundraiser
On Friday, October 4 from 7 pm to 9:30 pm at Selwyn House School, 95 Côte St. Antoine, Geordie Theatre (geordie.ca) will be hosting a fundraiser screening of the documentary film I Am Eleven (iameleven.com).
Australian filmmaker Genevieve Bailey travelled the world for six years talking with 11-year-olds to compose this insightful, funny and moving documentary portrait of childhood.
Admission: $10/children (under 18) and $20/adults.
Tickets on sale at eventbrite.ca
For more information contact Carol-Ann Hoyte at 514 931-9481 #2241.
Image: courtesy of Proud Mother Pictures
HOUSEHOLD HAZARDOUS WASTE COLLECTION
The Household Hazardous Waste Collection will be held on Saturday, October 5 from 9 am to 5 pm in the Westmount Public Library parking lot, 4574 Sherbrooke W.
The City of Westmount hosts a special collection day each spring and fall when residents may bring products for safe disposal. Bring your paint cans, solvents, batteries, old electronics, used clothing, and more.

Consult the complete list of accepted items under the tab Household Hazardous Waste.
More information at  514 989-5390.
Image: courtesy of the City of Westmount
Art Westmount 2019
On Saturday October 5 and Sunday October 6, the City of Westmount will stage the eighth edition of Art Westmount, a major group exhibition showcasing the community's artists.
Since 2006, its mission has been to recognize and celebrate Westmount artists – be they amateur, emerging or established – offering them a rare opportunity to exhibit, un-juried and commission-free, in a beautiful venue. Come meet and encourage nearly 50 local artists and authors!
Art and book sales – author readings – prizes
Free. No tickets required.
For more information, please visit westmount.org/en/recreation-culture/art-westmount or call 514 989-5265.
The Hunchback of Notre-Dame Screening
On Saturday, October 5 and Sunday, October 6 at 7:30 pm at Westmount Park United Church, 4695 de Maisonneuve W, The Film Society will present a screening of the Hollywood silent classic, The Hunchback of Notre-Dame, with live musicians. The Hunchback of Notre-Dame (1923) starring silent horror legend Lon Chaney is considered one of the more powerful and spectacular silent films of the 1920s, fully deserving of the big screen accompanied by church organ, piano, cello and violin.
Doors open at 6:30 pm.
Tickets at the door, cash only: 13.50$ + taxes; students & seniors, 9.50$ + taxes.
Purchase online at lavitrine.com
Popcorn, sweets and drinks will be available.
Visit the The Film Society's Facebook page.
More information at 514 738-FILM.
Image: courtesy of  MGM studio [Public domain], via Wikimedia Commons
Montreal Welsh Male Choir Concert
On Wednesday, October 9 at 7:30 pm at Victoria Hall, he Montreal Welsh Male Choir will perform the Dylan Thomas story The Outing. The concert is filled with an eclectic mix of Welsh and English songs, along with a dramatic reading of this hilarious story.
Tickets: $20, available at Victoria Hall.
More information at 514 989-5226 or visit welshmalechoir.montreal.qc.ca 
Image: courtesy of the Montreal Welsh Male Choir
Montreal Intercultural Storytelling Festival 2019
On Saturday, October 19 at 8 pm in Victoria Hall, the 15th Montreal Intercultural Storytelling Festival presents the English Inauguration of Connections.
Five artists – Bruce Sinclair, Marta Singh, Dimitrios Prousalis, Lynn Kozack, and Matt Goldber – will explore the question of making connections through storytelling. From the Métis Nation of Saskatchewan to Argentina via Ottawa, from Greece to the Mile End and back again, the storytellers will examine the human soul and its yearning to connect. Hosted by Stéphanie Bénéteau.
Tickets: $15
Available online at Eventbrite.ca
More information at 514 989-5226 or visit festival-conte.qc.ca