TREATS AND TREASURES AT CENTRE GREENE
Saturday, November 16 from 10 am to 4 pm, Centre Greene, 1090 Greene, is hosting its annual Treats and Treasures Bazaar and Crafts Sale from 10 am to 4 pm.
The Bazaar will include over 30 artisans displaying their handiwork, as well as baked goods, a raffle and the Empty Bowls Project. A light lunch will be served. Admission is free and all proceeds will go to supporting our community programs.
More information at 514-931-6202 or visit centregreene.org
Image: courtesy of Centre Greene
LUMINOSITÉ AT WESTMOUNT PARK UNITED CHURCH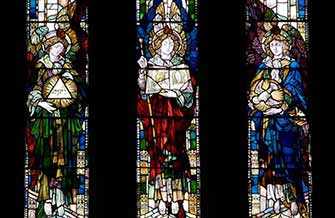 On Saturday, November 16 at 7:30 pm at Westmount Park United Church, 4695 de Maisonneuve W, experience Luminosité: Transcendent Classical music.
Behold a fusion of four rising stars from Montreal Music Collective: Olga Birch, cello; Liz Skinner, violin; Adam Jeffreys, violin and Julien Altmann, viola. Take pleasure through three expansive and luminous composers; Peteris Vasks, Henriette Bosmans and Alexander Borodin – an out of this world performance!
Pre-concert reception at 6:45 pm.
Tickets at the door, cash only: 25 $ adults; 15 $ seniors; 10 $ students
and on Eventbrite
Proceeds go to Westmount Park United Church.
Image: courtesy of Westmount Park United Church
FRIENDS OF THE LIBRARY BOOK SALE
On Saturday, November 16 and Sunday, November 17, the Friends of the Library Book Sale will take place from 10 am to 5 pm at Victoria Hall, 4626 Sherbrooke W.
Organized by the Friends of the Westmount Public Library, all proceeds from the sale go towards the purchase of new materials for the Library. Contemporary novels, non-fiction, art and children's books in prime condition may be left at the Library for the sale.
More information at 514 989-5299.
Image: Phil Roeder via StockPholio.com
CLSC FLU VACCINATION CLINIC
The CLSC flu vaccination clinic in Westmount will take place on Wednesday, November 20 from 10 am to 4:30 pm at Victoria Hall, 4626 Sherbrooke W. Remember to bring your medicare card and to wear short sleeves.
The CLSC Métro offers the influenza vaccine free to certain groups, including people 75 years of age and over, pregnant women and persons with chronic diseases as well as their caregivers.
List of locations and dates where the flu vaccination is available.
The vaccine is also available by appointment in CLSCs beginning November 4. Use the link above to find out more and to book an appointment online. Appointments are not given for the external clinics.
More information at 514 934-0354.
Image: via StockPholio.com
WHA TALK: PROMINENT WESTMOUNT WOMEN SERIES
MARION DALE SCOTT: A STUDIO OF HER OWN
On Thursday, November 21 from 7 pm to 9 pm at the Westmount Public Library, 4574 Sherbrooke W, the Westmount Historical Association presents, as part of its Fall 2019 Lecture Series, guest speaker Gwendolyn Owens, McGill University.
Gwendolyn Owens will talk about one of Westmount's most renowned artists: Clarke Avenue resident Marian Dale Scott. Choosing to work in a second floor bedroom she made into a studio, Marian Scott kept learning, kept experimenting, and, as a result, her art evolved dramatically over the course of her more than 60-year career.
Doors open at 6:30 pm.
Free for members and $5 for non-members.
Additional information at westmounthistorical.org
Concert: Compagnie baroque Mont-Royal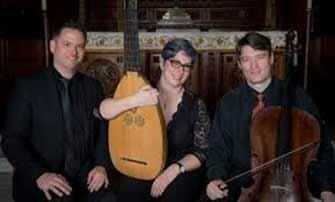 On Sunday, November 24 at 3 pm in Victoria Hall, 4626 Sherbrooke W, the Compagnie baroque Mont-Royal presents The Elysian Groves: French music of the baroque with Trio Ponté: David Menzies, tenor; Madeleine Owen, theorbo and James Williamson, viola da gamba.
Songs and instrumental pieces from the French baroque. Airs de cour are veritable poems set to music. These musical miniatures, sometimes sad, sometimes sly or funny, are commentaries on love, men and women, nature and society. At the same moment in France, the viola da gamba was taking its place for the first time as a solo instrument, accompanied by the theorbo, its faithful companion from the basso continuo.
Tickets: $20 ($10 for students)
Available at Victoria Hall or online at Eventbrite.ca
More information at 514 989-5226.
Image: courtesy of Trio Ponté
CLIMATE CAFÉ AT WESTMOUNT PARK UNITED CHURCH
On Wednesday, November 27 at 6 pm at Westmount Park United Church, 4695 Maisonneuve W, the monthly Climate Café meeting will feature the workshop Ferns: growing and propagating. As part of the Houseplant Project there will be monthly workshops on different themes related to houseplants. This month Gabriel Lambert-Rivest, former animator-curator of the Nature Niche, will talk about growing and propagating Ferns!
The Climate Café is a non-religious event open to everyone, organized by Westmount Park United Church as part of its Faith in Nature Centre, a community committed to building lasting relationship and partnerships for the well-being of the environment. Come to meet the growing number of neighbours who are concerned and want to make a difference!
For more information contact Rev. Neil Whitehouse at westmountparkuc@videotron.ca
Image: Patricia Dumais
Winter Carnival Talent Show Auditions
Are you a musician, singer, dancer, rapper, actor, comedian, or magician? Come show off your skills at the City of Westmount's all-ages community talent show! Auditions will take place on Friday, November 29 and Saturday, November 30.
Sign up by filling the online form.
More information at 514 989-5226.