Centre Greene Activities
Centre Greene, 1090 Greene, is host to a wide variety of activities for young and old, including a Caregiver's Tea, Themed Activity Nights, Drop-in Daycare, After School Program, Kids' Kitchen, Tumbling Tots Playgroup, Seniors' Lunches, and more!
For more information, call 514 931-6202 or visit centregreene.org 
Image: courtesy of Centre Greene
Activities at Contactivity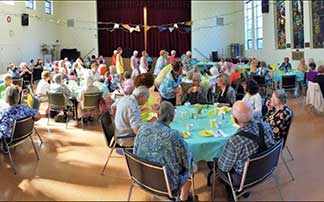 Contactivity Centre, 4695 de Maisonneuve W, is a non-profit community centre that provides a welcoming, caring and safe place for autonomous seniors 60+, where a sense of community and social engagement can be fostered. The centre hosts various courses and interest groups that encompass the mind, body and soul.
For information on the Centre's activities call 514 932-2326 or consult contactivitycentre.org
Image: courtesy of Contactivity Centre
Events at Westmount Public Library
4574 Sherbrooke W, Westmount
The Westmount Public Library offers a variety of activities and events for all tastes and interests including Film Clubs, Poetry Workshops, Let's Talk Opera, Knitting Club, Book Clubs and more!
Westmount Library's events and programs for kids and teens
The Library also offers a host of activities for children and teens including Book Clubs, Gaming at the Library, Movies, Arts and Crafts, Storytimes and much more!
Visit westlib.org to view the events calendar.
---
And over at the Atwater Library…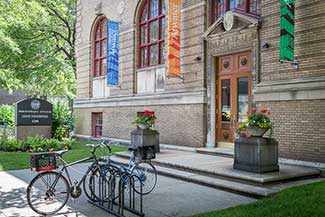 1200 Atwater, Westmount
Information at 514 935-7344.
Image: Frédéric Ryan – Instagram (@feddomtl
LUNCHTIME SERIES
The Atwater Library Lunchtime Series features once-a-week presentations by leading writers, musicians, intellectuals, scientists, and many more people sharing their knowledge and experience with the Atwater Library community. Lunchtime Series events usually take place on Thursdays (but sometimes are on other days), from 12:30 to 1:30 pm. Admission is free though donations are appreciated! Everyone is welcome and coffee and biscuits are served.
Thursday, January 16 from 12:30 pm to 1:30 pm
Housing Options for Seniors. Janet Torge shares Radical Resthomes' vision and discusses housing models that meet seniors' needs.
Thursday, January 23 from 12:30 pm to 1:30 pm
Veteran CJAD broadcaster Tommy Schnurmacher discusses his memoir Makeup Tips from Auschwitz: How Vanity Saved My Mother's Life.
Thursday, January 30 from 12:30 pm to 1:30 pm
A special event to mark the 100th anniversary of the opening of the library building. Consultant, teacher and author Nancy Dunton traces the building's history and comments on its architectural significance. Architect Nathan Bonneville gives a short presentation on the current elevator-accessibility project and answers questions.
---
ATWATER LIBRARY CONNECT PROJECT
Mondays from noon to 3 pm
Internet Peer Café, a series of gatherings of seniors and young people working on digital media projects. Come and enjoy collaboratively creating digital stories, blogspots and podcasts for part or all of the afternoon. ADVANCE REGISTRATION is required: Richard Cassidy at 514-935-7344 or richard@atwaterlibrary.ca
With funding from the Government of Canada.
Thursdays from 1:30 pm to 3:30 pm
Digital Help Hub. A computer instructor will be in the main lobby to provide 20 to 30 minutes of FREE help with your cell phone, tablet or computer. ADVANCE REGISTRATION is required: Richard Cassidy at 514-935-7344 or richard@atwaterlibrary.ca
With funding from the Government of Canada.
Tuesday, January 28 from 12:30 pm to 1:30 pm
Benjamin Fung, PhD of McGill University, explains How hacking works, who profits from our private data, and what we can do to protect ourselves. Discussion with Q&A.


 ALZHEIMER CAFÉ
The Atwater Library is partnering with the Alzheimer Society of Montreal to provide a monthly Alzheimer Café for Montrealers in the Library's elegant Reading Room. Each session features socializing, refreshments, live music, and discussion about aspects of life with dementia. Admission is free and everyone is welcome. For more information, contact Tanya Mayhew at tmayhew@atwaterlibrary.ca or 514 935-7344.
Tuesday, January 21 from 1 pm to 3 pm
Let's Talk about Dementia: Caregiver Testimonial for Alzheimer's Awareness Month with Tommy Schnurmacher, broadcaster and author, and Jessica Seidman, Coordinator – Clinical Services, Alzheimer Society of Montreal. Refreshments and discussion.
---
ATWATER LIBRARY FINANCIAL LITERACY PROGRAM
Wednesday, January 22 from 1 pm to 3 pm
Programs and Services For Seniors – Service Canada. Michèle Payette, Citizen Service Specialist, Service Canada, conducts an information session on Old Age Security (OAS), Guaranteed Income Supplement, OAS Allowance for spouses and common-law partners, issues for immigrant seniors, issues for caregivers, and more. Discussion with Q&A.
Wednesday, January 29 from 1 pm to 3 pm
Richard Goldman, lawyer and legal plain language specialist with Éducaloi, conducts an information session on Powers of Attorney, Protection Mandates and Other Tools for Planning Ahead. Discussion with Q&A.
---
Saturday, February 1 from 10:30 am to 4:30 pm
The Page with Ears Open – A Spoken Word Workshop, a co-presentation of the Atwater Writers Exhibition, SpokenWeb, and the Atwater Poetry Project. Space is limited and ADVANCE REGISTRATION is required: Elise Moser at elise.m@videotron.ca
---
Feature image: Andrew Burlone
Consult our community calendar for more events.