Westmount Here & There
February 13, 2020
A look at events happening in and around Westmount
THE GALLERY AT VICTORIA HALL – Dubreuil, Fretz and Hemami
The Gallery at Victoria Hall, 4626 Sherbrooke W, is pleased to present a a group exhibition featuring artists Heather Dubreuil, John Fretz and Mana Hemami until Saturday, February 15.
Gallery hours: Monday to Friday, 10 am to 9 pm; Saturday, 10 am to 5 pm.
More information at 514 989-5265.
Image: Andrew Burlone
Concert: A Viennese Afternoon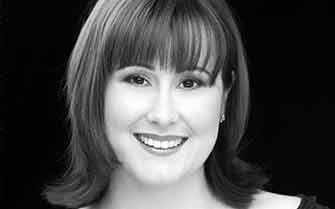 On Sunday, February 16 at 3 pm in Victoria Hall, 4626 Sherbrooke W, experience the glory and elegance of 19th century Vienna in this sumptuous afternoon of music by legendary composers Johann Strauss Jr. and Franz Lehár. The brilliant international soprano Aline Kutan joins the Orchestre classique de Montréal to perform some of the best known operetta arias.
Tickets: $10 to $35
Available online at orchestre.ca
More information at 514 989-5226.
Image: courtesy of Aline Kutan
Ensemble Scholastica at St. Matthias'
On Sunday, February 16 at 4 pm, St. Matthias' Anglican Church, 131 Cote-St.-Antoine, presents Ensemble Scholastica in Dance of the Labyrinth.
This event reimagines medieval sacred dance and song with a solemn procession to ecstatic expressions of joy. Rebecca Bain directs the women's voices, with guest dance specialist, Marie-Nathalie Lacoursière.
Tickets at the door: $30 regular, $20 seniors and students.
More information at ensemblescholastica.ca
Image: David Daly
Concert: Un Festin Klezmer
On Wednesday, February 19 at 7 pm at Victoria Hall, 4626 Sherbrooke W, the Magillah ensemble offers a tribute to Klezmer music and Yiddish musical traditions under the guidance of composer and multi-instrumentalist Henri Oppenheim. A foray into Jewish culture in Eastern Europe through works tinged with nostalgia and festive ambiance.
In collaboration with the Conseil des arts de Montréal en tournée.
Free tickets available at Victoria Hall, the Westmount Public Library and online at Eventbrite.ca
More information at 514 989-5226.
Image: courtesy of Magillah
WHA TALK: DOCUMENTING LOCAL HERITAGE
BASED ON FAMILIAR TERRITORY
On Thursday, February 20 from 7 pm to 9 pm at the Westmount Public Library, 4574 Sherbrooke W, the Westmount Historical Association presents, as part of its Winter 2020 Lecture Series, guest speaker MacKay Smith, author.
MacKay L. Smith, a native Westmounter, has self-published a series of four illustrated monographs about Montreal, each concentrating on a specific theme and containing a wealth of images. The books are Montreal's Sherbrooke Street, Montreal's Golden Square Mile, Memories and Profiles of McGill University, and Montreal's Three Mountains. Next – Westmount's Own Golden Square Mile in 2020-21.
Doors open at 6:30 pm.
Free for members and $5 for non-members.
Additional information at westmounthistorical.org
Centre Greene Activities
Centre Greene, 1090 Greene, is host to a wide variety of activities for young and old, including a Caregiver's Tea, Themed Activity Nights, Drop-in Daycare, After School Program, Kids' Kitchen, Tumbling Tots Playgroup, Seniors' Lunches, and more!
For more information, call 514 931-6202 or visit centregreene.org 
Image: courtesy of Centre Greene
Activities at Contactivity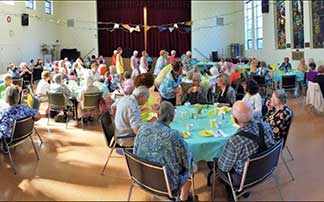 Contactivity Centre, 4695 de Maisonneuve W, is a non-profit community centre that provides a welcoming, caring and safe place for autonomous seniors 60+, where a sense of community and social engagement can be fostered. The centre hosts various courses and interest groups that encompass the mind, body and soul.
For information on the Centre's activities call 514 932-2326 or consult contactivitycentre.org
Image: courtesy of Contactivity Centre
Events at Westmount Public Library
4574 Sherbrooke W, Westmount
The Westmount Public Library offers a variety of activities and events for all tastes and interests including Film Clubs, Poetry Workshops, Let's Talk Opera, Knitting Club, Book Clubs and more!
Westmount Library's events and programs for kids and teens
The Library also offers a host of activities for children and teens including Book Clubs, Gaming at the Library, Movies, Arts and Crafts, Storytimes and much more!
Visit westlib.org to view the events calendar.
---
And over at the Atwater Library…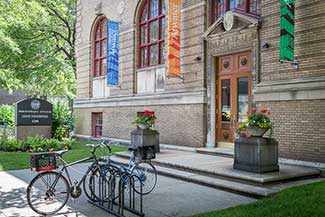 1200 Atwater, Westmount
Information at 514 935-7344.
Image: Frédéric Ryan – Instagram (@feddomtl
LUNCHTIME SERIES
The Atwater Library Lunchtime Series features once-a-week presentations by leading writers, musicians, intellectuals, scientists, and many more people sharing their knowledge and experience with the Atwater Library community. Lunchtime Series events usually take place on Thursdays (but sometimes are on other days), from 12:30 to 1:30 pm. Admission is free though donations are appreciated! Everyone is welcome and coffee and biscuits are served.
Thursday, February 13 from 12:30 to 1:30 pm
Dr. Jordan LeBel, chocolate and food marketing expert, presents The Pleasures of Chocolate, a short history with a tasting of local artisanal chocolates!
Thursday, February 20 from 12:30 to 1:30 pm
Author Mary Soderstrom discusses her latest book, Frenemy Nations: Love and Hate between Neighbo(u)ring States.
Thursday, February 27 from 12:30 to 1:30 pm
Artist, teacher and blogger Shari Blaukopf traces her life story, shows slides of her watercolours and displays some of her sketchbooks.
ATWATER LIBRARY CONNECT PROJECT
Mondays from noon to 3 pm
Internet Peer Café, a series of gatherings of seniors and young people working on digital media projects. Come and enjoy collaboratively creating digital stories, blogspots and podcasts for part or all of the afternoon. ADVANCE REGISTRATION is required: Richard Cassidy at 514-935-7344 or richard@atwaterlibrary.ca
With funding from the Government of Canada.
Thursdays from 1:30 pm to 3:30 pm
Digital Help Hub. A computer instructor will be in the main lobby to provide 20 to 30 minutes of FREE help with your cell phone, tablet or computer. ADVANCE REGISTRATION is required: Richard Cassidy at 514-935-7344 or richard@atwaterlibrary.ca
With funding from the Government of Canada.

Tuesday, February 25 from 12:30 to 1:30 pm
Karyn Moffatt of McGill University, explains how digital technology is shaped by the people who use it and why it is often maladapted to the needs of seniors. She will describe successful efforts to make improvements for older adults and invite audience participation. Discussion with Q&A.
---
ATWATER LIBRARY FINANCIAL LITERACY PROGRAM
Tuesday, February 18 from 10:30 am to noon
An information session on Personal Finance Essentials for Newcomers to Quebec at The South Asian Women's Community Centre, 1035 Rachel  E, Montréal. Michel Gariépy, analyst with Autorité des marchés financiers (AMF), conducts a session with discussion.
ALZHEIMER CAFÉ
The Atwater Library is partnering with the Alzheimer Society of Montreal to provide a monthly Alzheimer Café for Montrealers in the Library's elegant Reading Room. Each session features socializing, refreshments, live music, and discussion about aspects of life with dementia. Admission is free and everyone is welcome. For more information, contact Tanya Mayhew at tmayhew@atwaterlibrary.ca or 514 935-7344.
Tuesday, February 18 from 1 pm to 3 pm
Non-Verbal Capsules about Elder Abuse with Louise Buzit-Beaulieu, PsC., M.A., National Coordinator Specializing in Elder Abuse for English-Speaking Seniors and Cultural Communities, and Christiane Proulx, counsellor, Alzheimer Society of Montreal. Refreshments and discussion.
---
Wednesday, February 19 from 10 am to 8 pm
OUR NEW AGE: Designing for an ageing population. An exhibition in the Library's main lobby created by Patricia Johnsson, continuing for two weeks. On this opening day, Patricia Johnsson will be present to greet the public from 10 am to 11:30 am and again, from 4 pm to 6 pm.
---
ATWATER LIBRARY AWE PROJECT
Tuesday, February 25 from 2 pm to 5 pm
Copy Yourself: An Intro to Zine Making. Billy Mavreas leads a creative workshop through which participants will make their own ready-to-copy 8-page zine. This workshop is FREE but REGISTRATION is required at elise.m@videotron.ca
---
Feature image: Jill Wellington from Pexels
Consult our community calendar for more events.


---
---