Westmount Here & There
April 23, 2020
A look at events happening in and around Westmount
ATTENTION: Because of COVID-19 many events are now cancelled or postponed. We have indicated those that are when we receive official notification, but still await news from some organizers. Please contact them for further information.
CALL FOR SUBMISSIONS – SUMMER CONCERT SERIES 2020
The Westmount Community Events Division is inviting musicians to submit their candidacy for inclusion in the 2020 Summer Concert Series.
This series brings live music to the public in a relaxed outdoor setting and aims to showcase a variety of live music from emerging or professional small jazz ensembles, classical, folk, and pop groups.
Please note that all performers are required to provide their own technical equipment and technician (if required).
EXTENDED DEADLINE: All interested groups are invited to register by Thursday, April 30, 2020.
THE GALLERY AT VICTORIA HALL – CALL FOR SUBMISSIONS
The Westmount Community Events Office invites Westmount artists to send in their proposals for the 2020-2021 exhibitions of the Gallery at Victoria Hall. Emerging or professional artists who are residents or work in an artist studio in Westmount are invited to apply.
Located next to the Westmount Public Library, the Gallery at Victoria Hall presents seven art exhibitions annually, including a community youth art show and a summer group exhibition.
HOW TO APPLY
Please send your complete proposal by email, mail, drop it off in person at the Community Events Office or fill in the online form.
SELECTION PROCESS
Proposals are evaluated by the Gallery Selection Committee which is made up of local artists. Selected artists will be offered a solo, duo, trio or group exhibition in the Gallery at the discretion of the Committee.
EXTENDED DEADLINE: The deadline to apply is Thursday, April 30, 2020.
For more information about the requirements at 514 989-5265 or visit the Gallery at Victoria Hall's web page.
CLOSED UNTIL FURTHER NOTICE – Centre Greene Activities
Centre Greene, 1090 Greene, is host to a wide variety of activities for young and old, including a Caregiver's Tea, Themed Activity Nights, Drop-in Daycare, After School Program, Kids' Kitchen, Tumbling Tots Playgroup, Seniors' Lunches, and more!
For more information, call 514 931-6202 or visit centregreene.org 
Image: courtesy of Centre Greene
CLOSED UNTIL FURTHER NOTICE – Activities at Contactivity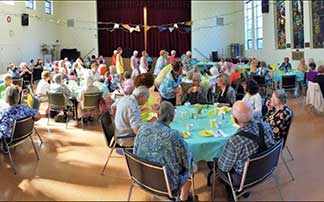 Contactivity Centre, 4695 de Maisonneuve W, is a non-profit community centre that provides a welcoming, caring and safe place for autonomous seniors 60+, where a sense of community and social engagement can be fostered. The centre hosts various courses and interest groups that encompass the mind, body and soul.
For information on the Centre's activities call 514 932-2326 or consult contactivitycentre.org
Image: courtesy of Contactivity Centre
CLOSED UNTIL FURTHER NOTICE – Events at Westmount Public Library
4574 Sherbrooke W, Westmount
The Westmount Public Library offers a variety of activities and events for all tastes and interests including Film Clubs, Poetry Workshops, Let's Talk Opera, Knitting Club, Book Clubs and more!
Westmount Library's events and programs for kids and teens
The Library also offers a host of activities for children and teens including Book Clubs, Gaming at the Library, Movies, Arts and Crafts, Storytimes and much more!
Visit westlib.org to view the events calendar.
---
And over at the Atwater Library…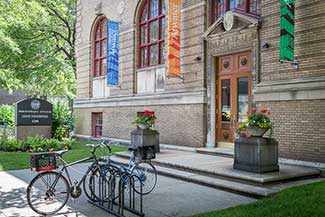 1200 Atwater, Westmount
Information at 514 935-7344.
Image: Frédéric Ryan – Instagram (@feddomtl
COVID-19 – The Atwater Library is closed indefinitely in response to the public health authorities' advice.
Services by phone, email and Internet
Atwater Library staff are busy providing help and information by phone and email. They'd be pleased to hear from you. Phone: 514 935-7344 daytime weekdays and Saturdays. Email: info@atwaterlibrary.ca
---
FREE eBOOK FOR EARTH DAY
April 22 is Earth Day and here is a link to the CBC Radio science program Quirks & Quarks on this "weirdest Earth Day ever." You can listen to host Bob McDonald's interview with oceanographer Philippe Tortell about the collection of essays he edited, Earth 2020: An Insider's Guide to a Rapidly Changing Planet. And you can download the eBook for free.
---
SHAKESPEARE'S BIRTHDAY AND ONLINE LUNCHTIME SERIES
April 23 is thought to be the anniversary of Shakespeare's birth and fittingly, it's also World Book Day.
Resources for Shakespeare enjoyment in confinement include the Royal Shakespeare Company site.
Canada's own Stratford Festival is offering free streaming of 12 of their most successful Shakespeare productions – beginning on Shakespeare's birthday, April 23, with King Lear, directed by Artistic Director Antoni Cimolino and starring Colm Feore.
Before the COVID closedown, the Atwater Library was planning to celebrate Shakespeare's birthday by hosting a Lunchtime Series talk by Shakespeare scholar Kevin Pask, English Professor at Concordia University. Here is a short video of Professor Pask discussing Shakespeare in our COVID context. His live talk is to be rescheduled in April 2021.
---
ATWATER POETRY PROJECT ONLINE
Wednesday, April 29 from 8 pm to 9 pm
Readings by poets Oana Avasilichioaei and Margaret Christakos. On Crowdcast: Join Atwater Poetry Project on Facebook and register via Crowdcast.
---
ATWATER LIBRARY CONNECT PROJECT
Questions about your computer or device? Email richard@atwaterlibrary.ca or phone 514 935-7344 daytime during the week.
eBooks and digital audiobooks: Thanks to generous donors, the Library recently increased its selection of digital books for your reading and listening pleasure. For information and help: 514 935-7344 or ebooks@atwaterlibrary.ca
NEW YouTube Video Series
With instructor Liz Perrin and Connect Project Coordinator Richard Cassidy.
Episode 1 – Introduction: be in touch, informed and inspired through digital technology.
Episode 2 – eBooks and audiobooks: get started enjoying books on your device — phone, tablet or computer. With step-by-step instructions for borrowing eBooks and audiobooks from the Atwater Library.
With funding from the Government of Canada.


NEW –  FINANCIAL LITERACY RESOURCES
Info on wills and nutrition
Access Éducaloi's detailed guide on wills, including the pros and cons of a simple holograph will which anyone (even living alone in quarantine) can make, though probate in court after death is required.
Nourishing Yourself with Self Compassion while Quarantining
Jaimie Yue, Registered Dietitian and regular presenter for the Financial Literacy Program, is sharing tips online for healthy eating, budgeting and nourishing yourself while quarantining. Her blog Nourishing Yourself with Self Compassion while Quarantining includes ideas for stocking the pantry with healthy foods. You can sign up for her newsletter and receive a free eBook with recipes.
Look for Jaimie Yue's video Eating Well on a Budget, which will be featured in the Library's newsletter and posted on Facebook later this month. If you have questions you would like her to address in the video, please email her at info@nutriviesante.com
The Atwater Library Financial Literacy Program is funded by Canadian Heritage.
Feature image: Andrew Burlone
Consult our community calendar for more events.


---
---