Westmount Here & There
May 7, 2020
A look at events happening in and around Westmount
ATTENTION: Because of COVID-19 many events are now cancelled or postponed.

CLOSED UNTIL FURTHER NOTICE – Centre Greene Activities
Centre Greene, 1090 Greene, is host to a wide variety of activities for young and old, including a Caregiver's Tea, Themed Activity Nights, Drop-in Daycare, After School Program, Kids' Kitchen, Tumbling Tots Playgroup, Seniors' Lunches, and more!
For more information, call 514 931-6202 or visit centregreene.org 
Image: courtesy of Centre Greene
CLOSED UNTIL FURTHER NOTICE – Activities at Contactivity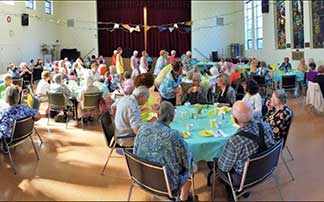 Contactivity Centre, 4695 de Maisonneuve W, is a non-profit community centre that provides a welcoming, caring and safe place for autonomous seniors 60+, where a sense of community and social engagement can be fostered. The centre hosts various courses and interest groups that encompass the mind, body and soul.
For information on the Centre's activities call 514 932-2326 or consult contactivitycentre.org
Image: courtesy of Contactivity Centre
CLOSED UNTIL FURTHER NOTICE – Events at Westmount Public Library
4574 Sherbrooke W, Westmount
The Westmount Public Library offers a variety of activities and events for all tastes and interests including Film Clubs, Poetry Workshops, Let's Talk Opera, Knitting Club, Book Clubs and more!
Westmount Library's events and programs for kids and teens
The Library also offers a host of activities for children and teens including Book Clubs, Gaming at the Library, Movies, Arts and Crafts, Storytimes and much more!
Visit westlib.org to view the events calendar.
---
And over at the Atwater Library…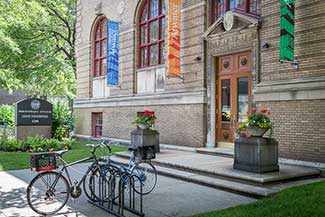 1200 Atwater, Westmount
Information at 514 935-7344.
Image: Frédéric Ryan – Instagram (@feddomtl
COVID-19 – The Atwater Library is closed indefinitely in response to the public health authorities' advice.
Services by phone, email and Internet
Atwater Library staff are busy providing help and information by phone and email. They'd be pleased to hear from you. Phone: 514 935-7344 daytime weekdays and Saturdays. Email: info@atwaterlibrary.ca
---
AGM IN THE FALL
The 2020 Annual General Meeting will take place on October 1 at 6 pm. In recent years the AGM has taken place in May but this year it is postponed because of the COVID-19 closedown. Details will follow in late summer.
---
SHORT VIDEOS BY LUNCHTIME SERIES SPEAKERS
A little movie about DOROTHY WORDSWORTH during our collective time of loneliness by Kathleen Winter, writer and artist.
A brief talk about Shakespeare in the COVID context by Kevin Pask, English Professor, Concordia University.
---
ATWATER LIBRARY CONNECT PROJECT
Questions about your computer or device? Email richard@atwaterlibrary.ca or phone 514 935-7344 daytime during the week. With funding from the Government of Canada.
eBooks and digital audiobooks: The Library has increased its selection of digital books for your reading and listening pleasure. For information and help: 514 935-7344 or ebooks@atwaterlibrary.ca
NEW YouTube Video Series
With instructor Liz Perrin and Connect Project Coordinator Richard Cassidy.
Episode 1 – Introduction: be in touch, informed and inspired through digital technology.
Episode 2 – eBooks and audiobooks: get started enjoying books on your device — phone, tablet or computer. With step-by-step instructions for borrowing eBooks and audiobooks from the Atwater Library.
Episode 3: Podcasts
How to begin enjoying a wealth of free recorded radio programs and other online audio material. Included is info about popular and recommended podcasts.
---
ATWATER LIBRARY BOOK CLUB VIA ZOOM
The Atwater Library Book Club, led by writer Mary Soderstrom, had a successful discussion by Zoom last week. Below is the agenda for the next two Zoom sessions. Click on the hot-linked title to borrow. Register for the Zoom discussions at info@atwaterlibrary.ca or phone 514 935-7344.
Wednesday, May 13 from 7:30 pm to 9 pm
The Break by Katherena Vermette
Wednesday, June 10 from 7:30 pm to 9 pm
A Farewell to Arms by Ernest Hemingway

Thursdays, May 14 to June 11 from 6:30 to 8:30 pm
The Library will be co-presenting with the Reading to Decolonize project, led by Jocelyn Parr and Richard Cassidy, a facilitated five-session discussion by Zoom of Dancing on Our Turtle's Back by Leanne Simpson. Facebook event.


FINANCIAL LITERACY PROGRAM ONLINE
Info on wills
The Atwater Financial Literacy Program Online presents a 25-minute video on Wills with Ann Soden, Ad. E., Elder Law Lawyer and mediator, and Anna Kamateros, notary, in conversation with our Financial Literacy Program Coordinator, Natalie Domingue. There is information on how people can write their own "holograph will" while physically isolating, with pointers for minimizing the risk of challenges after death. If you have questions, please email Anna Kamateros at anna@aknotaire.com or Ann Soden at annsoden@sympatico.ca
Click to access Éducaloi's detailed guide on Wills.
Nourishing Yourself with Self Compassion while Quarantining
Jaimie Yue, Registered Dietitian and regular presenter for the Financial Literacy Program, is sharing tips online for healthy eating, budgeting and nourishing yourself while quarantining. Her blog Nourishing Yourself with Self Compassion while Quarantining includes ideas for stocking the pantry with healthy foods. You can sign up for her newsletter and receive a free eBook with recipes.
Click to access Jaimie Yue's 50-minute video Eat Well On a Budget. If you have questions you would like her to address in the video, please email her at info@nutriviesante.com
The Atwater Library Financial Literacy Program is funded by Canadian Heritage.
---
ATWATER POETRY PROJECT ONLINE
Wednesday, May 13 from 7 pm to 8 pm
Program to be announced. Join in on Crowdcast.
Wednesday, May 20 from 7 pm to 8 pm
Program to be announced. Join in on Crowdcast.
If you can't join in for the live May events, you can watch the recorded broadcasts afterwards on the same Crowdcast link.
Watch recordings of the April events by clicking on the dates:
April 22 conversation between Poetry Project Coordinator Rachel McCrum and poet Canisia Lubrin.
April 29 readings by poets Oana Avasilichioaei and Margaret Christakos.
Feature image: Shahrzad Ghaffari
Consult our community calendar for more events.


---
---