Westmount Here & There
June 18, 2020
A look at events happening in and around Westmount
ATTENTION: Because of COVID-19 many events are cancelled or postponed.

Centre Greene Virtual Day Camp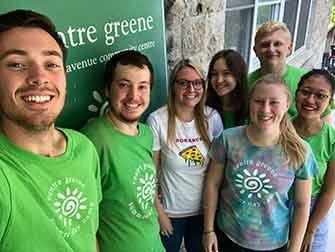 Centre Greene is happy to announce its exciting and innovative Virtual Day Camp, offered via the Zoom application for children to access safely.
Live streamed from Centre Greene between 9 am and 1 pm, children will be able to see their favourite counsellors run activities of all kinds that encourage engagement, movement and exploration just like in real time. Pre-recorded activities will be made available for the afternoon portion for children to engage with at their own pace. A Day Camp experience from the safety and comfort of your own home!
Rates are $10/day per family with the possibility of part-time participation of 3 days per week. For more information about the camp and to participate contact Heather at centregreenesummercamp@gmail.com
Image: courtesy of Centre Greene
CLOSED UNTIL FURTHER NOTICE – Activities at Contactivity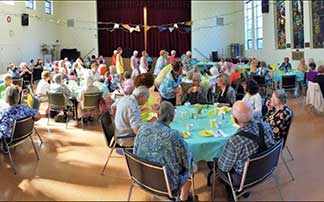 Contactivity Centre, 4695 de Maisonneuve W, is a non-profit community centre that provides a welcoming, caring and safe place for autonomous seniors 60+, where a sense of community and social engagement can be fostered. The centre hosts various courses and interest groups that encompass the mind, body and soul.
For information on the Centre's activities call 514 932-2326 or consult contactivitycentre.org
Image: courtesy of Contactivity Centre
CLOSED UNTIL FURTHER NOTICE – Events at Westmount Public Library
4574 Sherbrooke W, Westmount
CURB SIDE PICK-UP SERVICE
Phase 1 of the Westmount Public Library reopening began on June 8 with curb side pick-up service.
Place a hold by phone, email, or in your library account and a pick-up time will be scheduled for you.
This contactless service is offered to you with the safety of members and staff at the forefront.
Regarding overdue fines for items borrowed before the Library closure:
No fines will be charged for items due between March 13 and June 25.
The due date for these items has been extended to July 13, 2020.
After July 13, regular overdue fines apply.
Library items can be returned to the book drops at any time.
For more information visit westlib.org
---
And over at the Atwater Library…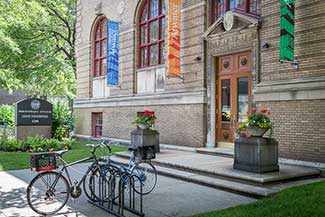 1200 Atwater, Westmount
Information at 514 935-7344.
Image: Frédéric Ryan – Instagram (@feddomtl
LIBRARY LOANS BACK, PICKUP AT ATWATER ENTRANCE
Phase 1 of the library's pandemic reopening plan is a resumption of loans of physical books and DVDs with pickup at the main entrance at scheduled times. Public access to the building will have to wait until later when necessary preparations are made.
Pickups at the Atwater Avenue entrance are possible on Tuesdays and Fridays, 3 pm to 5 pm.
Materials have to be reserved by the day before. The Head Librarian will notify each borrower of the pickup time by email or phone.
Steps to reserve:
• Browse the online catalogue and make your selections.
• Reserve online (instructions)
• Or phone the Head Librarian at 514 935-7344, weekdays 9 am to 5 pm.
The loan period for DVDs and books is being lengthened from two weeks to three weeks. The maximum number of DVDs that may be borrowed at once is being increased from 3 to 5.
---
SERVICES BY PHONE, EMAIL AND INTERNET
Atwater Library staff are continuing to provide help and information by phone and email at 514 935-7344 (daytime weekdays and Saturdays) and at info@atwaterlibrary.ca
---
SHORT VIDEOS BY LUNCHTIME SERIES SPEAKERS
Gwendolyn Owens, Director of McGill University's Visual Arts Collection, comments on Gertrude Vanderbilt Whitney's sculpture at McGill, in the COVID context, as a prelude to a talk she will give at the Library when that is possible.
Author Mark Bourrie in conversation with Margaret Atwood and David Worsley about Bush Runner: The Adventures of Pierre-Esprit Radisson, winner of the 2020 RBC Taylor Prize.
A little movie about DOROTHY WORDSWORTH during our collective time of loneliness by Kathleen Winter, writer and artist.
A brief talk about Shakespeare in the COVID context by Kevin Pask, English Professor, Concordia University.
---
DIGITAL LITERACY SERIES AND FREE HELP
Questions about your computer or device? Email richard@atwaterlibrary.ca or phone 514 935-7344 daytime during the week. With funding from the Government of Canada.
eBooks and digital audiobooks: The Library has increased its selection of digital books for your reading and listening pleasure. For information and help: 514 935-7344 or ebooks@atwaterlibrary.ca
YouTube Video Series
With instructor Liz Perrin and Connect Project Coordinator Richard Cassidy.
Episode 1 – Introduction: be in touch, informed and inspired through digital technology.
Episode 2 – eBooks and audiobooks: get started enjoying books on your device — phone, tablet or computer. With step-by-step instructions for borrowing eBooks and audiobooks from the Atwater Library.
Episode 3 – Podcasts
How to begin enjoying a wealth of free recorded radio programs and other online audio material. Included is info about popular and recommended podcasts.
Episode 4: Filing Your Income Tax Return Online

NEW – Episode 5: Zoom Video Conferencing
Step-by-step instructions for taking part in online meetings and events using Zoom. With a "cheat sheet" guide to buttons and functions.

FINANCIAL LITERACY PROGRAM ONLINE
NEW – Budgeting Basics 2: Protect Your Money and Online Resources
Video (35 minutes) with computer instructor Liz Perrin. She discusses online consumer resources and gives pointers for guarding against scams and fraud.
Budgeting Basics
Video (33 minutes) with computer instructor Liz Perrin on the importance of a budget, even in difficult times, and the three steps to creating one: planning, making and reviewing. Examples of free online budgeting tools are included.
Fraud prevention
COVID-19: Watch Out For Financial Fraud!
Video (25 minutes) with Michel Gariépy, analyst with Autorité des marchés financiers (AMF).
Info on Wills
Video (25 minutes) with Ann Soden, Ad. E., Elder Law Lawyer and mediator, and Anna Kamateros, notary, in conversation with Financial Literacy Program Coordinator, Natalie Domingue. Includes information on how people can write their own "holograph will" while physically isolating, with pointers for minimizing the risk of challenges after death.
Click to access Éducaloi's detailed guide on Wills.
Nutrition on a Budget
Video – Eat well on a budget (50 minutes) with Jaimie Yue, Registered Dietitian. You can sign up for her newsletter and receive a free eBook with recipes.
The Atwater Library Financial Literacy Program is funded by Canadian Heritage.
---
ATWATER POETRY PROJECT ONLINE
Watch recordings of events held earlier this spring by clicking on the dates:
April 22 conversation between Poetry Project Coordinator Rachel McCrum and poet Canisia Lubrin.
April 29 readings by poets Oana Avasilichioaei and Margaret Christakos.
May 13 reading by poet Chantal Gibson and conversation with Rachel McCrum, Atwater Poetry Project curator.
May 20 readings by Ben Ladouceur (Otters and Mad Long Emotion) and K.B. Thors (Vulgar Mechanics)
Feature image: Andrew Burlone
Consult our community calendar for more events.


---
---