A look at Wildside 2017
Theatre Festival's 20th edition features diverse selections
By Byron Toben
The annual Wildside Festival at the Centaur Theatre (now in its 20th year!) features seven diverse selections from January 5 to 15. Co-hosts Roy Surette and Johanna Nutter welcomed all. In addition, Ms. Nutter organized Offside, late night special free divertissements in the Centaur lobby. These were an opening party, a Madonna evening, a clowns evening and a puppets evening. Yet to come is a Leonard Cohen tribute evening on Friday, January 13 at 10:30 pm.
Here are the seven shows, with remaining time slots, listed by number of performers:
Solo Shows
Self Exile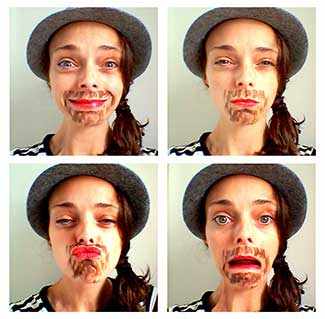 Popular local story telling artist Nisha Coleman won the Centaur Award for Best English New Text at the 2016 Fringe, thus securing an automatic reprise here. She was not in the printed Fringe program, but selected from the standby list the last minute because a New York group, ironically named 'No Show', failed to show up. I did, on the first day, and contributed to the 'buzz' that led to its success.
Ms. Coleman, a waif-like figure, relates her upbringing and coming of age by a hippie couple as she seeks to find herself.
The highlight is in a sequence where she is invited by a potential lover she knows only via the internet to visit him at his home in France. Upon arrival, he changes his mind and she is left alone, penniless and with meagre French. Her trusty violin comes in handy as she makes friends and subsistence money playing on the streets of Paris.
Back in Montreal, she queries, "Is it better to be loved for who you are not than to be rejected for who you are?"
Her three year adventure in Paris is related in great depth in her paperback Busker published by Hagios Press (2015).
Self Exile continues at the Centaur tonight Thursday, January 12 at 9 pm; Saturday, January 14 at 4 pm and Sunday, January 15 at 7 pm.
A Perfect Picture
This also won plaudits at the 2016 Montreal Fringe. Here Dawson and Concordia grad Laurent McCuaig-Pitre incarnates the real life story of Kevin Carter, a U.S. war photographer who, after a monetarily unrewarding career risking danger in South Africa and other hot spots, finally wins a Pulitzer prize for photography for his haunting image in the Sudan of a vulture patiently awaiting the death of a teenage emaciated Sudanese girl, only to be castigated for not aiding the dying child.
Mr. McCuaig-Pitre slips readily into the roles of his own mom, other war correspondents and TV interviewers. He also portrays the Vulture itself, who explains the similarities between it and humankind, only it is more patient.
Waiting between assignments, he joins a 'bang–bang' club where jaded war photogs relax between battles and sometimes find solace with females.
A Perfect Picture continues at the Centaur tonight Thursday, January 12 at 7 pm; Friday, January 13 and Sunday, January 15 at 9 pm.
The Village
From Serbia via Vancouver, Tina Milo is a mesmerizing performer. She sings and dances about, portraying a woman in depression. A Belgrade, Serbia native, she has lived in Vancouver for 15 years and is rumoured to have now re-located to Montreal, so hopefully we will get to see more of this talented lady who has performed all over Europe.
Hard to review this show as it is more of a mood piece than one with an intricate plot, but definitely a highlight of the festival
The Village continues at the Centaur on Friday, January 13 at 7 pm and Saturday, January 14 at 2 pm.
Empire Of The Son
From Vancouver comes Tetsuro Shigematsu with this touching memoir of a father/son relationship. They both were key radio announcers for CBC, but separated by generational and cultural differences.
Clever multi-media images enhance the show, which was rightly one of the most awaited at the Wildside. Part of its national tour, which sold out in Vancouver and played to enthusiastic crowds at the National Arts centre in Ottawa, before arriving here and ending in Toronto next week.
Empire Of The Son continues at the Centaur tonight Thursday, January 12 at 8 pm; Friday, January 13 and Saturday, January 14, at 7:30 pm.
---
Duos
Hootenanny!
From Australia via Ottawa comes this show which is not a folkie song fest as the name might signify, but a two-hander featuring Kate Smith as 'Annie' and Will Somers as 'Hoot', a children's theatre team. Thus, "Hoot en anny". Get it?
They both have created original work at various festivals – she at such as the magnetic North and he at such as the Fresh Meat Festival.
Slim Kate is not to be confused with the more than ample singer of the 40s-50s, who introduced Irving Berlin's God Bless America, used by the Philadelphia hockey team instead of the Star Spangled Banner. She plays a keyboard. Hunky Will twangs a guitar. They both sing and dance about with clear, well enunciated diction.
They perform various cheery and audience involving musical numbers as the tone deepens that a split between their partnership is evolving. Will it also ruin the career of one of them?
Hootenanny continues at the Centaur on Saturday, January 14 at 9 pm and Sunday, January 15 at 2 pm.
---
Large Casts
Backdoor Queens
What would Nell Gwyn have thought of this show? Nell, of course, was the manipulative teenage mistress of Good King Charles I of England, who, in 1661, at her behest, removed the English ban on women portraying women on stage. Readers who saw Persephone's fine production of The Compleat Female Stage Beauty last year will appreciate this.
However, the Backdoor Queens, as talented as they may be, are a step back in that regard to the time of Oliver Cromwell, who, when he wasn't slaughtering Irish, propped up this ban which had already been loosened in France.
The four Queens here are seated backstage, each preparing their makeup and costumes. They discuss all kinds of bitchy things with each other as each is called, sequentially, to the main stage to do a song and dance. Calling them is sleazy M.C. Noah (Matthew Flageole). First out is massive Anaconda LaSabrosa (Samuel Feria Garcia) who lip synchs a tune about How Beautiful She Is.
Connie Lingua (Antonio Bavaro) follows – I forget which song – and Uma Gahd (Ryan Sauve) with, a seat mate informed me, a Madonna song and finally, Dot, Dot Dot, the youngest (Ander Gates) with an Adele piece (thanks again, seatmate).
As is obvious, my ability to identify singers fades out after Judy Garland.
Each night of its five show run, a different guest star appears at the end. The night I saw it, it was a 'real' woman, Maxine Segalowitz (Sexpectations Montreal Fringe), superb as a woman playing a man playing a woman. Loved her Offside after show version of Mein Herr from Cabaret. Watch Liza Minelli singing her version.
The group are the resident drag artists who will perform a monthly show at the Cafe Cleopatra Cabaret on the 2nd Saturday of each month at 10 pm. Check out their Facebook page.
Backdoor Queens continues at the Centaur on Saturday, January 14 at 7 pm and Sunday, January 15 at 4 pm.
Outta Here
This show involves 36 count'em singers. Most are students at Summit School. This is a private Montreal school established in 1963 servicing over 550 special needs students from ages 4 to 21 on three campuses. Their disabilities include autism, behavioural and emotional disturbances, etc.
Most of the ensemble act as chorus. Five of the students have 'lead' roles, two of which are shared depending on the time slot played. Three other actors are unidentified in the program. They are adult teachers or administrators in the annual production, portraying the city's mayor, a female TV reporter, and other adults.
The five principals are:
August (Ali Abu Hamidi), an obese silent youth who never, well hardly ever, talks.
Corbin, a nerdy guy, good in math and details, but lacking an easy manner (split between David Bregman and Ryan McElligott).
Erica, a sassy young girl (split between Cassandra MacIsaac and Zoe Fellahi).
Jordyn, (Stephanie Torriani) a Plain Jane who loves fashion and music.
Trey (Dellon Paterson), an older youth lacking self confidence
Trey is given the responsibility of looking after this group. They, bored with the school, decide to leave to ride on the Metro underground. After adventures at an art exhibit and a clothing store, they get lost underground. Turns out Corbin is the mayor's son. TV coverage ends up with a citywide search for the missing quintet. Finally, all ends well.
An inspired addition to the Wildside roster.
Outta Here ended on January 7
Tickets to all remaining six shows at 514 288-3161 or centaurtheatre.com
Feature image: (Backdoor Queens) Kinga Michalska
---
Byron Toben is the immediate past-president of the Montreal Press Club
---
---