Winter festivities at the
Quartier des Spectacles
A selection of activities of all kinds that drive the city's most exciting square kilometre
Every year since 2012, this festival has showcased the quality and diversity of the latest immersive experimental short films. Originally focused on promoting works from Quebec, the event now also includes a selection of international works. Among this year's dozen films (from January 9 to February 2) are Mémoire concrète by Canadian artists Johan Baron Lanteigne and Louis André Rousseau, Ego – Blurred by Germany's Raph Heinsohn and Les lendemains d'hier from Swiss filmmaker Benjamin Muzzin.
January
Le Gesù, until May 13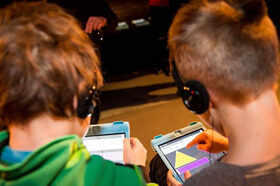 If there's one thing more enjoyable than listening to music, it's making it! Every month, professional musicians are on hand at the Gesù to guide you and your family as you explore a variety of fascinating sounds and musical worlds with electronic devices. You can sign up for a single workshop or take the whole series. It's a great way for folks of all ages to discover the joys of making music.
Le Balcon, until March 1
Everybody called Hector Lavoe "El Cantante" – The Singer. With the famous Fania All Stars orchestra, the Puerto Rican singer helped propel salsa to worldwide popularity. For three decades, he performed with the greats: Willie Colon, Celia Cruz, Cheo Feliciano. Now the Lengaïa Salsa Brava orchestra presents a tribute featuring his biggest hits. Don't forget your dancing shoes – you'll need them!
Monument-National, January 26 to 28
This opera by Donizetti is a bel canto masterpiece that ushered in the era of Italian romantic music. Written almost 200 years ago, the work's popularity has never waned. The story centres on the star-crossed lovers Lucia and Edgardo, whose families are locked in a bitter feud. Set in 16th century Scotland, the three-act drama is famed for its arias, particularly the show-stopping sextet "Chi mi frena in tal momento".
Place-des-Arts, January 5 and 6
After being named Stand Up Comedian of the Year in 2016 at the Just for Laughs Festival, Sebastian Maniscalco returns to Montreal with his new tour, Stay Hungry. The upfront theme reflects the hard work needed to arrive at this point in his career, as well as Maniscalco's new role as a dad and the work ethic his own father instilled in him. Ring in 2018 by catching this native Chicagoan shine on stage!
Place des Arts, January 31 and February 1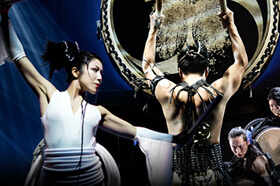 This exceptional performance is the latest production by the TAO company, comprising dancers and world-famous traditional Japanese percussionists. Like the company's previous shows, this one is a tight union of highly physical drumming and exacting choreography, against a backdrop of innovative visuals and a decidedly contemporary aesthetic. It's no accident that the famous company is a hit wherever it goes!
FREE
Place des Festivals, until January 28
One of downtown's best spots for a stroll, place des Festivals, is hosting Luminothérapie until January 28. Enjoy the architectural video projection Les Lointaines, relax in the outdoor 'lounge' with its braziers, fireplaces, benches and rocking chairs. And if you have a sweet tooth, be sure to come down for some free marshmallows, every weekend in January from 1 to 4 pm – or until they run out!
VOX – Centre de l'image contemporaine, until January 20
This exceptional show by Mohawk artist Skawennati is aimed mainly at children ages 5 to 11 but will delight everyone, regardless of age. The exhibition includes The Peacemaker Returns, an animated science fiction movie set in the year 3025, featuring a gallery of historical figures – including a certain Twitter-loving president. Another fun piece is the "museum of the future", a tribute to past and future traditions.
Goethe Institute, until February 24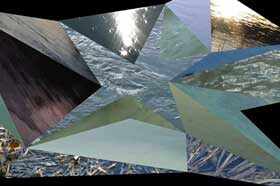 This project takes its title from a method of growing plants in which the roots are suspended deep in nutrient-rich water. Berlin-based art historian and curator Tina Sauerländer wanted to explore water's deep connection to humanity. She commissioned three contemporary German artists to interpret this idea in their own style. Jonas Blume examines the cultural representations of water with a playful eye, while Anuk Miladinovic weaves together its different uses. And Marte Kiessling creates a zone for reflection, drawing inspiration from her residency in Camac, France.
Galerie de l'UQAM, January 11 to March 3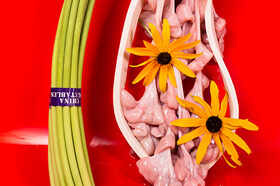 This show explores the material expression of our desires through photographs that at times resemble paintings. The artist, a graduating master's student in visual and media arts at UQAM, references everything from classic still-lifes to advertising close-ups. The exhibition exposes the extent to which our identity is shaped by the objects and visuals all around us.
Place des Arts, January 18
This young Franco-Ontarian comic, winner of the 2015 Olivier award for best new talent, is speeding toward stardom. After graduating from the École nationale de l'humour in 2013, her rise to fame started with appearances on SNL Québec and Le nouveau show, and in the Télé-Québec comedy Like moi?!. Come see what she can do live with her very first solo show, Velours, this February (In French).
Grande Bibliothèque, January 21
This round table moderated by Pierre Vachon takes an in-depth look at JFK, the American opera by Little and Vavrek. The work takes place on president Kennedy's final night, in the Texas Hotel in Fort Worth, hours before his assassination in Dallas. Alone in the hotel with First Lady Jacqueline, he experiences hallucinations that show him human frailty and foreshadow a deadly morning. Singers from the Opéra de Montréal's Atelier lyrique will perform excerpts from the opera.
Coming soon…
Maison symphonique, February 16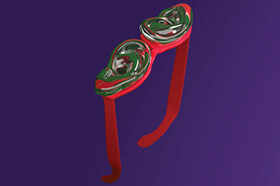 The music is front and centre in this unique experience – both odd and enchanting – in which the audience is plunged into darkness. Hidden behind a curtain, the orchestra will play a variety of classic and contemporary pieces, including an excerpt from Thus Spake Zarathustra by Richard Strauss, Toccata and Fugue in D Minor by Bach, and a piece for electric guitar and orchestra by one John Anthony Lennon!
Place des Arts, April 22
This young singer-songwriter was celebrated for her previous show, Brimbelle chante la ferme de Foin-Foin. Now she's back with her loyal mascot, Foin-Foin the farmer. True to her family-friendly approach, the artist punctuates her educational segments with catchy songs. The net result: not only do kids have a fun time, they learn about how farms work and how food makes its way to the store.
Maison symphonique, February 27 and 28
It's all about singing with this entry in the OSM POP series, starring Bruno Pelletier – famed for Le temps des cathédrales – and some of his favourite voices: Daniel Boucher, Sylvain Cossette, Jonas, Luce Dufault, Laurence Jalbert and Julie Lamontagne and last but not least, tenor Marc Hervieux.
Club Soda, March 1
Four years after the release of their explosive second album, Kill the Hook, Montreal's hip-hop darlings Random Recipe are due to release their latest creation later this spring. Bandmates Frannie Holder, Fab, Vincent Legault and Liu-Kong Ha share roots that go back to their student days. Meanwhile, the group's energy and relationship has built over time while performing their hip-hop and electro fusion throughout Quebec, Canada, France, Belgium, Iceland and the United States. Expect a high-energy, raucous return of a show!
To see the complete programming of cultural venues in the Quartier, visit quartierdesspectacles.com
Images: courtesy of Quartier des Spectacles
---

Located in downtown Montreal, the Quartier des spectacles is the city's cultural heart. Within its boundaries, you will find the highest concentration and the greatest diversity of cultural venues in North America.
---
---