Winter's Daughter
a wonderful seasonal gem
The world premiere of a play inspired by a local celebrity's family history
By Byron Toben
Tableau D'Hôte Theatre has been churning out fine, often offbeat, little gems ever since its inception in 2005. The latest is the world premiere of Winter's Daughter.
Artistic and Creative Director Mathieu Murphy-Perron has managed to assemble a top-notch team of local performers and technicians, starting with director Emma Tibaldo. This world premiere, which has a fascinating local background story, discussed later below, deals with an Italian family sheltering an abandoned little Jewish girl in the aftermath of a World War.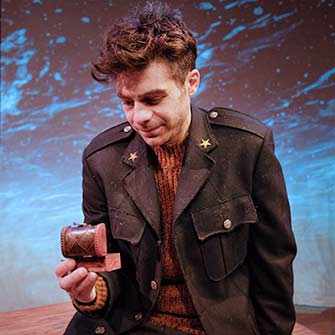 Based on that brief synopsis, I had assumed it was a tale similar to the Ann Frank story. But no, it was WW I, not II, and is set in a sparsely populated farming town in the toe of Italy.
There, a couple, Giuseppe (Ryan Bommarito) and Maria (Michaela Di Cesare) reluctantly agree to harbour Rina, the child of an itinerant Jewish peddler (Amir Sam Nakhjavani) as he is not able to support her as he goes off to Naples. The peddler does leave a necklace with a Magen David (Star of David) with Maria. Neighbour Giacomo (Mr. Nakhjani in a double role), back from the war, is curious about the rarely seen girl, believing her to be the natural child of the couple.
Much of the key action takes place during the winters 1919-21, allowing Projection Designer Jaclyn Turner ample opportunity to create the sensation of lots of lightly falling snow in the gently curved backdrop.
The child is played by Alice Denton whose last role in an elementary school play was as a background mobile seahorse in The Little Mermaid. (My own initial role way back when in grade school was as a stationary background tree.)
Artistic and Creative Director Mathieu Murphy-Perron has managed to assemble a top-notch team of local performers and technicians, starting with director Emma Tibaldo.
Ms. Di Cesare, well known locally both for her playwriting and acting, performed at a childhood summer camp as Persephone, a trendy role this season in various plays. Mr. Bommarito is a relatively recent Montrealer from Toronto, best known from the Segal Centre's hit Indecent. Mr. Nakhjavani has performed in film, stage, TV and video games. Director Emma Tibaldo has directed many plays while also running the Playwrights workshop Montreal (PVM).
Oh yes, the back-story.
Gino Chiarella, whose barbershop at the Ruby Foo Hotel, made him a local celebrity, visited Italy some years ago to see the village his mother had come from. There he met his grandfather Giuseppe who revealed to him the family secret, that Gino's mother was indeed the orphaned little girl, name Italianised to Rosaria, in this play and showed him the necklace to boot.
Back in Montréal, Mr. Chiarelli related this story to Westmount resident K. David Brady who wrote it up as a short story called The Peddler's Daughter. Playwright Jesse Strong adapted that story into this play and the PWM helped workshop it.
Amazing how all these events coalesced to produce this unexpected work. The Lord works in mysterious ways his (or her) wonders to perform. Highly recommended.
Winter's Daughter continues at the Segal Centre studio space until December 8.
514 743-6329
tableaudhote.ca
Images: Jaclyn Turner
Read more articles from Byron Toben

---
Byron Toben, a past president of The Montreal Press Club, has been WestmountMag.ca's theatre reviewer since July 2015. Previously, he wrote for since terminated web sites Rover Arts and Charlebois Post, print weekly The Downtowner and print monthly The Senior Times. He also is an expert consultant on U.S. work permits for Canadians.


---
---