Opening doors
What poetry is this? / 1
An alt view of our world in Words and Music
By Wanda Potrykus
The more you see, the more you love –
The more you love, the less walls you see.
The more doors you are willing to open,
The less close-minded you will be.
The more open-minded you are,
The more open your heart.
Extract from Wonderland, a poem by Suzy Kassem
No need to knock… come on in!
What is it about a doorway that makes it so compelling? In our subconscious mind a closed door represents the unknown and the question then arises: I wonder what is behind this door? The 2017 edition of Westmount Park's Words and Music is all about opening some of those doors… to wonder, to curiosity and yes, perhaps even to our hearts. For the first time at Westmount's annual summer poetry and music fest in the park, we are featuring the stories, songs, music and worldview of some of Canada's indigenous peoples, counterbalanced with a few more recently arrived inhabitants of the land we now all call home.
Drumbeats – a universal, vibrational language
It is highly likely that the drum was the first musical instrument used by humans for a multitude of purposes: religious, ritualistic, to announce births and deaths, for social events such as weddings, harvest celebrations, eating, singing and dancing, as well as for sporting events and in preparation for hunting or war; although its original role was probably a much more simple one, that of communicating danger or a warning over long distances.
Indigenous people throughout Turtle Island (the region referred to more recently as North America) consider drumming to be the heartbeat of Mother Earth. As a universal vibrational language it is used in many spiritual and sacred ceremonial practices to connect to the Earth and to each another. Some say the beat of the drum has the power to change natural elements, including the weather. It is believed it has the power to heal sickness, and some also suggest it has the power to send messages to both the animal and the spirit world.
"The drum connected me with something I hadn't known before, and I felt a huge lump in my throat that was equal parts sorrow, gratitude and joy. When I was coaxed out for my first tribal dance, I closed my eyes and felt the drum and began to move my feet. It was magic." Richard Wagamese, One Native Life
BearHeart Medicine Drum – a Métis perspective
Words and Music 2017 will be welcoming BearHeart Medicine Drum, a group of women with various backgrounds, most of which are steeped in Métis tradition. They play, in a drum circle, mostly Native American songs that have been passed down through the generations:
"BearHeart Medicine Drum is more than an instrument, and the songs we play are a gift of the past we bring to the people," says Catherine Rose, facilitator, BearHeart Medicine Drum, "The drum is sacred and it helps us to connect to our hearts and to our own sacredness. It is considered to be the heartbeat of Mother Earth and of our community. It is a way of honouring all those that have come before us, and a way of reaching out to all of humanity."
'The drum is sacred and it helps us to connect to our hearts and to our own sacredness. It is considered to be the heartbeat of Mother Earth and of our community.'
Catherine Rose
Catherine Rose has been playing on a Big Drum (Tambour-Mère) for several years. She began her journey of personal work/growth in 1995, and she has been facilitating events and drum circles at the BearHeart retreat center in Morin Heights since 2006. BearHeart Medicine Drum have played at the International Festival in St-Jérome and at the Ottawa Festival on two separate occasions in 2016.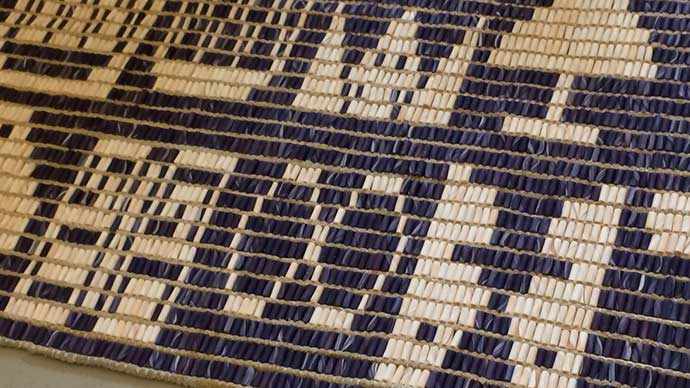 Wampum beads and belts – more than half a millennia of extant recorded history
In the oral tradition of the indigenous peoples, wampum belts were woven using strings of bi-coloured wampum beads: white, made from the inner spiral of the whelk shell, and purple or black shell beads, fashioned from the quahog or poquahock clamshell. Single wampum beads, bead strings, along with the belts themselves, were used for a wide variety purposes – including as a memory aid to record significant occurrences and peace treaties.
It is important to recognize that wampum belts are to be read right-to-left (like Arabic, Hebrew and Farsi-Persian as well as some ideographic Asian languages such as Chinese, Japanese and Korean), but not the left-to-right direction common to most written European languages. Since there was no written language per se, wampum was a very important means of keeping records and passing down stories to subsequent generations as it was durable, and thus could be carried over long distances.
'Since there was no written language per se, wampum was a very important means of keeping records and passing down stories to subsequent generations…'
Some first nations used them in marriage proposals and others for storytelling and recording keeping as the symbols were understood by many different nations where language differences might have caused misunderstandings. Among the Haudenosaunee (Iroquois) they are also used as badges of office. Some designs from wampum belts, i.e. the Hiawatha belt, have since become universal symbols such as we see today on the purple and white flag of Six Nations Iroquois Confederacy flying proudly above the longhouses and draped around the shoulders of demonstrators and marchers, or across barricades.
Over the centuries beads and belts were traded widely in Canada, in the Great Lakes region and among the Woodland tribes along the Atlantic seaboard. A typically large belt stretching to six feet (2 m) in length might contain 6,000 beads or even more.
Ka'nahsohon Kevin Deer, Ceremonial Ritualist, Mohawk Nation, Six Nations
Ka'nahsohon (Dipped Feather) resides in Kahnawake, Quebec, situated just south of Montreal island. Although people of European descent call the residents Mohawk, they refer to themselves as Kanien'kehá:ka = the "People of the Flint". Historically, they were the most easterly nation of the Haudenosaunee (also known as the the Six Nations Iroquois Confederacy) where they were given the title of the "Keepers of the Eastern Door" since they were the first Iroquois nation/tribe west of the Hudson River in present-day New York who were assigned to protect the other parts of the confederacy against invasion by warring tribes and later from the Europeans moving westward from present-day New England and the Atlantic coastal areas.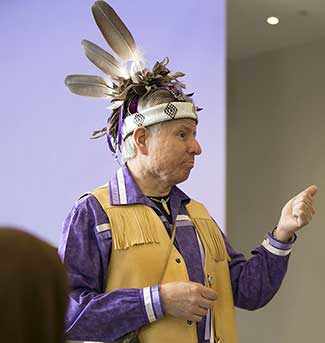 The name of their original settlement in New York was derived from the word kahnawà:ke, meaning "place of the rapids", referring to their major village of Caughnawaga, formerly located near the rapids of the Mohawk River. When they moved to the Montreal area, they named their new settlement after their former one, a decision probably influenced in some part by proximity of the extensive St. Lawrence river rapids, which are now called the Lachine Rapids (harking back to the time when that whole area of the island was called Lachine, although today they are actually off the shore of the Montreal borough of LaSalle).
As a Ceremonial Ritualist at the Mohawk Trail Longhouse, Ka'nahsohon Kevin Deer helps to perform the ancient ceremonies, stories and dances of the Haudenosaunee or "people of the longhouse". He is an Elder, a teacher, and a resource person of Haudenosaunee spirituality, philosophy, culture, ceremonies and history. He has been actively involved for the past 33 years with Iroquoian philosophies, and worldviews, which help people become spiritually reawakened. He offers a profound message from Mohawk beliefs about the natural balance of nature that has been disrupted but he also offers hope:
'As long as the sun shines, the grass grows and the river flows, the Mother Earth will continue to provide us with all we need and the natural balance will be maintained.'
He will be sharing with us stories, songs as well as explanations of the meaning of the Great Law of Peace and the significance and value of wampum. His ceremonial drum is made of skins from the East and West symbolizing the union of all things and his traditional Mohawk Kastowa hat is adorned with three sacred eagle feathers standing straight up. According to traditional beliefs, the Creator chose the eagle to be the leader and messenger to the divine and wearing a feather honours the Creator. When one receives an Eagle Feather that person is being acknowledged with gratitude, love and ultimate respect.
Telling stories in the oral tradition
There is an enduring myth floating about the indigenous oral story telling tradition that proclaims it is a dying and soon to be forgotten art, "primitive in form" and one that it has to be 'preserved' at all cost, usually by non-indigenous researchers or anthropologists who, in the case of many of the indigenous stories either don't actually understand the stories, or else endeavour to change the focus of the narrative since they don't follow a European or western story structure i.e. most indigenous stories told by indigenous people don't have an ending with a moral like those in the Greek Aesop or French La Fontaine fable traditions. Nevertheless, this 'primitive' art form is still in existence on Turtle Island and continues to be very close to the original intent and style, which is that the storyteller or narrator tells the story to a small audience and the story can change or develop in perspective according to the age of the listeners gathered around as well as the age of the storyteller.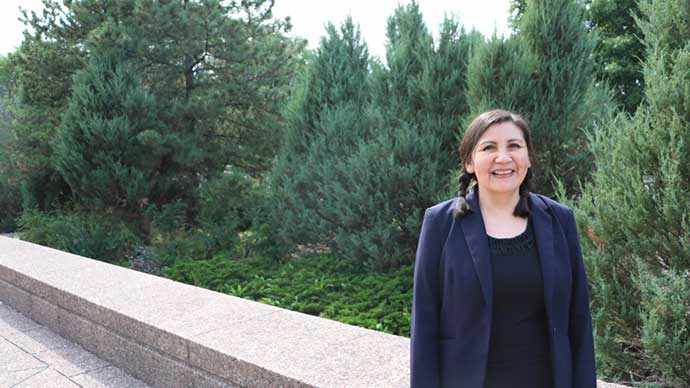 Elma Moses – Eeyou Ishtchee Storyteller
'Untangle the stories, remove the cobwebs, re-stitch and re-weave them into a Coyote story, whatever style you like. Let the North Wind blow into hair and whisper into your ears Ishiiyiyuu stories.'
Extract from the dedication page of Elma Moses' Phd dissertation, McGill University, Fall 2012
Elma Moses is a member of the Cree Nation of Eastmain in Eeyou Ishtchee, the northern Quebec territory around James Bay (called in the Cree language : ᐄᔨᔨᐤ ᐊᔅᒌ ᒉᐃᒥᔅ ᐯᐃ ᐊᔅᒌᐤ ᑎᐹᔨᐦᒋᒑᐎᓐ) and represented by the Grand Council of the Crees.
Educator, writer, performer and storyteller, Moses has a PhD in education from McGill University and teaches First Peoples Sacred Stories, Indigenous Women and Feminism and Introduction to Algonquian (Cree) at Concordia University. She learned Cree storytelling from her late grandmother, Louisa, and from her parents, Sinclair and Bessie Moses, as well as other Cree elders, in part as a way back and as a healing mechanism, necessary as a result of her time spent in a Quebec government Indian residential school.
She speaks of her time in the Indian Residential School system and sees herself as a survivor. She attended the French Catholic school – Résidence Couture, Ecole Sainte-Thérèse-de-l'Enfant-Jésus – on Fort George Island, Quebec, a former Hudson's Bay outpost, where the children were severely punished if they did not learn to speak French quickly enough.
She is delighted to come to Westmount Park to share some of her stories. As she explains in Dancing with Chickapesh: An Examination of Eeyou Stories through Three Generations of Storytellers: "My Indian Residential School experience affects how I tell my stories… I use devices such as creative repetition, passive voice, third person voice, stops and false starts…" She goes to explain that in some of her stories she borrows characters such as Coyote from the West Coast (as there is no Coyote character in the James Bay area) in order to show how Indigenous peoples have borrowed from each other since time immemorial. Coyote appears and disappears suddenly but this is an oral tradition device to show how people come and go upon the land.
Inuit Throat Singing – the ancient game and art of vocalizing the sounds of the environment
Throat singing is probably one of the earliest forms of singing. Among the Inuit it is a traditional game whose origins go back more than twelve thousand years. Formerly played uniquely by women to entertain themselves and their children, or to sing their children to sleep (thus differentiating it from other forms of throat singing practised in other parts of the world, in places such as Mongolia, Siberia, and South Africa).
Today, though, the art has bridged the divide and it now has both male and female participants; however, in Canada, women still make up the majority of the practitioner-singers among the Inuit. The songs or sounds you hear imitate those they routinely hear or heard in their Northern environment and include the wind, the waves, the ice breaking up as well as seals and dogs and insects, but also man-made sounds, such as saws, sleds and snowmobiles. The game itself is played by two persons standing face to face and holding onto each other by their forearms. One is the leader and starts the process so creating the rhythm. The object of the game is to make the other person stop, either by losing their breath, the rhythm, or by breaking into laughter, or in some cases, simply from exhaustion.
'Throat singing is probably one of the earliest forms of singing. Among the Inuit it is a traditional game whose origins go back more than twelve thousand years.'
Throat-singing involves a combination of breath, voice and throat movements. By taking deep, heavy breaths, the singers create a unique sound. The sounds are "voiced or unvoiced", and produced by inhaling or exhaling. Songs are composed of words in the Inuktitut language, along with haphazard syllables. These random sounds are improvised and inspired from the sounds heard in nature and their surroundings at the time of singing. In the two-person game of throat singing, the participants make the same sound but only a half second off from each other, which is how they can blend their voices.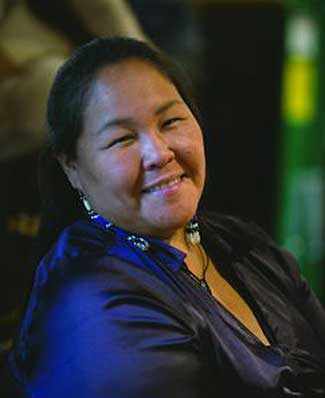 For Nina Segalowitz, throat singing is a bridge between two very different worlds. Unlike most Inuit women and girls who have been taught throat singing by female family members, Nina Segalowitz had to work hard to learn both the art and the game. She first had to teach herself the skill with the aid of a cassette recording tape and a willing friend (spoken word artist and fellow neophyte throat singer Taqralik Partridge), who learnt along side her. Today they are both accomplished throat singers.
As a tiny child, Nina had been stolen from her Inuit family in Fort Smith, NWT as a direct consequence of the forced colonization effort known as the "Sixties Scoop". She was 'adopted' and raised in a Jewish-Filipino household, which, although it provided a great deal of culture, she somehow sensed it wasn't 'her own'. For one thing, she didn't look like any of her relatives, since she was the child of an Inuit mother and a Chipewyan father.
"My adoptive father comes from a Polish Jewish family and that's why I have a surname like Segalowitz. My adoptive mother is from the Philippines. I grew up learning Hebrew at the synagogue and Tagalog at the Catholic church my Filipino relatives went to", says Segalowitz. "…As much as my adoptive family loved me, I couldn't see my reflection in the people around me. There was always something missing. Around 1995 or 1996, I started looking for my biological family. I met my biological father and family after I started throat singing. I felt it was a natural progression of discovering who I was."
'Teaching this (art) today is part of my healing circle, after having been stolen from my parents.'
Nina Segalowitz
During her appearance at Words and Music, Segalowitz will pay homage to the worlds of both her birth parents by demonstrating her personal brand of solo throat singing along with the singing of traditional hand drum songs in the Dene and Ojibwe tradition.
"Teaching this (art) today is part of my healing circle, after having been stolen from my parents", Segalowitz explained. "I had no contact with my (birth) community until I was 18 – I had never met another Native person or another Inuit. At the age of 18, I was lucky to find a Friendship Centre, and it just went from there."
Nina Segalowitz has performed in many countries (France, Belgium, Luxembourg, USA and across Canada) with many different groups and singers such as Ariane Moffat as well as in front of esteemed audiences that have included HRH Queen Mathilde of Belgium.
Words and Music 2017
Save the date: Sunday, August 20
Place: Under the maple tree on Willow Point by the Lagoon in Westmount Park
Time: 2 pm to 4 pm
Rain venue: The Mouton Noir Cafe on top of the green roof of the Westmount Recreation Centre
Note: Since this is event includes poetry as well as music, it is best to sit closer to the stage rather than across the lagoon in order to hear better as the words can get distorted as they float across the water. Bring a picnic, your lawn chair or a blanket and find an alt view of our world in the words and music of the land we all call home.
Images: courtesy of the performers
Wampum belt image: CBC
Read also Leonard Cohen, he's our man
---
Wanda Potrykus is a writer, editor, translator and poet. A graduate of McGill, she has spent most of her career in marketing communications, PR, event and media relations specializing in international aviation, telecommunications, education and the marketing of the arts.
info@westmountmag.ca
---
---