A tale of a hermit woman
in the Siberian taiga
Scapegoat Carnivale's new play Yev based on a true story
By Byron Toben
Scapegoat Carnivale continues its selection of unusual topics in Yev.
Its last production, Sapientia, innovatively dramatized the work of Rozwitha, the oldest known play by a woman some 900 years ago, in what is now Germany.
This latest one is inspired by the story of Agafia Lykova, a hermit woman still living in the remote region of Eastern Siberia.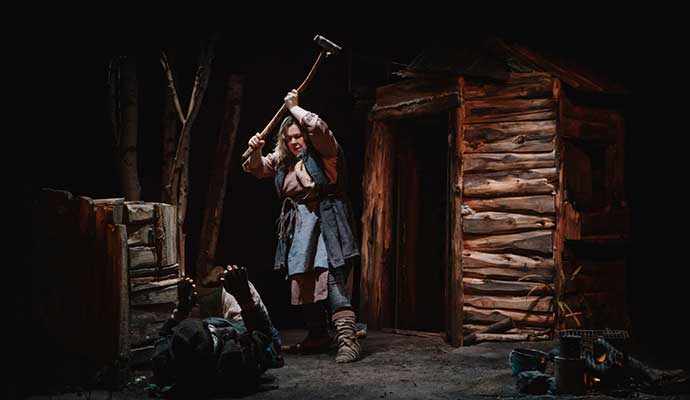 Co-written and co-directed by Scapegoat founders Alison Darcy and Joseph Shragge, it features Ms. Darcy as such a hermit woman. Its ever-deepening set is also designed by her.
The play's structure reminded me of Aristotle's declaration that a play should have three parts – a beginning, a middle and an end.
Here the beginning is a reading of what becomes sort of a pen pal correspondence between Yev and a McGill biology student, Matthew (Trevor Barette). He initiated the conversation as he himself is a bit agoraphobic and interested in the biology and botany of remote regions.
The written correspondence between the two is handled by an interpreter, a local forest ranger, who speaks some English (Davide Chiazzese).
Yev's family, fearing religious persecution, had fled to this remote area. Her parents and brother have since passed away and she lives on as a hermit.
In an inspired casting move this is played by Sasha Samar, a wonderful Russian/Ukraine-born actor, who lives here but does not speak English.
The interaction reminded me of the wonderful play, 84 Charring Cross Road, of a correspondence between two strangers who become friends via mail but never meet. (I was gratified in a post show conversation to find out that the cast had the same reference.)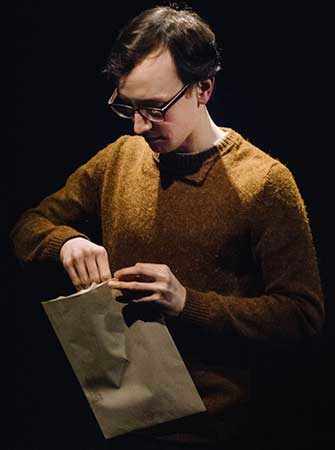 The middle deepens the flat screen of the beginning as it opens up to introduce a fourth character, a local forager who does have some contact with Yev.
In an inspired casting move this is played by Sasha Samar, a wonderful Russian/Ukraine-born actor, who lives here but does not speak English. This was solved as the forager, using a crutch and having one broken leg bound by straps, expounds on his difficulties in Russian while the ranger translates to the audience.
The end deepens the stage even more to reveal Yev's hut, built by herself, where she harvests potatoes and carrots, spears an occasional fish and hunts small animals. The forager appears and attempts to take away some of her cache. This results in a display of physical theatre that is worth the price of admission.
Perhaps the end is not really the end as the show abruptly closes… only about 50 minutes in all.
This bespeaks a possible Part Two or a sequel… I hope. Anyway, a likely candidate for the 2020 Wildside.
Yev continues at the MAI until March 24.
There is an audience talkback on March 23.
m-a-i.qc.ca
scapegoatcarnivale.com
Images: Helena Vallès Escolà
Read more articles from Byron Toben

---
Byron Toben, a past president of The Montreal Press Club, has been WestmountMag.ca's theatre reviewer since July 2015. Previously, he wrote for since terminated web sites Rover Arts and Charlebois Post, print weekly The Downtowner and print monthly The Senior Times. He also is an expert consultant on U.S. work permits for Canadians.
---
---