Get into the Christmas
groove with Buzz Brass
Majestic, elegant and refined arrangements marking the year-end holiday season
November 16, 2021
With their new album Christmas – Noël, Buzz Brass assuredly is "the stuff that dreams are made of". This talented quintet is extraordinary with majestic, elegant and refined arrangements marking the year-end holiday season. Twelve melodies are on the program, including the well-known Sleigh Ride, Les anges dans nos campagnes and Let it Snow, as well as Patapan and Greensleeves.
Their previous opus, Inspirations, was praised by the prestigious Gramophone Magazine, which called it "a testament to the ensemble's sensational embouchure".
This talented quintet is extraordinary with majestic, elegant and refined arrangements marking the year-end holiday season.
The members of Quartom male vocal quartet participated in Christmas – Noël as guest artists for the pieces Noël canadien and The 12 Days of Christmas. Since 2008, this ensemble has charmed Québec, Canada, the United States, Asia and Europe with a rich and varied polyphonic repertoire of operatic arias, operetta and popular songs, skillfully combining virtuosity and humour.
About Buzz Brass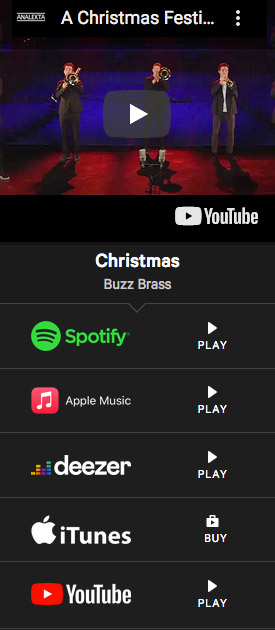 Since 2002, Buzz Brass quintet has been travelling all over the globe to captivate classical music lovers with fascinating chamber music programs. Whether its concerts consist of brass quintet alone or together with guest musicians, the original artistic propositions it presents leave nobody cold. With over 1,600 appearances to its credit, the ensemble has reached more than 350,000 music lovers throughout North America, Europe and China.
The numerous awards and distinctions that Buzz Brass has earned over the years (Opus, ADISQ, and Trille Or) attest to the quality and the relevance of its musical performances. Thanks to many innovative programs, praiseworthy recordings, a unique repertoire and a vision of classical concerts that reaches out to a wide audience, the group now features among the best-known brass quintets in Canada.
Its appearances abroad (Edinburgh's 2015 Fringe Festival, Beijing's 2016 Meet in Beijing Arts Festival, and New York's 2018 Chamber Music America) enable Canadian musicians' know-how to shine forth and inspire young people from everywhere to learn music.
Buzz Brass' Christmas – Noël
Release date: November 19, 2021
Feature image: Laurence Labat, courtesy of Analekta
Other articles on musical events and concerts
---
Analekta is the largest independent classical music record company in Canada. It has produced more than 500 albums and recorded more than 200 of the country's most prominent musicians, winning multiple awards in the process. In early 2017, Analekta achieved the impressive feat of having the works in its catalogue streamed 100 million times on international streaming platforms.

---
---