Blind Date entrances,
red clown nose and all
From a cute sketch comedy skit to a satisfying work of theatre
By Byron Toben
The uber audience-friendly show Blind Date is a fitting selection to end the Centaur Theatre's 50th year.
The theatre was opened in 1969 on "blind trust" that it would work out as Montreal's first permanent professional English language theatre.
Its "dates" with successive artistic and executive directors Maurice Podbrey, Gordon McCall, Roy Surette and now Eda Holmes have all succeeded exceedingly well over, can you believe it, a half-century.
You only have to wait about 90 minutes to see how Rebecca Northan's successive blind dates with random audience members work out. She is the creator/actor star of this widely successful show, approaching its 800th performance over a ten-year span.
Starting out as an actor in her native Calgary, she also honed her clowning and improvisational theatre skills at that city's famed Loose Moose comedy club. A ten-minute sketch on the subject gradually developed into this show, which has led to authorized versions of other ladies presenting her version elsewhere. There is even a "queer" version, appearing on Thursdays with David Benjamin Tomlinson.
Red rubber-nosed Northan opens the show as "Mimi", a French-accented lady who has been stood up at a bistro/cafe by a blind date and so now seeks a "volunteer" from the audience to be her blind date for the evening. The matinee I saw it, she chose "Bill", a married retired phone company executive who splits his time between travel and golf.
A ten-minute sketch on the subject gradually developed into this show, which has led to authorized versions of other ladies presenting her version elsewhere.
Part way through, Bill's wife gave permission to continue the play as if he was not married. None of the volunteers are ever humiliated and permission is also sought from any wife or partner to further proceed.
Discussions can range from sports and food to philosophy and politics. They can also lead to an automobile ride and a visit to Mimi's apartment.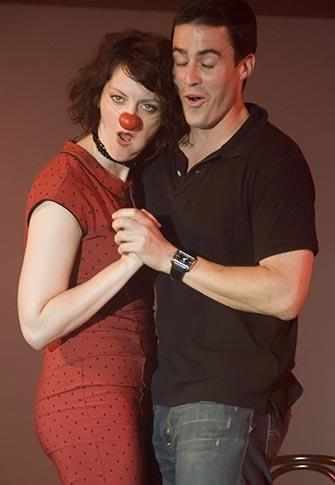 There is a designated "time out" area at one end of the stage where the duo retreats to if any technical or ethical questions arise.
The troupe includes Mr Tomlinson and Lili Beaudoin, who are on stage "scenographers" for rapid prop transitions and Emma Brager who improvises sound depending upon conversational developments. One scene invoked a park setting, so a tree and bird twitters were supplied tout de suite.
Suggestion to future audiences: Ms Northan has lugged about a vintage Roulette wheel for years in case the audience ever requested a casino setting but has never had occasion to use it. Make this patience worthwhile.
This "spontaneous theatre creation" is enhanced from a cute sketch comedy skit into a satisfying work of theatre by Ms Northan's quick wit and stage movement.
Blind Date continues at the Centaur until May 5th.
514 288-3161
centaurtheatre.com
Images: courtesy of Spontaneous Theatre
Read more articles from Byron Toben

---
Byron Toben, a past president of The Montreal Press Club, has been WestmountMag.ca's theatre reviewer since July 2015. Previously, he wrote for since terminated web sites Rover Arts and Charlebois Post, print weekly The Downtowner and print monthly The Senior Times. He also is an expert consultant on U.S. work permits for Canadians.

---
---