Love and Spices:
Vegan Chili Chocolate Cake
A decadent but healthy treat for your Valentine!
Recipe by Monique Singer
Updated on 7 February 2021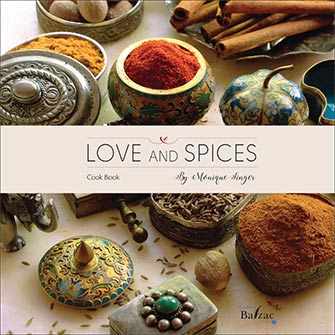 Westmount Magazine is proud to offer its readers sample recipes from Love and Spices, a beautifully illustrated cookbook by Monique Singer. With this new series, you will discover some unique recipes dedicated to cooking with spices, from hors d'œuvres to desserts.
Monique Singer knows how to make people talk, sing and dance spices! From her earliest childhood, alongside her grandmother and sisters, she learned how to create a delicious and original cuisine with her senses, her hands and all her love.
From her family's table to the jet-set parties she has catered in New York, Los Angeles, Venezuela, Spain, Haiti, and Asia, regardless of the set-up, function, atmosphere or style, Monique's food has left its imprint on people's taste buds.
Enjoy!
Vegan Chili Chocolate Cake
You would never guess that this decadent, moist, chocolate cake is vegan, gluten-free and full of fibre and vitamin B6!
The best way to proceed with this recipe is to prepare all of your ingredients and materials in advance.
Prepare your mould by cutting a circle of parchment paper the size of the removable bottom.
Preparation time: 35 min | Baking time: 35 min | Preheat oven to 350°F/175°C | Yields: 8 servings
1/2 cup / 100 g 2 beets, boiled and mashed
1 cup / 240 ml organic almond milk
3/4 cup / 65 g cocoa powder 70% or more
3/4 cup / 70 g chickpea flour
3/4 cup / 150 g very fine brown sugar or coconut sugar
1 1/4 cup / 120 g almond powder or finely ground almonds
1 medium very ripe avocado, mashed
6 tbsp vegan butter or organic coconut oil, melted
2 tbsp red wine vinegar
1 tsp organic vanilla extract
1 tsp baking powder
1 tsp baking soda
1/4 tsp chili pepper
Line the removable bottom of an 8-inch / 20-cm mould with parchment paper and set aside.
In a bowl, combine all the dry ingredients, the flour, ground almonds, cocoa powder, baking powder, chilli pepper and set aside.
In a food processor, pulse the beets until smooth.
Add the avocado and continue pulsing until smooth.
Add the sugar while the food processor is running then slowly add the vegan butter or coconut oil, and almond milk
Keeping the food processor running, add the dry ingredient mixture, until smooth.
Pour the mixture into a large bowl and set aside.
In a small bowl, combine the red wine vinegar and baking soda until the mixture fizzes.
Fold into the cake batter then pour the batter into the prepared mould.
Bake for 30 to 35 minutes, let cool and glaze.
GLAZE
8 oz / 125 g / 225 ml vegan dark chocolate/non dairy, chopped
1/2 cup / 125 ml coconut milk
1 tbsp coconut oil
1/4 tsp cayenne pepper, optional
Place the chocolate, coconut milk, and coconut oil in a glass or metal bowl.
Fill a small saucepan with 1 inch of water, bring to a boil.
Place the bowl of chocolate on top of the saucepan.
Once the chocolate begins to melt, whisk the ingredients together until all of the chocolate and coconut oil is melted.
Whisk to combine until smooth.
It can be used on any dessert.
Images: Anne Fillion
Read also: other recipes
---
Monique Singer is a cultural creator now based in Montreal, usually found travelling the world, experiencing other cultures and sharing what she finds most interesting. At the top of her food passion is her attraction for spices, their benefits and the distinctive flavour they bring to all dishes. LinkedIn
---
---