Cherry Docs explores racist-inspired violence and hatred
Acts to Grind Theatre artistic directors discuss the play, directing, and acting
By Irwin Rapoport
September 29, 2022
David Gow's play Cherry Docs, presented by Acts to Grind Theatre from September 28 to October 9 at the MainLine Theatre, brings together several themes in a drama where a Jewish legal aid lawyer is assigned to defend a neo-Nazi skinhead accused of the heinous, racially motivated murder of a South Asian immigrant.
Via the dialogue, the audience witnesses an intense and fiery relationship developing between the two men as they explore their emotional and intellectual differences. The work probes the explosive effect that blind hate has on society and the hurdles needed to confront it to eradicate it.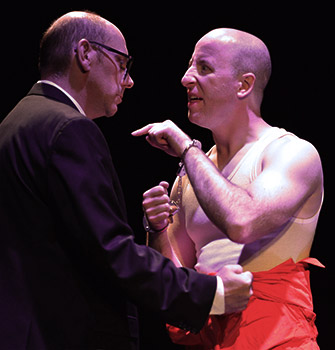 The play is directed by Davyn Ryall and stars Michael Aronovitch and Bryan Libero. Its themes are very current as we are witnessing an increase in racism and intolerance, with much of it in the open, especially during the COVID pandemic. It runs for two hours, including an intermission between the two acts, will have post-show talkbacks on September 29 and October 5.
Acts to Grind Theatre (ATGT) is a Montreal-based theatre company founded in July 2016 whose "aim is to engage its audience through compelling productions that provoke, question, challenge and entertain… Our major area of focus is on the creation, development and production of works by the finest playwrights for an adult audience. Selecting material that is uplifting, insightful and thought-provoking and that stimulates while entertaining the audience is paramount to achieving our vision."
The press release for the play describes the play perfectly via its headline Pandemic Rise in Racially Motivated Crime Mirrored in this Unblinking Examination of Hatred, followed by a line by Mike, who says, "You're a humanist, liberal Jew. So you have to do your very best. In an ideal world, I'd have you eliminated. In this world, I need you more than anyone."
Cherry Docs is Gow's most-produced play, and the press release notes it is "sadly as current as ever. Ringing even truer, the play has been adapted for the first time to the city it is being performed in. Placing the action in Montreal was important to director Davyn Ryall, [who said] "originally set in Toronto, it now highlights that we are faced with this epidemic of venomous racism right here on our front porches."
You're a humanist, liberal Jew. So you have to do your very best. In an ideal world, I'd have you eliminated. In this world, I need you more than anyone.
– Mike
The timeliness of this critically-acclaimed drama is further emphasized with a marked 67 percent increase in hate crimes targeting religion and ethnicity since the beginning of the pandemic, according to an August 2022 Statistics Canada report. A key goal is to have people question the premise that our society is generally depicted as being progressive, diverse and multicultural and examine, recognize and address their prejudices in light of that.
Ryall, ATGT's artistic director, was inspired by the play's eloquent writing and its power to connect. "The compelling, haunting story encourages people to question their beliefs regarding tolerance and acceptance of others – where does this hatred come from?", he said. "What resonates most for me is where the playwright starts us off in the beginning and where we end up; how hatred turns to questioning."
Gow has referred to his play as his "own private Zoo Story," a play by Edward Albee and another two-character play that is performed often.
"Cherry Docs premiered in 1998 and has had more than 100 productions around the globe, has been translated into 13 languages and was made into the film Steel Toes," he said. "Consistently described as topical and 'ripped from the headlines', the headlines have gotten bigger and moved from page 22 to page 15 to page 1. The question is: what will we do about the situation?"
Bryan Libero, a founding member and associate artistic director of Acts to Grind Theatre, plays the role of the accused. "I hope audiences address the various emotions evoked and feel empathy towards a character they didn't expect to empathize with," he said.
Michael Aronovitch portrays the lawyer, Danny, and he says what speaks most to him is the exploration of ignorance. "It is gripping how someone would need to so badly be part of something, that his actions now lead him to be alone with serious consequences," he said. "Being Jewish, I have experienced, witnessed, and helped in the fight against anti-Semitism and racism in general."
MainLine Theatre was chosen as it provides an ideal intimate performance space for the production's setting of a jail cell and prison interrogation room. Design elements add to the atmosphere of tension that mounts during the production. Music is also important as the contrast of music from heavy rock to traditional klezmer underscores the two worlds of the characters. The set was designed by Molly Desormeaux, Richard Smith is handling the sound, and Ryall looks after the lighting.
White nationalism, racist violence, conspiracy theories. David Gow's Cherry Docs hasn't dated much since its 1998 premiere. If anything, the ills it identifies have gone a little more mainstream.
– Jerry Wasserman, Vancouver Sun
Acts to Grind Theatre artistic directors Davyn Ryall and Bryan Libero shared some additional thoughts regarding the play and their passion for the theatre in an interview with Westmount Magazine.
WM: As the director, what did you do to prepare for the play and what are some of the challenges you had to overcome?
Ryall: I read the play multiple times before deciding on producing it. I also watched the film version Steel Toes as it was also written and directed by playwright David Gow. Then I reached out to David directly; I wanted to localize the play to Montreal, and I wanted it to take place in present time. Originally released in the late nineties, it was somewhat dated in certain references. It was set in Toronto and I wanted it to take place in Montreal, so location references are at home on our front porches. It is interesting that the film was shot here in Montreal, though.
WM: How would you describe your directional style, and what are the keys to ensuring fresh and inspiring performances daily?
Ryall: I work hard on all aspects of the production from costumes, lighting, sound, and set. I was able to apply my talents and input directly to all of these in this production. Working with the cast, I ensure that they are comfortable with all of the staging direction and that they clearly connect and understand their characters. Smooth transitions are also very important.
'Originally released in the late nineties, it [Cherry Docs] was somewhat dated in certain references. It was set in Toronto and I wanted it to take place in Montreal, so location references are at home on our front porches.'
– Davyn Ryall, director, Cherry Docs
WM: How do your experiences as an actor help you as a director? How many plays have you directed, and how are you evolving as a director?
Ryall: Having trained as an actor first and also performed on stage, in film and on TV, I can relate to the actors' experience when approaching a role and bringing it to the stage. To date, I have directed well over 50 productions and special events, as well as a festival.
WM: With COVID's impact lessening, live theatre is returning in a big way to Montreal, how did the pandemic affect the theatre company, and what do you have planned for the next year or two?
Ryall: Our production of HAM, A Lot got cut short due to the March 2020 shutdown of all public events. Cherry Docs would have gone up in November 2020 had it not been for the pandemic. We are very happy to finally bring it to the stage.
Libero: We had another show planned for March 2020 to help raise money for this one. We had to re-plan our financial strategy to make this show happen. We have a few ideas we are mulling over but have not made a final decision at this time.
WM: Earlier in the article, the ethos and mandate of the theatre company were mentioned. How would you describe the progress of the company since its founding, and how would you describe your working partnership?
Ryall: The company has consistently taken on challenging material and we are not afraid to take on a production that most other companies might pass on… like Cherry Docs. I've been collaborating with Bryan for ten years since I first cast him in a musical while I was artistic director of another company. He has great instinct when approaching the challenges of taking on a role. He is extremely well trained, yet, still always open to learning more and takes direction well. In 2016, when Acts to Grind Theatre was created, he was the perfect partner to bring on board. I'm looking forward to many more adventures on the stage with him.
Libero: We have worked together since 2012 and have a good understanding of how the other person works. There may be disagreements here and there, but we both always have the company's best interests in mind. Acts to Grind Theatre started from humble beginnings and got to where it is with hard work and determination to bring its shows to life.
WM: Cherry Docs is clearly a play that you wanted to bring to Montreal theatre aficionados. How would you describe the process of securing the rights to perform it, and how do you think people will react to the themes it explores?
Libero: We spoke with the playwright directly and got his approval about how we wanted to approach it and make it more central. Hopefully, people who see it will have a better understanding of the types of questions the play asks and how important it is to have these conversations.
WM: Was this a difficult play to cast, and what are the keys to maintaining its tension and ensuring that the dialogue keeps everyone entranced?
Libero: We had a good idea of who could play Danny, but the final decision was made based on who was willing to undertake the role and responsibility with it. Both characters are two sides of the same coin, and we have to make the scenes like a tennis match to keep the tension going between them.
'The company has consistently taken on challenging material and we are not afraid to take on a production that most other companies might pass on… like Cherry Docs.'
– Davyn Ryall, director, Cherry Docs
WM: Many actors have expressed their joy in portraying the bad guy. You are playing a rather nasty character. What did you do to prepare to enter the mind of an individual that many see as deplorable?
Libero: I think you can't look at any character you play in the negative because it's not true to life. While you may be playing a villain or stupid person, you have to play it completely honestly and without fear. I did a lot of in-depth character work with my acting coach (Anik Matern) as well as personal research on the skinhead lifestyle to dig deep into what drove my character down the path he chose. What makes him interesting is that while he's done an awful, heinous act, there's something about him I empathize with and hope the audience sees that too and empathizes with him as well.
WM: How long have you been an actor, and what attracted you to the stage?
Libero: I've been acting professionally since 2008, but I was doing theatre and little plays since I was in grade school. I was always attracted to performing in front of people and loved every minute I got to be on stage or camera.
WM: How would you describe your journey as an actor, and what are some of the plays you performed in?
Libero: I have had a lot of ups and downs, all of which were learning experiences. There was a lot of rejection and frustration with the system, which took a lot of picking myself up and believing in myself. I just need to keep moving forward no matter how many hits I take. Some selected credits include 33 Variations with Brave New Productions, Compleat Female Stage Beauty with Persephone Productions, True Love Lies and Glengarry Glen Ross with Acts to Grind Theatre.
mainlinetheatre.ca/en/spectacles/cherry-docs
---
Images: Don Smith
Read also other articles by Irwin Rapoport
---
Irwin Rapoport is a freelance journalist with Bachelor degrees in History and Political Science from Concordia University.
---
---