Gabrielle Soskin's
one-woman debut play
"Counting Aloud" as a senior lady masters the piano
By Byron Toben
Without music, life would be a mistake.
Nietzsche
Westmount resident Gabrielle Soskin, well known as an actor, director and teacher, has now written her first play as well.
Biographical in nature, her solo show Counting Aloud chronicles her upbringing in England, her emigration to Montreal, her eventual marriage and, after a successful theatrical career, her embarking on a second career as a pianist.
Through it all, she remains ever the "rebel girl" she still sees herself as.
Crisply directed by Christopher Moore, who succeeded her in 2013 as Artistic Director of Persephone Productions, which she had founded in 2000, this play deserves a longer run in future than its short 4-day initial run.
Against a bare stage of a grand piano, a chair, a hat rack and a trunk, Ms Soskin declaims not only her own inner feelings, but conjures other voices of her relatives, teachers, even a psychologist.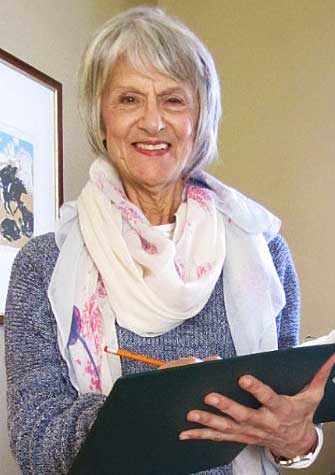 I was also impressed by her agility in clambering underneath the grand piano in one scene.
Born in London, England to a Russian Jewish businessman who appreciated paintings which covered their walls and a mother who kept a salon inviting famous accomplished guests, she was exposed to an appreciation of the theatre at an early age. However, she rebelled at advisors suggesting a career as a flower arranger, studied theatre and taught such at a secondary school in East London before, on a whim, visiting Montreal in 1970.
Her acting, singing and dancing skills landed her a position teaching drama at John Abbot Cegep which culminated in her founding Persephone Productions of Montreal in 2000 (not to be confused with a similarly named troupe in Saskatchewan).
This middle part of her life is not described in detail in this show, which focuses on her early upbringing and qualms about finally being "ready" for marriage. Luckily, she found a husband who encouraged her artistic independence as she birthed two children.
Rather, the play focuses on her desire to have a second career as a concert pianist and her difficulties, despite her artistic sensitivity, in mastering the rhythms and tempos of piano playing.
Hence, impatience with the tyrannical metronome and the title of the play. However, dedication and devotion won out over trials and tribulations, resulting in a McGill degree in music to mach her decades earlier one from Concordia in theatre.
'… the play focuses on her desire to have a second career as a concert pianist and her difficulties… in mastering the rhythms and tempos of piano playing.'
The play refers to Shakespeare on music, "If music be the food of love, play on…"
And although Ms Soskin has become a pretty darn good pianist, she intimates that it is not in the cards that she will attain maestro status. I do not know if she is aware of G. Bernard Shaw's joking quip that "Hell is full of amateur musicians."
But she exalts in the inner sense of accomplishment and the joy of the music itself – which reminds me of another apt Shaw quote, "Without Art, the crudeness of reality would make life unbearable."
Counting Aloud ran at Studio Jean Valcourt May 31 to June 3.
It was a fundraiser for Persephone Productions' next show in autumn, Abigail/1702.
Images: courtesy of Gabrielle Soskin

Read also: Byron's top Fringe picks sight unseen 2018
---
Byron Toben is the immediate past-president of the Montreal Press Club.
---
---