Enhance your curb appeal
to sell your house this fall
Things to keep in mind to improve your home's appeal before you sell this fall
October 21, 2021
With fall beginning, many homeowners may wonder if they should sell their home now or hold off until spring. The good news is, fall can actually be a great time of year to sell your home. The season can provide a beautiful backdrop for would-be buyers to imagine a new life in your home and boasts balanced weather for all the organizing and lifting that comes with moving.
That said, there are some things to keep in mind to improve your home's curb appeal before you sell this fall.
The good news is, fall can actually be a great time of year to sell your home.
Think About a Repaint
Your front door is the entrance to your home, and the condition it's in will be the basis for new visitor's first impressions. If it's been a while since you repainted your house, it's probably time to touch up the front door and trim or consider a full-on paint job if necessary.
If there is paint peeling off the siding or boards that are rotting, it's time to get to work sprucing up your home's exterior.
Work with a Professional
When updating your home for improved curb appeal or general home value, it can be hard to know where to start. This is why it's important to work with professionals who know exactly what buyers are looking for. Work with experienced real estate agents like those at Michael St. Jean Realty brokerage to help you decide how much, if any, TLC your home's exterior might need.
Update Plants to More Fall-Friendly Versions
You don't want to keep your summer plants around after they've peaked, stopped growing, or died altogether. Luckily, there are plenty of fall flowers and plants that you can use to add some autumn flair to your home.
Great seasonal choices to bring a vibrant pop of colour to your front yard include chrysanthemums, balloon flowers, pansies, and celosia. Stick to one or two colours and combine them with a couple of evergreen shrubs of various sizes.
Stick to Seasonal Decor
For many, fall decor goes hand-in-hand with Halloween décor. As much as it may pain Halloween enthusiasts, this may not be the best route to take if you're selling your home. Any other year, you're well within your rights to decorate however you choose, but if your home is on the market, it's essential to keep your seasonal fare more neutral.
When you're planning to sell, you want your home to appeal to the broadest array of buyers as possible. The vast majority of buyers will be drawn to more neutral decorations, while more personalized decor may appeal to a select group but could turn some people off. You want something that's tasteful, clean, and does not obstruct the front door.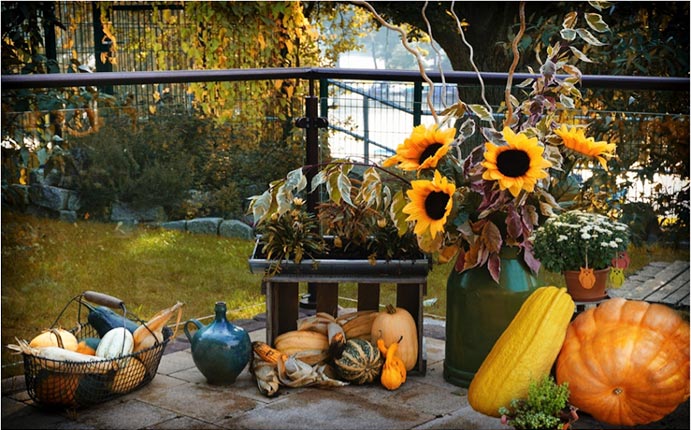 Lawn Maintenance
Fall colours and cascading leaves may provide a romantic vision when potential buyers pull up to your home. One thing that doesn't, however, is the fallen leaves leaving a litter of mess on your lawn and walkway. These can make your property look messy and unkempt.
It's essential to take care of these as buyers don't want to see a lot of leaf litter sprawled across the lawn. If you stay on top of raking leaves, your curb will look more neat, tidy, and put together.
Fall is still a great time to sell a home, regardless of the weather. Remember, buyers will likely view your home online or drive by before deciding to visit, so implement these tips to add plenty of charm and curb appeal to keep your home above the competition.
---
Feature image: Andrew Burlone
Other articles on Real Estate
---
---