Interview: Eris Salvatori
Westmounter aims to give Montreal English theatre a shot in the arm.
By Patricia Dumais
I recently had the pleasure of talking with fellow Westmounter Eris Salvatori about living in Westmount and his involvement as Executive Producer of the play Don't Blame it on the Stork, premiering September 17 at the Leonardo Da Vinci Centre in St. Leonard.
Born in Montreal, Eris grew up in the East end of the city, the son of Italian immigrants. He attended McGill law school and went on to pursue a career in investment banking. For the past twenty years he helped finance dozens of Canadian-produced feature films and television series, such as the film Screamers and the television series Les filles de Caleb. As a result, he has occasionally assumed a more active production role, co-producing and executive-producing several feature films and television series, notably the 24 Hour Rental television series.
This is his first involvement in live theatre and he is very excited to be part of the production of Don't Blame it on the Stork. He shared his concern for the English Montreal performing arts scene: "I'd like to help keep Montreal vibrant, especially its artistic community which seems to be constantly dwindling and moving west to Toronto". And he offered this solution: "We need projects here at home to employ and keep these talented people and it is up to the community itself to do what it can. We cannot hope that government or other public agencies will fill in the void because in the past that has not happened here in English-speaking Montreal. This project employs 8 actors, a director, a playwright, plus a myriad of others, including set designer, costumes, lighting, sound etc., probably 20 people in all, for a 2 to 3 month period. A constant flow of such projects could keep many artists employed and staying in Montreal." He added: "The English theatre community has been very supportive of our project. For example, the Centaur Theatre lent us costumes and props."
A Westmount resident for the past 25 years I asked him how he came to live here. He explained: "It's a great place to raise a family, with excellent schools, and it is so close to downtown. I hate commuting and I really appreciate the 15-minute walk to my office or the seven-minute drive."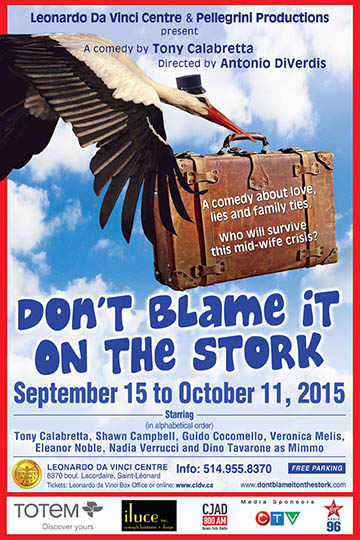 Don't Blame it on the Stork is a hilarious and heart-warming comedy about the trials and tribulations of a typical Montreal-Italian family when a very pregnant daughter and her Anglo husband move to the top floor of the in-law's duplex. It is being staged in the Leonardo Da Vinci Centre's beautiful Mirella and Lino Saputo theatre. The plush state-of-the art 533-seat venue, modelled after La Scala in Milan, is one of Montreal's best-kept secrets.
Eris encourages Westmount residents to attend the production and offers some (tongue-in-cheek) tips: "The main problem seems to be that most people from Westmount have no idea where St. Leonard is located. I play senior hockey in Westmount and once when I brought a map including Montreal and asked the guys on my team to identify St. Leonard, most guys pointed to Three Rivers. Nova Scotia was also a popular choice, and our team captain vaguely pointed towards Iceland. Granted, these are not Mensa members, however it does highlight the fact that St. Leonard seems like a foreign land."
He stresses the venue's accessibility, offering easy directions: "It is very easy to get to Leonardo da Vinci Centre from Westmount — take Decarie north to the Metropolitan, then east until the Lacordaire North exit, then go two lights and turn left into Leonardo da Vinci Centre. There is free parking for 2000 cars. The evening shows are at 8 pm so traffic should not be an issue, and it shouldn't take more than 25 minutes from anywhere in Westmount to get to the theatre."
With a touch of humour he added: "For those brave Westmount residents who are thinking of making the trip, I would like them to know that I have successfully negotiated with the St. Leonard authorities that, for the duration of the play, they will waive the regular visa requirements."
Don't Blame it on the Stork
Opens Thursday, September 17 and runs till Sunday, October 11
For tickets call 514 955-8370 or online at Leonardo da Vinci Centre Box Office.
Check out the play's TV commercial:
Image: Shawn Campbell
---

Patricia Dumais, artistic director, award-winning graphic designer specialized in brand design is co-founder of Visionnaires, publishers of Westmount Magazine. Patricia develops visual concepts and ensures that all deliverables follow our publication's standards and reflect the editorial voice. You can connect with Patricia on Linkedin, Twitter and Pinterest. or by email at pdumais@westmountmag.ca.
---
---