In a Quiet Little Village:
A captivating murder mystery
Enn Raudsepp's second novel joins the list of good summer reads
By Byron Toben
July 19, 2022
In 2016, I reviewed professor Enn Raudsepp's first novel, Vandra, which ended with the statement that he is working on a second novel, a murder mystery. That second novel has now come to fruition. It is entitled, In a Quiet Little Village.
Whereas Vandra dealt with Raudsepp's native Baltic state of Estonia, from which his parents fled with him as a six-month-old babe in arms in 1944 to avoid the encroaching Russian army, this one is loosely based on his experiences in the early 1960s as a volunteer teacher in Ghana under Canada's CUSO program (similar to the USA's Peace Corps).
Its blend of setting and humour has led to its being compared to the popular No. 1 Ladies' Detective series.
An ad in the Toronto Star that read, "Wanted: College Graduates. Young men and women who would like to make a difference by serving as volunteer teachers in developing countries", caught the attention of the novel's protagonist, Brian, as well as the desire to flee the fiancé selected for him by his mother (because she so resembled his mother.) So, Brian signs up to teach English and math and is assigned to a quiet little village where nothing exciting ever happens.
Its blend of setting and humour has led to its being compared to the popular No. 1 Ladies' Detective series.
However, the appearance of a headless corpse in a nearby lake leads to 251 pages divided into 46 easy-to-read chapters where local priests, exorcisms, yam festivals, football teams, cigarettes, local wine, friendly females and a shrouded laboratory all interact to lead to a final resolution.
More about the author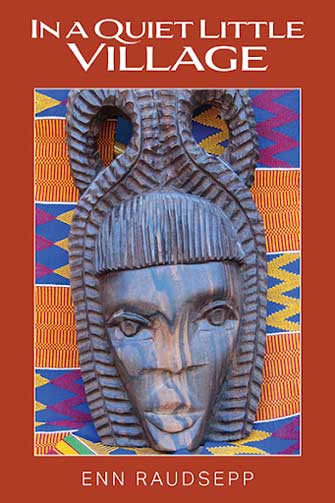 After fleeing the invading Soviets, Enn's family, headed by his father Karl, a Lutheran pastor, eventually made its way to Canada in 1948 and settled in Montreal. Enn, attracted by literature, enrolled at McGill, where he worked on the student McGill Daily newspaper, eventually winning a scholarship to the Columbia School of Journalism in New York.
He joined the fledgling Journalism program within Concordia's English Department and eventually co-founded the separate Concordia School of Journalism. Along the way, he married Dublin-born professor Dana Hearne, and became a frequent attendee at the Cine Gael Irish film series.
In a Quiet Little Village is available online from the Friesen Press Bookstore, Amazon.ca and Barnes & Noble.
Images: courtesy of Enn Raudsepp
Feature image: Vandra book launch at the Atwater Library
Read more articles from Byron Toben

---
Byron Toben, a past president of The Montreal Press Club, has been WestmountMag.ca's theatre reviewer since July 2015. Previously, he wrote for since terminated web sites Rover Arts and Charlebois Post, print weekly The Downtowner and print monthly The Senior Times. He also is an expert consultant on U.S. work permits for Canadians.

---
---