A tribute to Anna Politkovskaya
Intractable Woman, assassinated in Moscow, lives on Montreal stage
By Byron Toben
Anna Politkovskaya, a Russian journalist, was assassinated entering her apartment building in Moscow in October 2006. Only 48, she left two children as yet another journalist killed in the escalating world-wide total of 1992 journalists killed from 1996-2016 (800 by murder). A U.S. citizen of Ukrainian descent born in New York, she was educated and lived all her post childhood life in Russia where she became an investigative journalist for Novoya Gazeta.
She was assigned to cover the Second Chechen War 1999-2009, resulting in her first book A Dirty War.
Despite many awards for freedom from censorship, she incurred accusations of being a spy or traitor and being deemed 'intractable' (beyond re-education).
After her murder, Italian playwright Stefano Massini wrote this play, which has been staged across Europe and adapted into a Venice Film Festival entry.
Now Imago Theatre is presenting this piece in English, directed by Micheline Chevrier. She has directed many award-winning shows across Canada. I particularly enjoyed Top Girls at the Segal in 2014 and am glad to see that she has enticed Stratford alumna Laura Condlin from that show to join the trio of actors in this one.

Her dedication to objective reporting is admirable and one hopes that change will come because of it.
The other two are equally talented – Deena Aziz (also with Stratford creds) and Warona Setshwaelo, both well known in local theatre circles. All three portray Anna at various stages on her Greek drama voyage towards her own death.
Why did she not publish her observations anonymously? Or with a nom de plume? Many great writers have done so. Voltaire, for example had 178, including 'Voltaire'.
Her dedication to objective reporting is admirable and one hopes that change will come because of it.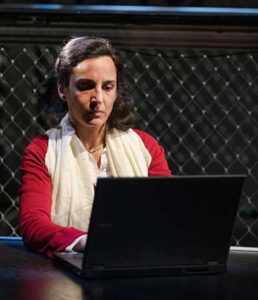 Sometimes it does, although slowly and after long pauses. Witness various self-burnings, Bobby Sands' 66-day hunger strike, Masada suicides and early Christians eaten by lions.
Sadly, in most cases, little real change occurs. Never thought I would quote Mr Hitler (itself an alias) that "History is a bath of blood".
One slight problem with the script – The Intractable Woman is here written by the relentless playwright. Even the most heart-breaking recitations are best highlighted with some lighter moments. As in music, thunderous orchestrations benefit from a brief interval of tinkly notes. Not sure of possible moments, here, but just sayin'. Maybe some anecdote with her children while all this is going on?
Despite this last observation, highly recommended for theatre and politico aficionados.
Intractable Woman ends at the Centaur on February 18.
Tickets and information at 514 288-3161 or imagotheatre.ca
Pay what you decide.
Images: Tristan Brand

---
Byron Toben is the immediate past-president of the Montreal Press Club
---
---