Giacomo Puccini's La Bohème
at the Opéra de Montréal
How invigorating to see young music lovers at L'Opéra de Montréal!
By Luc Archambault
On Thursday May 18, l'Opéra de Montréal held an impressive dress rehearsal of its most recent production, La Bohème, the famous four-act opera by Giacomo Puccini, which defrays the lives of young artists in bohemian Paris of the late 19th century. While some aspects of this story may seem to be of a different age, if not odd (the opera was created in 1896), the central theme of Love as a reason for living remains universal.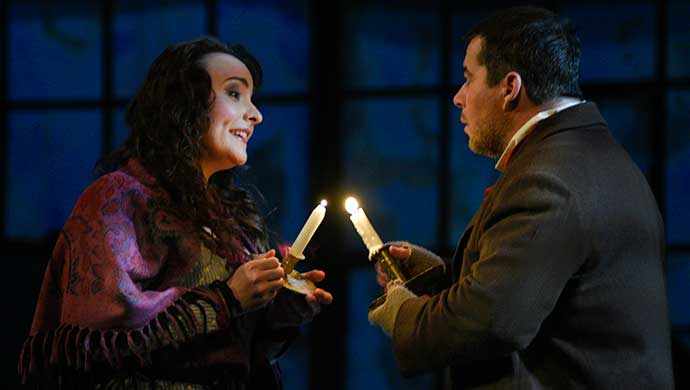 The work that this composer has left us is a testament to the artistic brilliance of his musical talent which ensures that his operas are still being played today around the world. But what of this new production of the opera? A stellar ensemble composes its cast, which includes as main protagonists France Bellemare in the role of Mimi, Luc Robert playing Rodolfo, Justin Welsh as Marcello, and Lucia Cesaroni as Musetta.
The work that this composer has left us is a testament to the artistic brilliance of his musical talent which ensures that his operas are still being played today around the world.
There is a golden rule among opera singers: they have to protect their main instrument, their voice, and the singers may decide to refrain from singing in full voice certain passages of the work, especially during rehearsals. This practice is called 'marking' and singers are said to 'mark' such and such a passage. During the rehearsal, France Bellemare could be heard to 'mark' some tunes, since her voice seemed at times rather weak, especially when compared to those of her acolytes. But when she sang in a full blown manner, her magnificent voice made the audience shiver. However, when comparing her voice with that of Lucia Cesaroni, based on this rehearsal, one could wonder if there had not been a casting error at work. Cesaroni has a strong stage presence as well as a thunderous voice and can play a strong female role, even a second fiddle one. I am nevertheless convinced that Madame Bellemare will win the hearts of every romantic attending this great performance of Puccini's opera.
My only unfavourable comment, however minor, is about the backdrop decor. I am well aware that l'Opéra de Montréal does not operate on unlimited budgets, but there is a gap, in my opinion, in the scenic design. While three of the four acts take place indoors, the first and the last one in the attic of the artists and the second at Café Momus, the third act happens outdoors, at a gatehouse nicknamed The Barrier of Hell. And there lies the problem: we still see Paris in the distance through the same huge windowpane as in the indoor scenes. Wouldn't it have been more appropriate to have an outdoor version of the Parisian skyline? I know, it's a detail, but I'm sure that for most of the great opera houses of the world, such detail would have at least have rung a bell in the sets department.
Notwithstanding this minor irritation, what impressed me most about this rehearsal was undoubtedly the audience, predominantly composed of teenaged high school students. Yes, they were boisterous, but nevertheless felt involved in this highly romantic story. They applauded cheerfully, acclaimed the singers and had an admirable moment. I congratulate l'Opéra de Montréal for their dedication to young people.
This was surely a first for me, as a cultural columnist, to see the front half of the parterre, reserved for adults, noticeably empty, with a few clusters of grey-haired spectators here and there. But the back-end of the hall and all the upper levels were filled with young people who listened religiously, impressed, attentive and impressive. I am convinced this representation of the opera will undoubtedly leave its mark on these malleable minds. What a great end-of-year outing! Congratulations to the teachers and schools that chose to introduce their students to such culture. And in fact, these students would have deserved to sit at the front of the hall.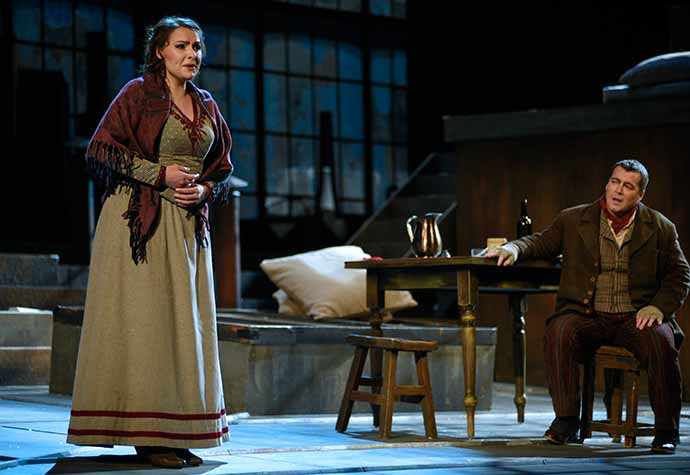 If you want to experience this great operatic work, it will be shown on May 20, 23, 25 and 27, with representations at 7:30 pm at the Salle Wilfrid Pelletier of Place des Arts. Unfortunately for you, there won't be a teenage audience to react and cheer as they did during the dress rehearsal, but the quality of this opera, its singers and l'Orchestre Métropolitain, with James Meena conducting, will insure that you'll experience a magnificent, romantic, rollercoaster of an opera, even though the ending is a bit Saturnine.
La Bohème is sung in Italian with French and English supertitles. With a total duration of two and a half hours, with two intervals, your evening will undoubtedly be memorable. You may even consider attending the next season of l'Opéra de Montréal, with presentations of Tosca, La Cenerentola, JFK, Svadba and Roméo et Juliette.
Read also: Love's Lament, a remarquable end of season
Images: Yves Renaud

---
Luc Archambault
Writer and journalist, globe-trotter at heart, passionate about movies, music, literature and contemporary dance, came back to Montreal to pursue his unrelenting quest for artistic meaning.
---
---