Opéra de Montréal's
2020-2021 Season
The finest singers from home and abroad all season long, this is what awaits you!
Verdi's and Mozart's most wonderful arias, the highly anticipated return of the great composer Janáček, an original work by Michel Marc Bouchard and Julien Bilodeau and the finest singers from home and abroad, all season long—this is what awaits you in 2020-2021!
Also, for a second year, opera fans will be able to take advantage of Sunday afternoon performances at 2 pm, making it easier for many music lovers to attend! This is in addition to the very popular series of free Let's Talk Opera! events, which will continue to expand throughout Montreal and in nearby suburbs.
The 2020/2021 season in brief
• La Traviata, Giuseppe Verdi, September 2020, Salle Wilfrid Pelletier
• Jenůfa, Leoš Janáček, November 2020, Salle Wilfrid Pelletier
• La beauté du monde, Julien Bilodeau / Michel Marc Bouchard, March 2021, Théâtre Maisonneuve
• The Marriage of Figaro, Wolfang Amadeus Mozart, May 2021, Salle Wilfrid Pelletier
LA TRAVIATA
Giuseppe Verdi
Inspired by the spectacular fate of Josephine Baker, this all-new version of Verdi's famous opera showcases the dazzling artistry of Quebec soprano Marie-Josée Lord.
Cast
Violetta Marie-Josée Lord
Alfredo Rame Lahaj
Germont Jean-François Lapointe
Flora Pascale Spinney
Conductor Jordan De Souza
Stage Director Alain Gauthier
Production Opéra de Montréal, Edmonton Opera, Manitoba Opera, Pacific Opera Victoria, Vancouver Opera
Opéra de Montréal's Chorus / Orchestre Métropolitain
Salle Wilfrid-Pelletier
September 26, 29, 2020, 7:30 pm
October 1, 2020, 7:30 pm
October 4, 2020, 2 pm
JENŮFA
Leoš Janáček
Janáček's exquisitely lush orchestral writing meets the brilliance of celebrated Canadian filmmaker Atom Egoyan and sublime Quebec soprano Marianne Fiset, in a new production you don't want to miss this season.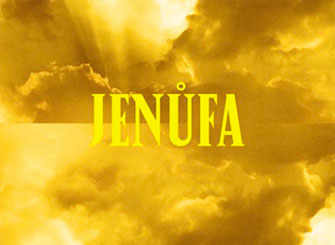 Cast
Jenůfa Marianne Fiset
Laca Samuel Lakker
Steva Adam Smith
Kostelnika Agnès Zwisrko
Starek Tom Goertz
Buryja Stefania Toczyska
Conductor Alexander Briger
Stage director Atom Egoyan
Production   Opéra de Montréal & Pacific Opera Victoria
Opéra de Montréal's Chorus / Orchestre Métropolitain
Salle Wilfrid-Pelletier
November 14, 17, 19, 2020, 7:30 pm
November 22, 2020, 2:00 pm
LA BEAUTÉ DU MONDE
Julien Bilodeau and Michel Marc Bouchard
WORLD PREMIERE
After the successful premiere of the deeply moving opera Les feluettes in 2016, Quebec playwright Michel Marc Bouchard is back at the Opéra de Montréal with an original libretto about the epic rescue of artwork from the Louvre during World War II. He teams up with composer Julien Bilodeau. An opera that illuminates the sense of art and beauty in our lives.
In 1939, fearing the German advance with its bombing and pillaging, Jacques Jaujard, the director of France's national museums, organized the removal of major pieces from the Louvre and the safe storage of its collections. As the Germans advanced on Paris, thousands of works of art found themselves in exile along the roads of France. The Mona Lisa, incognito, was part of the convoy.
For her part, Rose Valland, the former director of the Jeu de Paume Museum, was relegated to the role of caretaker. In secret, she collected and compiled all the meaningful information she could about Jewish-owned private collections that were being seized by the Germans. Hermann Göring, Marshal of the German Empire, visited the Jeu de Paume dozens of times, selecting thousands of pieces for his personal collection.
At the end of the war, through the efforts and instinct of Jacques Jaujard, all of the works from the Louvre were returned to their place in the museum. Thanks to Rose Valland's work and notes, over 60,000 works of art plundered mainly from Jews, were returned to their rightful owners.
Cast
Jacques Jaujard Philippe Sly
Le Comte Franz Wolff-Mettermich Elliot Madore
Rose Valland Julie Boulianne
Jeanne Boitel Layla Claire
Bruno Lohse Isaiah Bell
Esther France Bellemare
Alexandre Rosenberg Jean Michel Richer
Hermann Göring Marc Hervieux
Conductor Jean-Marie Zeitouni
Stage Director Florent Siaud
Opéra de Montréal's Chorus / Orchestre Métropolitain
Théâtre Maisonneuve
March 20, 22, 24, 26, 30, 2021, 7:30 pm
March 28, 2021, 2:00 pm
THE MARRIAGE OF FIGARO
Wolfgang Amadeus Mozart
Mozart's genius displayed in some of his most gorgeous arias, in a historically inspired version sure to charm all opera lovers. Discover or rediscover this lyric work that consistently delivers satisfaction featuring, featuring the greatest singers from Canada.
Cast
Figaro Daniel Okulitch
Susanna Andrea Nunez
Countess Kirsten McKinnon
Count Hugo Laporte
Cherubino Katie Miller
Marcelina Sydney Frodsham
Bartolo Brenden Friesen
Barbarina Vanessa Croome
Antonio Jean-Philippe Mc Clish
Conductor Nicolas Ellis
Stage Director Stephen Lawless
Production This production is owned by Lyric Opera of Kansas City, Opera Philadelphia, San Diego Opera et Palm Beach Opera.
Opéra de Montréal's Chorus / Orchestre Métropolitain
Salle Wilfrid-Pelletier
May 8, 11, 13, 2021, 7:30 pm
May 16, 2021, 2:00 pm
RIDERS TO THE SEA
Ralph Vaughan Williams
I Musici de Montréal and Ballet Opéra Pantomime (BOP) join forces with Opéra de Montréal for a unique double bill in which the sea plays a leading role. The sea nurtures lives but also claims them. In the north of Ireland, it plays in turn with the fates of Maurya's sons. A new work to an original libretto about migrants by Olivier Kemeid with music by Hubert Tanguay-Labrosse will follow.
Cast
To be announced
Conductor Hubert Tanguay-Labrosse
Monument-National
May 22, 23, 2021
Opéra de Montréal 41st Season
All operas are performed in their original language with bilingual surtitles projected above the stage.
Subscriptions to 4 operas starting from $119
Other subscription packages available!
Only at the Opéra de Montréal box office: 514-985-2258  •  1 877 385-2222
www.operademontreal.com
Single Tickets starting at $30, on sale as of June 5, 2020.
Place des Arts Box Office: 514-842-2112 • 1 866 842-2112
Follow Opéra de Montréal on Twitter • YouTube • Facebook • Instagram
Featured image: Germán Poo-Caamaño via StockPholio.net

Read also: Other articles about Opéra de Montréal
---

L'Opéra de Montréal acts as a catalyst for the city's artistic creativity and celebrates Quebec and Canada's rich vocal heritage, showcasing opera at its most diverse and daring. From great classics of the opera repertoire and innovative new works from home and abroad, to a training program for the finest young Canadian singers and outreach efforts in the community and educational system, the Opéra de Montréal offers unforgettable operatic events at which everyone is warmly received and feels welcome.
---
---