Saloon and Goblin Market, top physical theatre
Two recent shows follow in the path of the Cirque du Soleil
By Byron Toben
Physical Theatre is story telling incorporating body movement instead of or in addition to verbal expression. Thus it may incorporate mime, dance, circus tricks, acrobatics and gymnastics.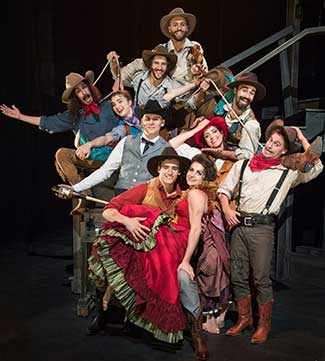 Montreal, with its world famous Cirque de Soleil (est.1984) has become a magnet for other such groups, primarily at the TOHU centre.
Recently, we hosted two other terrific ensembles – Quebec's Cirque Eloize (est. 1993) and New Zealand's Dust Palace (est. 2009).
The Cirque Eloize, which has presented 4000 performances in 11 theme shows in 50 countries, visited the Monument National for a few days with its latest, a Western-themed extravaganza called Saloon. Accordingly, performers dressed as Western film types, a bar owner, a bar tender, a cowboy, a sheriff and of course, a saloon damsel.
In addition, a lot of the action – juggling, rope climbing, backflips, summersaults, hand standing, hoops, jumps into space and catches – was backed by lively country Western tunes. I did not recognize any of them as did some in the audience but then I am an urban Cole Porter kinda guy and he didn't do that kinda stuff… oh wait, he did pen Don't Fence Me In.
Anyway, the 15 member troupe manages to squeeze in a prairie train, a bar room brawl and a horse riding episode in the midst of all the split second timing of leaping through space. This group is definitely on the radar for whatever show they next create.
The Dust Palace, which did visit Montreal in 2016, was invited back to perform at the Centaur's annual fund raising Gala and stayed three more days for the general public. Its current show, The Goblin Market, is based on an 1862 poem of same name by Christina Rossetti.
Here, two sisters, Eve Gordon and Rochelle Mangan, encounter a goblin, Edward Clendon, who entices one of them to eat an orange which, shades of Eve and the apple, leads to bad consequences. A thin plot, but this is physical theatre, so again, lots of rope or drape climbing, supple backflipping, hoop manoeuvring, and the like.
The choreography was by Ms. Gordon, who co-founded the group with Mike Edward, who directed.
One benefit of researching this excellent show was that I now know the differences between goblins and gremlins (they're both mischievous) not to mention pixies, elves, imps, orcs and gnomes. Gimme old-fashioned leprechauns anytime!
Anyway, whether physical theatre is of giant tent dimensions (Cirque de Soleil), Broadway size (Cirque Eloize) or Off Broadway dimensions (Dust Palace), the dexterity, physical conditioning and artistry all congeal to create rewarding evenings.
Images: Jim Mneymneh, unless specified

Read also: The Goblin Market: circus, theatre and dance

---
Byron Toben is the immediate past-president of the Montreal Press Club.

---
---