Ranee Lee sings it all
and more…
Meet the vocalist, musician, writer, illustrator, educator…
By Carmen J. Michaud
February 24, 2022
Memories are often like cinematic trailers. Great on visuals. Fleeting. You get the gist of the thing but little explanation.
I had this image: Brightly lit room. Wood panelling. Burnt orange wall-to-wall carpeting. There was a glassed-in booth. Sliders and buttons on a tilted panel. Several people in the room, milling. Chatting. I scan the room and see a delicate woman with sparkling eyes. A flash of a smile.
This is Ms. Ranee Lee.
My friend Nancy, who has worked at Justin Time Records for decades and has a remarkable recall of events, clarified the memory. "It was definitely at a launch – maybe for The Musicals: Jazz On Broadway – I'm pretty sure that was the one."
American-born Ranee Lee is one of Canada's greats. Whether you are seated close to the stage at Upstairs or one of the throngs at The Big Stage during the JazzFest, she is always captivating. From show tunes to rhythm & blues, from disco to jazz, this lady sings it all!
  *   *   *   *   *
Ms. Lee. You are a native New Yorker. Raised in Brooklyn. What brought you to Montreal in 1970?
Born in Brooklyn and raised in all four boroughs, I was a true New Yorker!
All my life, I was exposed to and instructed in some form of music. Dance was always the primary foundation. In the mid-60s, I was invited to join a dance troupe and tour various parts of the U.S. and then Canada. As one of the company members who sang, our dance performance was extended with added vocals generally provided by me. After a few years of performing throughout Ontario and the U.S. and, eventually, discovering Montreal, then falling in love with one of her native sons, Montreal became my home.
And you stayed.
So many clubs in Montreal were closing, even the acclaimed Esquire Show Bar. The Musician's Guild in Toronto was far stronger at the time and assured more work for musicians, for performers. How were those early years for you in Montreal?
I arrived in Montreal at the decline of many of the older entertainment and bar venues but others were opening in the style of musical theatre like La Diligence (The Stage Coach), The Queen Elizabeth Hotel, which hosted American and Vegas-style reviews, The Bonaventure Hotel with glitzy high-powered international acts. There was The Playboy Club, which periodically brought in name entertainers as well as local performers. There were many jazz and rock places such as Dominic's, Bijou, The Monte Carlo Club, etc. All were owned and run by George Durst and I was a recurrent invitee.
I was "discovered" and introduced to Jim West, president of Justin Time Records with whom I have recorded for, and have been affiliated with, for thirty-seven years… agreeably!
Montreal also gave me many opportunities for televised performances in English and French. As a member of the performers' unions, I was hired for radio commercials, station ID recording and as an actor. Theatre roles in such venues as the Saidye Bronfman Centre (now the Segal Centre) were added to my résumé.
I was "discovered" and introduced to Jim West, president of Justin Time Records with whom I have recorded for, and have been affiliated with, for thirty-seven years… agreeably!
You portrayed Billie Holiday in Lady Day, presented in Montreal. How did this come about?
The complete title of the production was Lady Day at Emerson's Bar and Grill. The role was gifted to me, in faith of my acting talents, in the early 1980s by the wonderfully perceptive Roger Peace, who has since passed away. He is sorely missed every day.
Roger produced and directed this masterpiece of theatre written by the playwright Lanie Robertson. Roger and my then stage manager Lorrie Barth, my son Charles and I drove to New York to see the first performance of the play starring the brilliant actor S. Epatha Merkerson.
We had the first-ever performance in Canada here in Montreal. It was first presented at La Diligence supper club in Montreal and later for the Montreal International Jazz Festival at a venue then called Club Soda on Park Avenue. The play was renamed White Gardenia and written by Roger. Then the original was presented later at Centaur Theatre after my return from Ontario in the late 80s. There are still a host of people today who remember my performance as Billie Holiday.
I had performed several productions previously for Roger and, before his death, we were preparing yet another spectacular theatre production that would have been yet another gift.
In some of the major newspapers, the production/performance was acclaimed a tour de force and privileged me with many honours and awards, such as the prestigious Dora Mavor Award (our answer to the American Tony awards) for my work as Billie Holiday. This award came for the Toronto production, which I was invited to take on after my run here in Montreal was over. I remained in the production there for almost a year.
'… the production/performance was acclaimed a tour de force and privileged me with many honours and awards, such as the prestigious Dora Mavor Award for my work as Billie Holiday.'
Recently Audra Day took on the role of Billie Holiday and spoke of the emotional toll it took.
The play is extremely emotional and physically demanding. There is no acting, only actual living the part. It still pales in comparison to the depths of Billie Holiday's deluge of life's distressing experiences. I approached the essence of this real-life person, having never met Elenora Fagan (Bille Holiday's birth name) in person.
Through many hours of research, it was essential to try to find the bottom of my soul. During many a performance, I would leave the stage bleeding from cuts on my leg from actually falling or ripping some article of clothing relevant to the realism of the scene. In my dressing room, after every performance, I cried. Some tears for Lady, some for me or many times (when leaving the theatre) held a crying someone in my arms who waited for me after the show to share how they related or were touched in some way by her story. Although her hardships far outweigh any that I would ever encounter, her story is not unfamiliar, especially being era sensitive.
Peeling away my personal comforts and donning the uncomfortable identity of one of the musically pioneering women who laid that particular groundwork for me and many to pursue our own careers and goals in a successful nature requires realism. I felt that then, and still do! I don't believe I would have the stamina to take on that role today but I do have the understanding. I am ever so grateful to have had that opportunity.
Your first album release was All Grown Up in 1980. Definitely more Donna Summer than Billie Holiday. Montreal really embraced the disco era. Did you play any of the city's discos?
Yes! All Grown Up was my first album release with the very well-known Ben Kaye for RCA Records Limited Canadian distribution in 1980. It was a big production with lots of musicians and backup singers and pure Disco energy. I even recorded three of my own originals on it along with the likes of the famous Gino Vannelli's People Gotta Move, and Disco Man, inspired by the beautiful melody of Oh Danny Boy.
Listen to Ranee Lee sing I'm Alive

Musician Credits
Ranee Lee – vocals
Taurey Butler – piano
Dave Watts – bass
Carlos Jiménez – guitar
Jim Doxas – drums
Richard Beaudet – saxophone
Ron DiLauro – trumpet
Muhammad Abdul Al Khabyyr – trombone
Kate Bevan-Baker – violin
Émilie Brûlé – violin
Amanda Keesmaat – cello
It was a great beginning to my eventual serious recording world, which really took hold with Justin Time Records a few years later. Because disco fever was the rage, I'm pretty sure I hit all the known spots, but even the non-disco venues catered to the style. It was everywhere, and so was I!
It was an energetic time on the music scene here and everywhere. I have fond memories of the era. Thankfully, I came to realize that the music of Billie, and others of the jazz genre, continue and remain. Disco is a distant memory.
'All Grown Up was my first album release with the very well-known Ben Kaye for RCA Records… It was a big production with lots of musicians and backup singers and pure Disco energy.'
And then you released Live at the Bijou in 1984. How did you choose the songs for this album, which was a lead into the direction you were going?
(Laughing) Thanks for the memory, I actually do remember singing these songs and the fun it was to do so. But it was quite a long time ago. And, as it was my first recording with Justin Time Records, it was actually the beginning of my jazz recording career.
The songs chosen for the recording were indeed the repertoire I was performing live and in clubs. The recording was that of a "live" performance.
The music was energetic and showed a lot of my then performance skills. My actual understanding of jazz phrasing and the development of a song gradually set in the more I became aware of the style of the music and its requirements.
On your album Deep Song: A Tribute to Billie Holiday (1989) you performed Strange Fruit. This is a difficult song to listen to, let alone perform. How do you keep control of the emotions while still conveying them to the listener?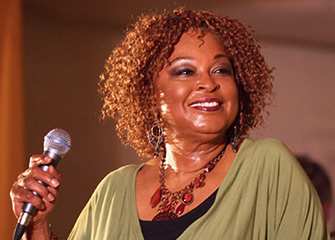 One of the necessary requisites for a vocalist or vocal performer, I believe, is to tell the lyricist's story. The lyric is generally the guide for interpretation through our instrument. It's not unique to jazz. It's evident in every genre of music. Sometimes we choose repertoire or songs that we relate to or are fond of as part of a particular project. Singing the song then becomes a matter of interpretive storytelling. In the unique case of Strange Fruit, the song has its own devastating history and message. As an actor, I have had to live characters, be the character.
When I played Billie Holiday, I felt the pain in her storytelling, her interpretation of songs, her rendering of their lyrics, for example, Ain't Nobody's Business, Hush Now Don't Explain, and others and, of course, Strange Fruit. As Ranee, the singer, I summon the injustice and horror this story relates to as the pain is described in the song. It's undeniably difficult to perform as the story of Strange Fruit is revealed and recognized. Emotionally, the reality of the song speaks for itself! I rarely perform this song as repertoire!
In 2001 Dark Divas: The Musical was released as an album. The album allowed those who could not see this production live to enjoy it at home and learn about the greats of jazz. The mounting of this production must have been monumental. The execution was sublime. Your renditions of songs made famous by Ella Fitzgerald, Dinah Washington, Lena Horne, Josephine Baker, Sarah Vaughan, Pearl Bailey were evocative. And your storytelling was succinct and captivating. What was the process that brought this to life? How did you decide to take this on?
These seven entertaining women signified the arrival of the vocal jazz musicians for me.
I selected them because they shaped the characteristics of my profession as a vocalist and performer. They were the epitome of entertainment in every aspect!
Recalling the early days of my childhood, and before considering any chosen profession, I seemed always to be involved in the performance of music from church recitals, school concerts and female Doo-Wop singing groups. Singing and dancing came as naturally to me as breathing. I was fascinated and drawn by the allure of the musical stylings these ladies presented. They would eventually become icons for me from the beginning of my professional career and throughout my life.
Choosing those specific artists was only natural because they musically god-mothered me from my early days. Josephine Baker with her imaginative exotic dance routines and her singing elegance captivated audiences. She made her adopted home in France. There she was adored and from there became an amazing superstar, elevating her from the difficult times for women of her race and culture in the country of her birth. She is the first of the Dark Divas who came to mind when the idea of acknowledgement coursed through my ever-reinventing thoughts!
The recognizable unique and personalized styles of these artists offered a veritable range of music and performance.
Researching their lives reminded me of their struggles and strengths and the paths they laid for every vocal performer, myself included, who came after in pursuit of a musical career.
It is an honour for me to have conceived, written and performed what I hope is the well-deserved recognition of the contributions of these seven.
Combining my love of theatre, my passion for music interpretation, the elegance of sultry melodies, comedic innuendo, the challenge of swinging and up-tempo rhythms and the familiar memorabilia of songs that we know will never die or the Divas who sang them.
It was a labour of love!
'The inspiration from these particular seven women, the original Divas, paved the road for the style of music that educated and drew me in. It was my way of paying tribute to their music, their history, their resourcefulness.'
Have you considered a Dark Divas II? Aretha, Diana, Whitney, Patti, Donna, Etta, Gladys?
It is a great idea and truly it would be an entertaining production to consider the attributes and contributions of other great icons of the music industry. There are many examples from various genres and styles, who would be extremely qualified to salute. Important evolutionary inroads continue to be made. It has never been a project I have entertained. The inspiration from these particular seven women, the original Divas, paved the road for the style of music that educated and drew me in. It was my way of paying tribute to their music, their history, their resourcefulness.
You won the Juno for Vocal Jazz Album of the year in 2010 for Ranee Lee: Live Upstairs. Is there satisfaction in winning an industry award like the Junos?
I believe awards are comparable to that of a high-standard report card. We are all naturally rewarded in some way for our passion, talent and dedication to our chosen art form. The acceptance of our performance and artistic development is generally demonstrated through the support of audiences and followers. To be favourably awarded strengthens the conviction of the artist/performer's perseverance!
I have received four previous Juno nominations, which is the industry's account of credit and sets me in and among prestigious company, especially with all the musicians that worked with me on this recording. Receiving the Juno for Ranee Lee: Live Upstairs is a gold star at the top of my report card and I am grateful!
You have also been the recipient of awards not solely based on your own musical output but also on your involvement in the community through music. You won the Martin Luther King Jr. Achievement Award in 1988 and the Order of Canada 2006, and the International Association of Jazz Educators Award in 2004 and 2006. Do you feel these awards give you more of a platform, "a seat at the table" so to speak?
Professional achievements and accomplishments can be positive networks that inspire and motivate a community. Music is a strong element of encouragement and to receive these mentioned awards supports my conviction of what can be done. What should be done! The benefits are shared equally. I am honoured to be called upon to support where the use of my name and presence assist. Awarded or anonymously! More gold stars!
Your children's book Nana, What Do You Say? was published in 2007. In your illustrations, you have not drawn the faces of the characters. Might you speak about your decision to do this?
I deliberated over the featureless illustrations for the faces in Book One. I came to the decision that when read and viewed by the child, it would only identify the characters in this story. Although the book outlines the experiences of that family, it is an interactive book concept. The child can recognize themselves. They can imagine their own stories relative to the questions asked at the end of each section.
My publisher and I visited a few schools to introduce the first book and get feedback from the young students who proved this point in many instances. It was never a source of concern. If the question by the adults arose, that was my explanation. It's a good way to stretch the imagination!
And the cover says Book One. When is Book Two due?
Book Two has always been a work in progress. Just finding the time to complete it is the crux!
Writing and painting are passions. I believe that I have been given the greatest of opportunities to explore and express myself within the realm of art and music!
The good news is that Book Two is nearly finished and hopefully will be available early in 2022.
You are a jazz educator, having taught at the University of Laval in Quebec City and the Schulich School of Music at McGill. What have your students taught you?
My students continually remind me of the constant evolution of self. We, as humans, never stop learning and developing, sharing, giving and receiving. It's one of our greatest attributes. Music is like a living organism from which we are fed and nourished through our imaginations, expressions and life experiences.
Over the many years of teaching at universities, I've learned that the personality of every individual vocal musician I have been privileged to accompany on their musical journey will vary but the passion for the art form is connective. We share in the experience, and we share it throughout our music career, being mindful we are all guests at the same banquet.
'My students continually remind me of the constant evolution of self. We, as humans, never stop learning and developing, sharing, giving and receiving. It's one of our greatest attributes.'
You have a new album about to be released. Might you tell us a bit about it?
Throughout my long recording career with Justin Time Records, it has always been a mutual agreement on the concept of the material to be recorded.
On this occasion, and some time since my last recording, Jim West suggested what I thought at the time a usual request, which once the recording is released, you will comprehend. I have been an ardent fan of the talent and musicianship of the vocal musician that was suggested I cover, Celine Dion.
I eventually gave into the possibility of the uniqueness of the concept and recorded the stimulating well-known musical repertoire.
With collaborative and insightful arrangements, which comfortably fit my own jazz style, my pianist Taurey Butler came up with the brilliant arrangements for each song. There were so many heartfelt contributions from some of Montréal's most talented musicians, all of whom I have performed with on stages and venues throughout Canada, the United States and Europe. I've had the great pleasure to have previously recorded with them as well. We all felt the musical bond that brought a special meaning to this project.
With our combined talents and the stress-free environment of the state-of-the-art recording studio of George Doxas, Boutique de Son, with the mastering of Pascal Shefteshy, our latest album has come to life and will be released in the spring of 2022. Choosing the material and thinking about my approach and where to take each song, Richard, my late husband, guitarist Richard Ring, was ever-present in those thoughts. I credit Richard, as my muse for this album. Its title is from one of the selections, Because You Loved Me.
My recording company seemed to have had a great idea! Thanks, Jim! Thanks, Nancy!
You have been referred to as a "Renaissance Woman": vocalist, musician, writer, illustrator, educator… What "renaissance" would you like to see in our world?
Like the rest of the world, I am a work in indefinite progress!
And then, the Proustian Questionnaire:
Who is your hero of fiction?
(today) Jamie Fraser
Who are your heroes in real life?
My mother, and my grandmother
What is your greatest regret?
Didn't continue my piano lessons
What do you consider the most overrated virtue?
Self-righteousness
On what occasion do you lie?
When the truth is unbearable
What quality do you most like in a man?
Compassion
What quality do you most like in a woman?
Genuine honesty
What is your greatest extravagance?
Shoes!
What is your idea of perfect happiness?
Haven't found it yet!
What is your most treasured possession?
My memories
---
Upcoming performance
Ranee Lee will be performing Dark Divas on Saturday, April 2 at 2 pm as part of the 9th edition of Festival de la Voix.
For information and tickets: (514) 758-3641 •  info@festivaldelavoix.com •  festivaldelavoix.com
---
Feature image: Pierre Arsenault 
Read also: other articles by Carmen J. Michaud

---
---
---