Résidence de l'église :
contemporary neogothic
This unique residence is perched on the heights of the village of Frelighsburg
Via v2com
Along the shores of Pike River in the Montérégie, this neo-Gothic residence has kept its original character while integrating contemporary design. The house as a whole remains an emblem of local heritage.
As soon as one enters the site, the original use and essence of the building is evident: the mature vegetation has been preserved in its entirety and the courtyard remains a place of meditation. The main entrance between this church and the presbytery as well as the positive impact of the imposing architecture of this residence transports us to a place with a comforting soul.
The house as a whole remains an emblem of local heritage.
With a volume of 40,000 cubic feet, the original intention was to preserve the essence of the site and make it a prestigious place. Combining two very important criteria, namely the architectural aspect and the functionality of the interior spaces, this residential project was successfully completed.
From the inside, it is possible to see the bell in the tower, still functional, from a Baltimore foundry and weighing 850 pounds. The immense organ, an imposing architectural aspect of the 2nd floor, blends perfectly into the décor and brings prestige to this luxurious residence.
Brightness
Windows play an important role in this place. The warhead windows designed and manufactured to measure retain the historical aspect of the design while adding a contemporary touch to the latest trends. Capturing light through its imposing windows, the residence offers an unobstructed view of the rest of the site.
The use of Fabelta's puRE aluminum series products presents a refined design of neat and bright architecture while respecting the principles of sustainable development. Entirely designed and manufactured in Quebec, these fenestration systems have been designed to meet new energy standards and offer impressive dimensions that are in line with market trends.
Technical Sheet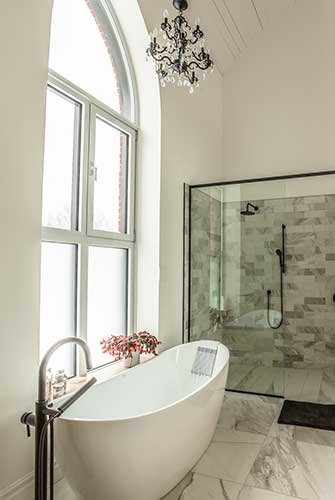 Résidence de l'église
Location: Frelighsburg, Quebec
Home surface: 2500 square feet
Architectural design: DP Espace design
Entrepreneur: Construction Pierre Boivin inc.
About Fabelta
Fabelta, among the oldest in its industry, has been manufacturing recognized fenestration systems since 1957 and is proud to be a partner of choice for the design and architecture industry with its contemporary energy-efficient fenestration products. The company located in Terrebonne stands out with the first factory-based test laboratory in Quebec. Its facilities allow the company to constantly develop and innovate the design and performance of its products. These concerns for excellence and manufacturing quality allow Fabelta to stand out from its industry year after year by winning numerous honours such as the Contech Innovation and Sustainable Development Award for its puRE series, as soon as it was introduced on the market.
Images: Dominic Boudreau
Other architectural and residential design articles
---
---
---