Romeo and Juliet still resonates
425 years later
Dawson College Theatre presents William Shakespeare's tragic love story
By Byron Toben
Dawson College continues to present well done and affordable student productions from its professional theatre program.
The latest was William Shakespeare's classic, beloved of high schools, Romeo and Juliet. It is in fact, the second most produced of his 37 plays (the most produced listed at bottom of this review).
Director/teacher Jude Beny, herself an alumna of the Stratford, Ontario Shakespeare festival, has guided the talented graduating class into a spirited run that was sold out when I caught it at its closing show.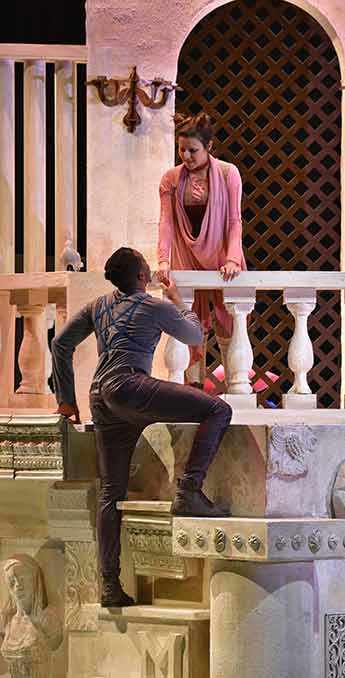 The play is based on the long-time feud between the house of Capulet (Juliet) and that of Montague (Romeo). Hostility at the top leads to street rumbles between the respective relatives and underlings, featuring some fine swordplay under fight director Kimberly Barfuss.
The cast of 22 portray about 30 roles and often switch on different nights. I saw the closing on November 25.
When the Capulets host a masked ball, the young Montague gang decides to crash it. Phoebe Major Mewse, who plays three minor roles, entertains the partygoers with acrobatic pivoting on a ceiling-high blue curtain in Cirque de Soleil style. Ilie Stephanesa who doubles in two minor roles regales all with an exuberant stomping solo dance.
Despite the hilarity, the intruders are discovered but not before teen Romeo (Andre Morris Mowatt) has met and fallen in love with 13 going on 14 Juliet (Hana Kashaf). She reciprocates in the famous balcony scene.
Juliet's nurse (Maria Digout) arranges for the two youngsters to be secretly wed by Friar Lawrence (Christopher De Varennes).
However, when Romeo pummels Juliet's cousin Tybalt (Jeffrey James) to death in retribution for his killing Romeo's cousin Mercutio (Ian Zentner) in a sword fight, Romeo is forced into exile.
Director/teacher Jude Beny… has guided the talented graduating class into a spirited run that was sold out when I caught it at its closing show.
Both lovers end up committing suicide because of miscommunication.
Of all Shakespeare canon inspiring Broadway musicals, Romeo and Juliet is the most direct. West Side Story has New York's white Jets battling the Puerto Rican Sharks as Juliet becomes Maria and Romeo, Tony who sings here:
Oh, yea, the most produced Shakespeare in the last decade in English-speaking countries, is A Midsummer Night's Dream which you can catch until December 9 out at John Abbott College's Casgrain Theatre.
Romeo and Juliet ended at Dawson Theatre on November 25.
Next show is Jane Austen's Pride and Prejudice running from January 22 to February 3.
514 931-5000
dawsoncollege.qc.ca/professional-theatre/
Images: Frederic Montpetit – Studio Shake Photographie

Read also: A Century Songbook 100 years of Jewish Montreal
---
Byron Toben is the immediate past-president of the Montreal Press Club.

---
---