The Daisy Theatre
features marionettes galore
The Centaur presents Ronnie Burkett's adult puppet show
By Byron Toben
Back in the day, even before I made my theatrical debut in elementary school as a background tree (an exercise in minimalism), I had discovered the fun of sock puppets. (This was a time when one made their own yo-yos from two buttons and a string, which gave as great pleasure as today's fancy schmancy – and expensive – electronic gadgets).
Only much later did I discover that dozens of types of puppets animated by hand, arm, body or elaborate wire and string went back to ancient Egypt, were mentioned by Aristotle and used from Indonesia to Japan, which influenced The Lion King musical.
In Europe, of course, the Punch and Judy shows were among the most famous. Puppet theatre is popular in Quebec and nearby Vermont, with its giant Bread and Puppet figures.
I became fascinated how some of my favourite playwrights treated live actors as puppets of sorts (Brecht and, to some extent, Shaw) and others, as artists to breathe their own interpretations into the script (Shakespeare, Chekov, Bergman).
All of which leads to Canada's own Ronnie Burkett whose The Daisy Theatre I saw Tuesday in preview.
This is the 13th production of Mr Burkett's Maisonette Theatre and the first at the Centaur Theatre. I saw his first big international hit in Montreal Tinka's New Dress some years ago but missed his next three shows here. What a pleasure to experience this creativity again.
The current show, perhaps influenced by his musical and sound designer, jazz vocalist John Alcorn, has a free wheeling structure to it. As Burkett explains in his introductory remarks, with some 43 handcrafted puppets in the wings and more dialogues and songs that could fit into a two-hour show, the selections and sequences are governed by audience reaction and may differ night to night.
The preview I saw opened with a burlesque dancer singer whose performance was not wooden at all. Amazing how some strings can be manipulated to show her (it?) undressing!
This is the 13th production of Mr Burkett's Maisonette Theatre and the first at the Centaur Theatre. What a pleasure to experience this creativity again.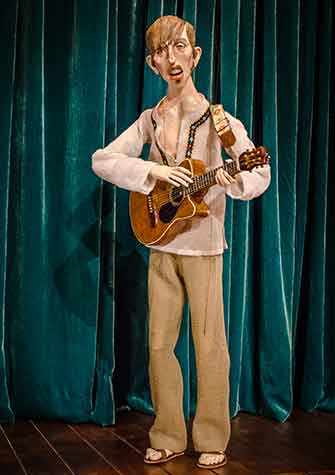 The fairy child Schnitzel is warned not to cross the line from the stage into the audience as perverted dangerous people lay in wait. How so? Who else would go out on a rainy Tuesday night to see puppets?
Later, Burkett also handles a husky voice blues singer. A marionette ventriloquist, Meyer Lemon, sleeps on the job, resulting in a break up with his 'dummy' dummy.
Mrs Edna Rural of Alberta mixes "62 years of marital infidelity" with discussions of cooking, particularly baking 'dilldoughs'.
Canada's "oldest and worst actress", Miss Lillian Lunkhead, enacted the death scene from Romeo and Juliet with a live dead Romeo volunteer from the audience.
This irreverent show even included a Jesus puppet, to which Easter brings disturbing memories. He (it?) also bemoans dying at 34 before he could write the second Ten Commandments, from 11 to 20. Definitely not the piece for a papal audience… especially the direct and truthful eleventh!
NOTE: This show is for adults only, 16 years and over.
The Daisy Theatre continues at The Centaur until March 24.
514 288-3161
centaurtheatre.com
Read also: Laura Flynn's one-woman show charms again
---
Byron Toben is the immediate past-president of the Montreal Press Club.
---
---