The Mountaintop reaches dramatic heights
Dr. Martin Luther King Jr.'s last night on earth at the Lorraine motel
By Byron Toben
Playwright Katori Hall, born in Memphis, Tennessee in 1981, has amazingly managed to capture the zeitgeist of the time there 13 years before her birth when, on April 4, 1968, civil rights leader Dr. Martin Luther King Jr. was assassinated at the Lorraine motel.
The play morphs from a realistic style to conclude in a somewhat surrealistic poetic style.
She has done this in a tight two-person play called The Mountaintop named after a key speech the day before by Dr. King, who was visiting Memphis to support a strike by the Memphis sanitation workers. The play morphs from a realistic style to conclude in a somewhat surrealistic poetic style. Her many playwriting awards have been enhanced by her experience as an actress as well.
Fine direction by Toronto performance poet audri zhina mandiela (like e.e. cummings and jem rolls, a lower case insistent) but the text requires superb performances in the two roles. And who better to portray Dr. King than Montreal's own Tristan D. Lalla? He read Dr. King's I Have A Dream speech to great acclaim in the Segal Centre's Mahalia Jackson musical in 2013. No need to fear type casting only however as Mr. Lalla has demonstrated his versatility in over 70 productions across Canada.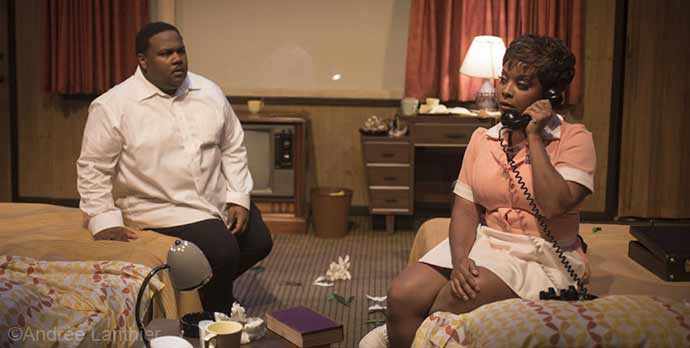 He is ably joined by his real-life wife Letitia Brookes as a motel maid who may or may not be hosting another identity.
The play depicts a tired Dr. King who in private will smoke a few ciggies and take a sip of " Irish cough syrup" to alleviate his throat hoarseness. He even admits, as did later president Jimmy Carter in a 1976 Playboy interview, to have lust in his heart with the tempting maid. These small touches serve to illustrate his humanness. Popular moral leaders are not 100% saintly in every detail.
This play, hosted at the Segal Centre Studio, was jointly produced by the Black Theatre Workshop and Halifax's Neptune Theatre, where it will visit after this Montreal showing.
While some political commentary is involved, this show is not polemic and deserves a wide audience based on its artistic merit alone.
Some random thoughts triggered as I watched The Mountaintop
In the New Testament, my man Matthew features in his Gospel Jesus' longest speech in the Sermon on the Mount. (Chapters 5, 6 and 7)
In Theatre, several Ibsen plays end in or aspire to mountain heights.
In Music, Christmas spiritual Go Tell It On The Mountain (1865) has been sung by many famous performers since the wonderful Fanny Lou Hamer mixed it with Let My People Go. Here are Peter, Paul and Mary belting it out.
In Literature, James Baldwin's semi autobiographical novel of the same name as that song won many awards and was made into a film. (I chanced to meet Mr. Baldwin in London, UK, in the 70s through my Trinidadian born filmmaker friend Horace Ove.)
In Film, Monty Python's humorous film Life Of Brian features Jesus preaching on the mount to a huge audience spread out on the plains below in those pre electronic days and a kvetching woman in the last row yelling 'louder'.
In Politics, Dr. King issued a famous speech one year to the day before he was slain tying together the Viet Nam war with racism and poverty, much as Australian Dr. Helen Caldicott did later in her 1982 Canadian documentary If You Love This Planet, which was initially banned in the USA under the Reagan administration even though it won the Academy Award for documentaries.
In Immigration, the accused assassin, James Earl Ray, fled to Canada, acquiring a Canadian passport under the then loose rules and fled to England, where he was finally captured in London. This led to a tightening of Canada's identity and citizenship laws.
In Pattern Analysis, why is it so many of the "good guys" meet violent deaths?
King himself was sandwiched between John Kennedy (1963) and brother Robert (later in 1968). Along the way we have such as activists Medgar Evers (1963) and the three boys Chaney, Goodman and Schwerner (1964). The list goes on but no far right leaders. Definitely not advocating, just observing.
The Mountaintop continues at the Segal Centre until October 29.
514 739-7944
blacktheatreworkshop.ca/
Images: Andrée Lanthier

Read also Phantom returns in spirited production

---
Byron Toben is the immediate past-president of the Montreal Press Club.
---
---