Westmount places
and their stories / 21
The history behind the familiar: Ingleside Avenue
By Michael Walsh
Silent streets have many things to say
– Mehmet Murat Ildan
I have always been very fond of dead-end streets. They remind me of playing childhood games on the road, such a street hockey, or gathering tadpoles from the small streams that bordered the houses.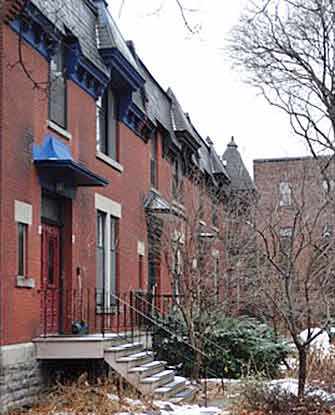 Today, one doesn't see children playing outside like we used to – a sign of today's times. As for the many streams that traversed Westmount, they have been diverted into Saint-Cunegonde's (today known as Little Burgundy) sewer system nearly a century ago.
Still, these streets do have a unique charm about them. It's a quiet stillness that allows one to appreciate the beauty of the houses and the large beautiful trees. Luckily, there is such a street in our neighbourhood named Ingleside Avenue. The name is a British dialect of the word "a fireside". The avenue runs from Metcalfe Avenue to Cross Lane (today called Ingleside Lane). The latter is known as "lost land" having no current notarial deed as to the lane's ownership.
Let's take a chilly December walk along Ingleside Avenue and discover its history and the stories from some of the former residents.
The name Ingleside Avenue first appears in the Town of Cote St. Antoine's council minutes on October 5, 1891:
"… that Mr. Rielle surveyor be instructed to prepare plans and a process verbal for the opening of a street to be known as Ingleside Avenue to a width of sixty six feet from Metcalfe Avenue westward to Cross Lane…"
In those days, the opening of a street involved ceding rights to the village or town. In return, the residents received water and drainage connections, lighting and macadamized road surfaces.
Two months later a second motion by council proposed the extension of Ingleside Avenue to Dufferin Avenue (today known as Melville Avenue).
"A plan proposed by Mr. Patton for the opening of Ingleside Avenue to a width of sixty-six feet from Metcalfe Avenue westward to Dufferin further that the solicitor for Mr. Dunlop be instructed to prepare the necessary by-law."
– Village of Cote St. Antoine council minutes, December 14, 1891
Interestingly, the village almost had two avenues named Ingleside within the town's limits:
"A petition from proprietors of land fronting on the land leading from Wood Avenue to Greene Avenue asking the Council to call the name of this land Ingleside Avenue. In reply to the petition under the Laws of the Province and Corporation cannot recognize the opening or renaming of any street less than 66 feet in width. That the one in question is of less width and therefore cannot be legally homologated and named as a street and the petition not be entertained."
– Council minutes, March 6, 1893)
By 1898 little (if any) progress was made by the town in terms opening Ingleside Avenue. The residents made a proposition to council offering to cede the street to the town:
"In regard to the proposal of Mr A.W. Stevenson and Mr Hugh Beckham to cede Ingleside Avenue to the Town, it was… resolved that Council cannot except Ingleside Avenue unless arrangements can be made to continue it as far as Elgin (today Melville) Avenue".
– Town of Westmount Council minutes, January 3, 1898
One month later, council decided to reconsider this offer and the proposal was put to a vote:
"That the resolution of the Council… refusing to accept cession of Ingleside Avenue to be reconsidered. The motion was put and only three councillors voting for it, it was declared lost."
– Town of Westmont Council minutes, February 7, 1898
Despite this set back, developers started building residential houses on Ingleside Avenue. It didn't take long for them to realize that these houses would require utility connections:
"Submitted and read letters from P. Dagenais and son requesting that drains and water pipes be laid on Ingleside Avenue to serve houses now in the course of construction also from A.W. Stevenson urging that the Town take over said Avenue as a public street".
– Town of Westmount Council minutes, September 20, 1898
One month later, council accepted the offer and Ingleside Avenue was ceded to the Town of Westmount:
"Re proposed cession of Ingleside Avenue to the Town a letter from A.W. Stevenson and Hugh Beckham stating that the cedants proposed to reserve two feet at the westerly end of the street which would not be intended in the Deed of Cession.
It was moved that the cession of Ingleside Avenue, as offered, be accepted the question of the two foot strip being left to the Chairman. The motion was put and lost…"
– Town of Westmount Council minutes, October 3, 1898
One month after that, Council ordered the installation of drainage connections and a macadamized surface on the avenue:
"That the cession of Ingleside Avenue be accepted unconditionally and that a drain be constructed and water mains laid there and also that the street be macadamized."
– Town of Westmount Council minutes, November 4, 1898
In 1900, council considered extending Ingleside Avenue eastward to Clarke Avenue. However, at that time, the additional land required was owned by the Grey Nuns and would have to be ceded to the Town.
As such the proposal was dropped and never reconsidered. Today, Ingleside Avenue remains the same quiet street it was many years ago. In fact, it would simply be a forgotten unpaved lane without the perseverance of the original residents who convinced the Town of its potential.
Now that we have become acquainted with the avenue's history, let's stroll down the street past some of the original homes. Most of the original residents are lost in history, with one exception: Louis Dudek.
5 Ingleside
Louis Dudek (1960s – 1980s) Poet, teacher, publisher, essayist, translator and editor.
"Louis Dudek was born in Montreal, Quebec in 1918. He taught at McGill University from 1951 to 1984. His publishing career includes the founding of such significant 'little magazines' as First Statement, Delta, CIV/n, as well as Contact Press, Delta Canada and DC Books.
He is the author of over twenty-five books of poetry, essays, epigrams and notebooks; as well as the editor of several anthologies. According to Canadian Literature:
"Dudek is now properly regarded as one of the central figures of twentieth-century Canadian poetry." Robin Blaser referred to Dudek as "Canada's most important – that is to say consequential – modern voice."
– 1941 Diaries
6 Ingleside
Alex Hardman (1904)
8 Ingleside
Robert S. Coltart (1904)
10 Ingleside
Robert R. Eakin (1904)
12 Ingleside
C. H. Plant (1910)
13 Ingleside (former civic number)
G. O. St Marie (1910)
Feature image: Andrew Burlone
All other images: Michael Walsh (unless indicated otherwise)
Read also: Westmount places and their stories /20
---

Michael Walsh is a long-time Westmount resident. He enjoys walking with the family's Saint Bernard while photographing the beauty and hidden history of Westmount through his blog at Westmount Overlooked.

---
---