The WYO and the OJQM
present a joint concert
The Westmount Youth Orchestra and l'Orchestre des jeunes du Québec maritime perform together on May 19
In 2017, the Westmount Youth Orchestra (WYO) visited l'Orchestre des jeunes du Québec maritime (OJQM) in Rimouski. On the second leg of the exchange, taking place this year, the OJQM will return the honour, visiting the musicians of the WYO in Montreal.
On May 19, the two orchestras will join forces to present the fruit of their work in a joint concert, prepared separately in advance and refined during the weekend exchange of intensive rehearsals together. They hope you will join them for this exceptional concert.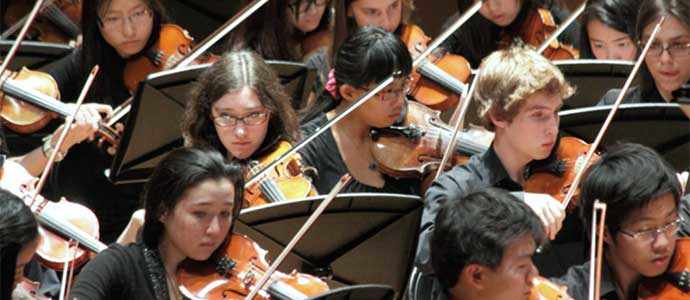 Beethoven, Bernstein and Fauré
The WYO and OJQM invites the public on Sunday, May 19 at 2 pm at the Oscar Peterson Concert Hall, where l'Orchestre des jeunes du Québec maritime, directed by James Darling, and the Westmount Youth Orchestra, directed by Jean MacRae, will perform a concert of diverse classics both old and new. On the program: Beethoven's Symphony no 7 (movements 1 and 2), the Mambo! from Leonard Bernstein's West Side Story along with the famous Pelléas and Mélisande by composer Gabriel Fauré.

… and more!
The concert, marking the end of the weekend and of a musical exchange lasting two years, will include three more remarkable pieces: Aaron Copland's Outdoor Overture, orchestra favourite Danzon no 2 by Arturo Marquez, as well as the magnificent Adagio for Strings by Clermont Pépin.
WYO and OJQM joint concert
Sunday, May 19 2019 at 2 pm
Oscar Peterson Concert Hall
Concordia University, 7141 Sherbrooke W
Tickets are available for purchase from the members of the orchestra or at ojw.ca/shop
More information at 514 395-9425 or at ojw.ca
Images : Westmount Youth Orchestra
---
---
---