Candlelight Christmas
glows again in 2018
The Lyric Theatre Singers' annual holiday show never fails to delight
By Byron Toben
I've taken a shine to the annual Christmas Season choral presentations of The Lyric Theatre Singers.
This wonderful ensemble, celebrating 28 years as the Singers (and 53 years if you count its original incarnation as a community full scale musical theatre group), consists of a membership of some 44 choristers who actually pay annual dues to rehearse all year for its two major shows.
Much credit goes to long time musical director Bob Bachelor who chooses the selections and, aided by Chris Barillaro, adapts many to special arrangements.
This year, once again in Concordia University's beautiful Loyola Chapel, some 25 choices were sung by the chorus of 17 sopranos, 11 altos, ten tenors and six baritones.
The ecumenical assortment included audience participation in lighting candles while listening to Broadway composer Stephen Schwartz's The Channukah Song. International choices included Brazilian Noel, Babethandaza (South Africa), Carol of the Bells (Ukraine) and A Celtic Silent Night.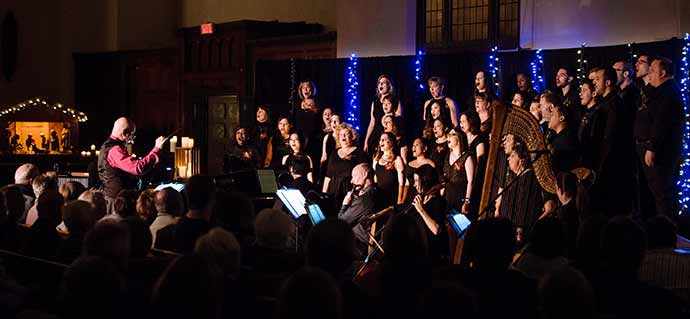 Traditional French carols from both France (Song of the Angels) and Quebec (Il est né) were featured.
All the Sopranos and Altos collaborated on two songs, Jing-a-Ling and Le premier Noël, while the Tenors and Basses massed for Mary Had a Baby and Little Saint Nick.
A real crowd pleaser was A Charlie Brown Christmas, as was an audience participation event of five brief classic passages.
Three female soloists shone in Oh What a Wonderful Child (Katherine Fournier), Carol of the Bells (Anastasia Tsai) and I Love the Winter Weather, a blend including strains of the obligatory Irving Berlin White Christmas (Muriel Bernard Bowman).
The one male soloist was Tarik Azgui who urged all to Have Yourself a Merry Little Christmas.
A real crowd pleaser was A Charlie Brown Christmas, as was an audience participation event of five brief classic passages.
All of the above was aided and abetted by six fine instrumentalists, to wit: Chad Linsley (piano), Chris Barillaro (keyboard/percussion), Robin Best (harp), Sheila Hannigan (cello), Tim Malloch (flute) and Carolyn Peters (violin).
Mr Barillaro also donned a pointy, feathered cap while accompanying the group in a medley from the musical Elf.
Once again, president and M.C. Louise Dorais deserves glowing credit for organizing the dozens of volunteers involved in actualizing this annual treat.
Candlelight Christmas 2018 ended on December 9.
Watch for the Lyric Theatre Singers Broadway Revue on June 13, 14 and 15, 2019.
514 743-3382
lyrictheatrecompany.com
Images: Tam Lan Truong

Read also: Now for some completely different Xmas tales…
---
Byron Toben is the immediate past-president of the Montreal Press Club.


---
---