Catherine Clinch charms
audience in The Quiet Girl
A review of the Oscar-nominated Gaelic film presented at Victoria Hall
By Byron Toben
October 26, 2023
The City of Westmount offers a number of activities to its residents and others. I routinely review its excellent community theatre, Dramatis Personae.
On October 24, I had the occasion to view its cinema club, Film Club at Victoria Hall. Its free selections offer audiences an opportunity to watch fine films on a large screen with coffee or tea available. The afternoon I attended presented The Quiet Girl, a 2022 Gaelic language movie.
With English subtitles, that movie won a few awards and was nominated for an Oscar in the category of films in a language other than English, the first Gaelic film ever to be so nominated. It also is the highest-grossing Gaelic film of all time. Here are my random comments: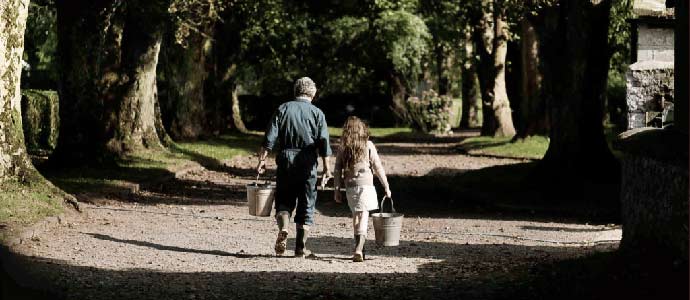 Title – I first thought it might be a parody of John Ford's great film of a similar name, The Quiet Man, with John Wayne and Maureen O'Hara, where a middle-aged Irish-American boxer retires to Ireland to court a local lovely. But no, The Quiet Girl is a nine-year-old shy student sent by her parents to summer with a distant relative.
Actually, the film smacks more of the 1994 film Forrest Gump as the girl's great talent was that she could run quickly on her long legs. Somewhat neglected at home, she became more active at the cousin's farm as she learned about cutting potatoes, milking cows, attending a wake and keeping secrets. All in all, heartwarming with some quiet humour thrown in and a charming performance by twelve-year-old child actor Catherine Clinch.
The Quiet Girl can be seen at home on several streaming sites. Also, the Irish Repertory Theatre in New York City is showing it on November 4.
So, like the girl herself, the film has long legs. Here is the official trailer:
Spotted in the crowd were retired Montreal Gazette columnist Peggy Curran (a regular at the annual Ciné Gael film series at Concordia) and Montreal Bloomsday Artistic Director Kathleen Fee, who reminded me that there will be a February event to celebrate James Joyce's birthday as well as the usual week surrounding the fabled June 16.
Images: courtesy of Elevation Pictures
Other articles from Byron Toben
Other recent articles
---
Byron Toben, a past president of The Montreal Press Club, has been WestmountMag.ca's theatre reviewer since July 2015. Previously, he wrote for since terminated websites Rover Arts and Charlebois Post, print weekly The Downtowner, and print monthly The Senior Times. He also is an expert consultant on U.S. work permits for Canadians.


---
---