Lots happening this fall
at Centre Greene!
The community centre announces its fall line-up of activities for young and old
By Heather Hodges
This fall, Centre Greene introduces some new activities while bringing back some old favourites. Read about the many programs offered at the Centre for all ages.
New activities
TALES & TRAVELS PROGRAM
In partnership with the Westmount Public Library, Centre Greene will be offering the Tales & Travels Program, a free weekly workshop for individuals with Alzheimer's disease and other forms of dementia. Participants are invited to discover different countries by way of books and objects, storytelling, listening to music, and similar activities. Caregivers are encouraged to attend. The program will be offered on Tuesdays from 10:30 am to 12:30 pm. Registration is required due to limited space. The first set of dates for Tales & Travels are October 22, October 29 and November 5.
SELF-DIRECTED WRITERS' GROUP
There is also a new group for writers! Centre Greene will be offering a Self-Directed Writers' Group twice monthly on Wednesdays from 1:30 pm to 3:30 pm. This free activity is for writers or those who aspire to write. All levels, ages and interests are welcome.
TEEN VOLUNTEER PROGRAM
Teens looking to volunteer can get busy helping their community with the new Teen Volunteer Program. They can join in assisting Centre Greene's various programs and special events. This program offers them a fun and flexible way to complete their school community service hours, or simply get involved in their community. A free activity open to all teens aged 12 and over.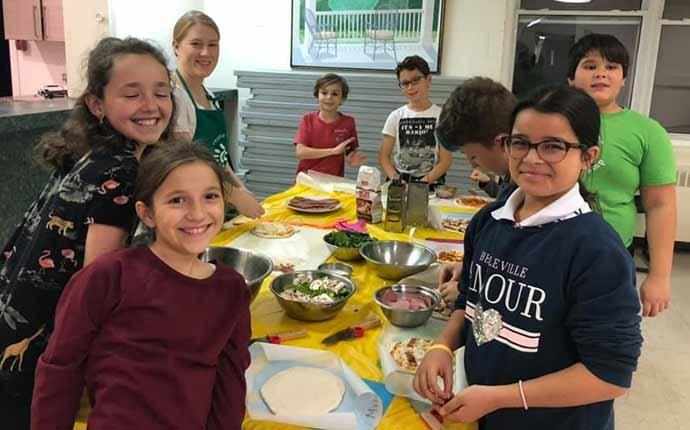 Some old favourites
TGIF
Parents in need of a Friday night off can send their little ones aged 6 to 11 years to some extremely fun themed party evenings at Centre Greene' TGIF. Happening every other Friday from 6 pm to 8:30 pm, children can come get all of their energy out. They will be served supper and will then play a variety of games based on the nightly theme, including gym time. Pre-registration is required and fills up very fast! The cost is $15/child.
KIDS' KITCHEN PROGRAM
The Kids' Kitchen Program for children aged 8 to 12 years is a great way to get kids engaged with food. The program is a series of workshops in which kids learn basic culinary skills and are involved in the whole process of cooking a meal together. They learn about fresh ingredients, wash, chop, and prepare them together. Starting with a basic recipe template that everyone can adjust to their specific tastes, they learn about different alternatives to commonly used ingredients. A lot of learning, a lot of tasting and a lot of fun!
Lots going on for the littlest ones too!
TUMBLING TOTS
On Tuesday and Thursday mornings, toddlers below 5 years and their parents can join in for the Tumbling Tots playgroup from 9:30 am to 11 am. The cost is $3.50 per child or $5 for siblings. It is a drop-in group with lots of age-appropriate toys set up for little ones to explore. There will be coffee for parents and cookies for the little ones.
CREATIVE CORNER
On Wednesdays from 10 am to 11 am there is the Creative Corner, an art activity for toddlers 2 years up and their parents who are welcome to come get creative exploring different types of art and sensory play. It is an excellent way to promote non-verbal bonding between parent and child. Pre-registration is required as spaces are limited. The cost is $3.50 per child or $5 for siblings.
SUNDAY MORNING READING CIRCLE
Offered in partnership with Frontier College, the Sunday Morning Reading Circle resumes at Centre Greene on Sundays, October 20 until December 15. Join in from 10 am to 11:30 am for story time, fun literacy activities, games, and arts and crafts. This activity is ideally suited to children aged 2 to 7 years old but all are welcome.
Special events
HALLOWEEN
Celebrate Halloween with Centre Greene on Friday, October 25. The Centre will be throwing an exceptionally fun Halloween bash. The Halloween Costume Party Community Supper will be from 5 am to 7 pm. A delicious meal of macaroni & cheese with salad, a drink and dessert will be served while supplies last. Activities will include open gym time between 5 pm and 6 pm, face painting, various creepy crawly Halloween themed children's activities and a haunted house. Everyone is encouraged to come in a Halloween costume. Tickets are $5 per person or $3 for children under 3 years old. Buy tickets ahead of time at the office to guarantee a spot.
TREATS & TREASURES CRAFT SALE AND BAZAAR
Centre Greene is hosting its annual Treats & Treasures Craft Sale and Bazaar on Saturday, November 16 from 10 am to 4 pm. The Bazaar will include over 30 artisans displaying their handiwork, as well as baked goods, a raffle and the Empty Bowls Project. A light lunch will be served. Admission is free and all proceeds will go to supporting the Centre's community programs.
---
Greene Avenue Community Centre
1090 Greene, Westmount
For more information visit centregreene.org
514 931-6202
Feature image: Andrew Burlone
Other images: courtesy of Centre Greene
---
Heather Hodges is Head of Programs and Special Events at the Greene Avenue Community Centre.

---
---