Ferdinand Cheval: The Postman
Who Delivered a Palace
A new children's book by Anne Renaud tells a story with a touch of magic and poetry
By Mona Andrei
September 28, 2022
There's no denying it. When Anne Renaud shares a story, there's a touch of magic and poetry in her words. With illustrations by Ana Salopek, this latest book tells the story of a regular man – a postman, in fact – who took his fascination with nature and built something incredible, Le Palais idéal in Hauterive.
Born in 1836, Ferdinand Cheval did not have the tools or skills to build a house, never mind the "ideal palace." So how did he do it? What drove him?
Throughout the story, we learn that passion and determination were M. Cheval's greatest tools. It took him a whopping 33 years to build this incredible structure that thousands of people still visit to this day.
Anne has a knack for stumbling onto real-life stories and telling them in a way that captures the imaginations of young minds, in turn fostering a love for reading.
An inspiring story of what imagination can accomplish, award-winning children's book author Anne Renaud doesn't always seek to impress young minds with big life lessons through her books. But in this story, the message is clear: The world is filled with extraordinary accomplishments by ordinary people.
Known for such titles as Fania's Heart, Mr. Crum's Potato Predicament, and The True Tale of a Giantess: The Story of Anna Swan, Anne has a knack for stumbling onto real-life stories and telling them in a way that captures the imaginations of young minds, in turn fostering a love for reading.
Anne's own story is one we can all appreciate. In the mid-1990s she set off on a journey to figure out what she was good at. "Reading was a big part of what we did at home," she shared recently in an interview. "Books were just always part of our lives. I think that's how my writing slowly came about."
In 1995, Anne decided to take a creative writing class at McGill University, where she worked in the AIDS Centre at the time. This is when she came across a book by Dr. Margaret Merrifield that told the story of a child in a daycare centre who had been discriminated against because he was HIV positive.
With a bachelor's degree in translation, Anne immediately recognized the book as something that also needed to be shared in French, so she offered to translate it for the francophone market.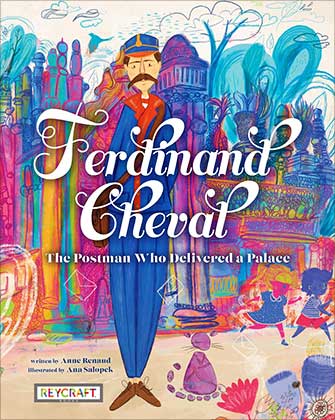 As well, she was also writing her own manuscripts and sending them out, hoping to get the interest of publishers, but to no avail. Then she started writing for children's magazines, where she began to gain confidence in her writing style and voice.
During this time, she also interned for a children's book publisher located in Montreal and she would regularly pitch story ideas to them. It wasn't until she brought up the idea of writing a book about the Canadian Tulip Festival that she finally got their attention.
Her vision was to share the history between the Netherlands and Canada and why we get the gift of tulip bulbs every fall in ready for the spring festival. At the time, the history behind the relationship between the two countries was still relatively untold.
From a personal standpoint, the story was of particular interest to Anne because her uncle had been part of the Canadian troops that had gone in to liberate the Dutch before the end of the Second World War. This became Anne's first published book and gave her the momentum to write other nonfiction, history books.
"I remember thinking that Canadian history is so rich and there were so many stories that hadn't been told," states Anne as she reflects on how she got her first book contract.
What is it about history that captivates Anne?
Admittedly, Anne had gone to the tulip festival but didn't really understand why Canada was being gifted with tulips every year. What really triggered it for her and what would become the genesis of her first book was when her uncle went back for the 50th anniversary of the liberation of the Netherlands in 1995.
"I remember watching the coverage on TV and seeing how our Canadian veterans were being applauded and revered in the streets. This is when the question, "why are they being celebrated there?" popped into my head."
This is when Ann realized that the children in the Netherlands knew more about this than our Canadian children did.
As well, Anne's uncle had been wounded in Holland and hidden in a barn for safety during the war. When he went back 50 years later, he was able to find the barn with a local historian. This fascinated Anne's curiosity even further and spurred her to write this book in honour of her uncle as well as to preserve his story.
Fast-forward to today and over 20 books later with the release of her latest book, Ferdinand Cheval: The Postman Who Delivered a Palace, we can see the tie-in between Anne's commitment to sharing stories and M. Cheval's drive to build the ideal palace that people continue to enjoy generations later!
Feature image: 
Read other articles by Mona Andrei
---
Mona Andrei is an award-winning humour blogger, columnist, and author. In her most recent book, SUPERWOMAN: A Funny and Reflective Look at Single Motherhood, she shares her challenges and triumphs as a single mother as well as those of other single mothers. You can connect with Mona on Twitter.
---
---