And the winners are…
Montreal Fringe 2017
Six more St-Ambroise Montreal Fringe Festival reviews… and regrets
By Byron Toben
The 2017 St-Ambroise Montreal Fringe Festival came to an end last Sunday with the various Frankie Awards at the Club Soda. A link to the list of award winners and nominees is attached at the end of this article.
First, six more reviews of plays seen since my eight posted earlier.
The Guest
by Dawson grad Alice Abracen, explores the problems of visiting the Levant in this time of ISIS (or ISIL or Daesh. Call it what you will). Yet a clever, often humorous script keeps it being a mere polemic. This is certainly helped by the performance of Laura Mitchell as a well meaning but somewhat naive tourist to the desert close to danger territory. Her character is balanced by bright National Theatre School student Yousef Kadoura as her tourist guide, anxious to leave the site before dark and the possible intrusion of the terrorists.
Ms. Mitchell, always a fine vocalist, here demonstrates physical theatre skills, as she slips and falls under a huge backpack that dwarfs her petite frame.
Smoothly co-directed by her and Anne Lambert, this show calls out for a re-mounting somewhere soon.
Things Drugs Taught Me
is also a two hander written and performed by popular local story tellers, waif like Nisha Coleman and fellow Fringe vet Jedd Gandell. On a bare stage… one chair… their tales range from Jeff's attempts to climb the cross atop Mount Royal (since protected by a suicide barrier) while "under the influence" to Nisha's giggle episodes while reading serious Shakespeare scenes in class. Visits to Mother England during a beach festival add to the hilarity.
Now that Canada and twenty US States have or are about to legalize marijuana, perhaps this show, off to the Toronto Fringe, can eventually subsidize its expenses with some product placement.
Manifestations of Guido Kowalski
by local Irene Saharov employs eight actors, a huge number at a festival where the majority are two handers (above) or solos (below).
Here Guido ("My Mom is Italian, my Dad Polish… me, I'm Canadian.") is faced with a bank foreclosure of his pub, since many of the jobs in this factory town have gone overseas, reducing his patrons. The aloof bank manager (Noulla Grimes) offers no help, only two senior patrons pop by for a beer, one a numerologist, the other mourning loss of his pet bird. Can a lottery winning save all?
Director Donna Byrne (The Great Gatsby on Stage) assures that the eight are convincing and do not bump into each other on the small stage.
Renfield or Dining at the Bughouse
Irish born Bram Stoker would have loved this show had he lived long enough, like his creation, Dracula. Renfield, of course is a minor but important character in the many stage and film versions of the blood imbibing Count. As a mental institution inmate/custodian, he has inklings that his 'master' is soon to land in England from Transylvania. In the mean time, hating institutional fare, he has taken to eating insects, flies and bees, moving up the ladder to eight legged spiders and eventually mice.
In writer/performer Bill Zaget's bravura performance, Renfield's oddities are traced to a stepfather's child abuse. Mr. Zaget, a Montreal native, has recently returned here from a 20-year stay in Toronto.
Help! I'm an American and Trent Bauman: There is Is No I In Fail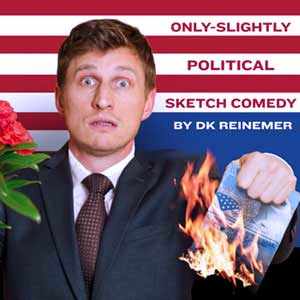 Are two separate solo shows, which though different, bear certain commonalities. Help! Is performed by DK Reinemer, an LA comic and Trent by, well, Trent, from Australia.
Mr. Reinemer portrays many types in his show, now touring Canada, ranging from an extroverted cowboy salesman to a shy technician to a singer with a guitar. Whereas Mr. Bauman is one character, sort of a Modern Charlie Chaplin from Modern Times, caught up in a dead end office job.
They both have audience involvement… the American bringing audience members down to dance with him or answer a quiz show about his earlier statements… the Aussie throwing balloons into the audience which spends some time batting the different coloured spheres about like volleyballs.
The American exudes confidence, the Aussie makes fun of the "You can do anything mentality". He remembers receiving a letter "Do not be afraid to be YOURSELF"… signed, Anonymous.
They both end their shows by stripping down to their underwear.
Mr. Reinemeer sports, of course, shorts in a red, white and blue pattern with stars but is outdone by Mr. Bauman who, dressed only in tiny blues, manages to insert himself inside a giant balloon!!
Regrets
Unlike Piaf, I do have some regrets
Unlike past Fringes, I could always count on shows performed, written or directed by the three tall men… Keir Cutler, TJ Dawe and Jem Rolls.
Since none of these stars were here this year, like Albee, we celebrate three tall women, Devon More, Telia Neville and… Hmm, well, add two shorter women who really act big, Laura Mitchell and Nish Coleman.
Anyway, here is the link to the various Frankie Awards.
Read also Byron's Fringe Picks sight unseen 2017
---
Byron Toben is the immediate past-president of the Montreal Press Club.
---
---