Hello Broadway
a joyous musical revue
The Lyric Theatre Singers' latest show featured the music of the legendary Jule Styne
By Byron Toben
Montréal's Lyric Theatre Singers, now in their 27th year, recently presented another of their annual Spring delights, this one called Hello Broadway. Thirty eight singers, each paying to be in the year round chorus, blended seamlessly. Women, as usual, predominated with thirteen sopranos and six altos. They were joined by six tenors, four baritones and three bass. The whole featured twelve new members, mostly younger.
Long time Musical Director Bob Bachelor co-directed with veteran Cathy Burns, who also helped choreograph two larger pieces. Jonathan Patterson was a featured guest choreographer. Mr. Bachelor also contributed fresh arrangements of many of the tunes, often in collaboration with Chris Barillaro.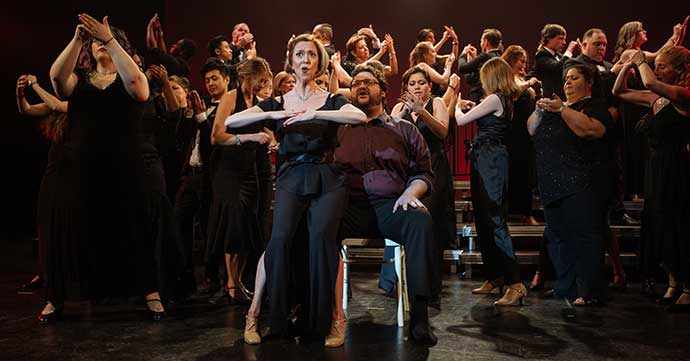 All in all, there were twenty pieces, involving 39 songs. The earliest was the Gershwins' 1938 Love is Here To Stay, and the most recent, The Schuyler Sisters, from Hamilton (2015). Featured highly was the music of the legendary Jule Styne, often in collaboration with Adolph Green and Betty Comden. These four pieces were entitled Let Me Entertain You from the 1959 Gypsy. Another piece getting a lot of stage time was a Once Upon a Mattress medley, with six songs and ten characters.
Among the recent new comers to the group, I was impressed by Susan Lamontagne, who was featured in Circle of Life from the 1994 Lion King.
As a Jacques Brel addict, I was pleased to see his translation of The Quest from Man of La Mancha (1965) into French for his version… reputedly the only time he sang songs other than his own… included in the program.
One half of the show was costumed in elegant black and white suits and gowns, the other half in a splash of colour, red, pink, purple mostly.
Behind every successful man, the joke goes, stands an amazed mother in law. Behind every wonderful chorus, no joke, stands a solid orchestra (well, except for a cappella numbers). In demand pianist Benjamin Kwong was joined bassist Caleb Smith, percussionist Guillaume Pilote, keyboardist Robin Chemtov and busy Jennifer Bell (sax, flute and clarinet).
Speaking of busy, Lyric Theatre Prez Louise Dorais is already laying the groundwork for their wonderful winter annual Candlelight Christmas to be presented from December 7 to 10, 2017.
Hello Broadway closed on June 17. For info on past shows and future or to join the group, contact lyrictheatrecompany.com
Read also It Shoulda Been You
Images: Tam Lan Truong
---
Byron Toben is the immediate past-president of the Montreal Press Club.

---
---