Contemporary Black
Canadian Art at the MMFA
A new exhibition that challenges preconceived notions of Blackness in Canada
The Montreal Museum of Fine Arts (MMFA) invites a reflection on cultural diversity through the exhibition Here We Are Here: Black Canadian Contemporary Art, presented alongside the exhibition From Africa to the Americas: Face-to-face Picasso, Past and Present.
Developed by the Royal Ontario Museum, Here We Are Here: Black Canadian Contemporary Art challenges preconceived notions of Blackness in Canada through the work of eight contemporary artists, to which the Montreal Museum of Fine Arts has added three Montreal artists in its presentation: Sandra Brewster, Sylvia D. Hamilton, Chantal Gibson, Bushra Junaid, Charmaine Lurch, Esmaa Mohamoud, Michèle Pearson Clarke and Gordon Shadrach, as well as Montrealers Eddy Firmin a.k.a. Ano, Manuel Mathieu and Shanna Strauss.
The artists express a multitude of viewpoints on the place of Canadians of African descent. The artworks in this exhibition use current and historical objects, images and ideas to blur the longstanding perception that Black bodies belong on the edge of Canadian history. Though Canada is widely celebrated as a triumph of cultural diversity, dominant narratives have reduced the Black Canadian experience to one of an everlasting immigrant or newcomer. These artists question this by exposing deep historical traces of Black presence in our country. In presenting multiple voices and sensitivities, this exhibition disrupts simplistic and comforting narratives, while affirming the longstanding relevance of Black people to the fabric of Canada.
Here We Are Here: Black Canadian Contemporary Art challenges preconceived notions of Blackness in Canada through the work of eight contemporary artists…
"While our country is proud of its cultural diversity, it remains little celebrated. We are not immune to stereotypes or a truncated history. Audacious and necessary, the exhibition Here We Are Here, to which I wanted to add a Montreal segment, raises several points of view on the length and complexity of our interconnected histories. In it, each artist asserts their rightful place, enriching our common aesthetic imagination."
Nathalie Bondil, Director General and Chief Curator, MMFA
Featured artists
The exhibition title is borrowed from the multimedia installation of New Brunswick's Sylvia D. Hamilton, which is composed of visual elements, objects and suspended twelve-foot wall scrolls. Her work reflects on the history of trade and slavery at the root of the Canadian colonial nation, and unveils simultaneously the material and ideological traces of anti-Black racism in Canada as well as the resilience of Black Canadians.
Ontario artist Sandra Brewster based her work on an old photo of her parents hiking together, monumentalized as giant figures overpowering the landscape. By oversizing this image, she challenges assumptions of Blackness, demonstrating the absurdity of the notion that the Black community is homogeneous.
Chantal Gibson, who lives and works in British Columbia, presents a multimedia installation that addresses the theme of erasure. More than 2,000 souvenir spoons painted black poetically evoke a collective historical experience of Blackness and the attempted reduction of this narrative into a pattern of sameness.
Quebec-native Bushra Junaid, who works in Ontario, uses the image of a 1903 stereo view of children in a Caribbean sugarcane field. The work asks viewers to consider the ways in which Black subjects – in particular, children – have been represented historically and in the present.
Charmaine Lurch presents drawings that capture a young girl's expressions of joy and ease in the landscape. The purposeful line created by the Jamaican-born artist who lives in Ontario describes a fluidity of movement. The figure holds coded poses that mark a sense of belonging, while simultaneously conveying the struggle against being seen and not seen, understood and misunderstood in space and place, past and present.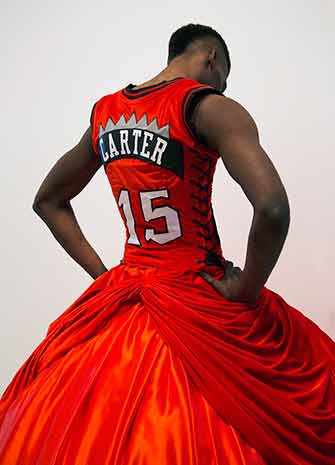 Esmaa Mohamoud explores the symbolism of clothing and creates a wearable sculpture and a monumental photograph that comment on the longer history of exploitation and social control of specifically Black male bodies, from the fields of slavery to the fields of athleticism. This Ontario artist's work speaks to the endurance and resilience of the Black community.
Michèle Pearson Clarke, born in Trinidad and living in Ontario, presents a three-channel video installation focused on sucking teeth – an everyday oral gesture shared by Black people across the Caribbean and its diaspora, including those who live here in Canada. The work is a response to the frustrations of living in the shadow of African-American Blackness, and an expression of the anger and pain that many Black Caribbean people often experience living in Canada, where they are always assumed to be better off, if not completely free of racism.

Gordon Shadrach, from Ontario, presents the painting of a young Black Canadian woman that highlights the complex layering of historical, familial and self-chosen visual cues of the sitter's identities through the codification of her clothing and accessories. As a self-fashioned icon, she represents the multiple facets of contemporary Black women.
At the MMFA: three Montreal artists
Eddy Firmin a.k.a. Ano, through his impactful self-portrait in thoughtfully ornamented ceramic, makes an uncomfortable connection between the slavery of the past and the slavery of today: overconsumption, a force that strips citizens of control of their lives and reduces them to consumers. Firmin, born in Guadeloupe, hopes that the trauma experienced by the Black community in the past can inspire reflection on contemporary Canadian society.
Manuel Mathieu, born in Haiti and living in Montreal, presents a majestic work in memory of his grandmother, the first immigrant of the family to arrive in Montreal from Haiti. The Museum is in fact in the process of acquiring this work.
Shanna Strauss metaphorically represents her ancestor Leti, a larger than life woman who organized a rebellion in Tanzania against its German colonizers. This portrait by the American-born Montreal artist preserves oral memory while reaffirming both the artist's personal history and the important role that women played in the history of anti colonial struggle.
Here We Are Here: Black Canadian Contemporary Art
May 12 to September 16, 2018
Montreal Museum of Fine Arts
Jean-Noël Desmarais pavilion  – Level 3
mbam.qc.ca
Feature image: Esmaa-Mohamoud
Images: courtesy of the MMFA

Read also: 150 Years | 150 Works: Canadian Art as Historical Act
---

Founded in 1860, the Montreal Museum of Fine Arts (MMFA) is one of the first museums in North America to build up an encyclopedic collection worthy of the name. It now numbers over 41,000 works from Antiquity to today, making it unique in Canada. It comprises paintings, sculptures, graphic arts, photographs and decorative art objects displayed in four pavilions. A fifth wing devoted to international art and education was opened in late 2016 to launch Montreal's 375th anniversary celebrations. 
---
---