Love and Spices: Chicken
paupiettes with tahini sauce
A lovely brunch dish for Mother's Day!
Recipe by Monique Singer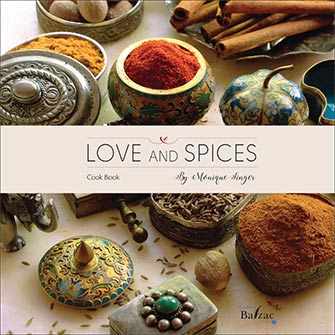 Westmount Magazine is proud to offer its readers sample recipes from Love and Spices, a beautifully illustrated cookbook by Monique Singer. With this new series, you will discover some unique recipes dedicated to cooking with spices, from hors d'œuvres to desserts.
Monique Singer knows how to make people talk, sing and dance spices! From her earliest childhood, alongside her grandmother and sisters, she learned how to create a delicious and original cuisine with her senses, her hands and all her love.
From her family's table to the jet-set parties she has catered in New York, Los Angeles, Venezuela, Spain, Haiti, and Asia, regardless of the set-up, function, atmosphere or style, Monique's food has left its imprint on people's taste buds. Enjoy!
Chicken paupiettes with tahini sauce
I love tahini in almost any dish.
The inspiration for this recipe came from the delectable tahini sauce.
A paupiette is a thin piece of chicken breast (scaloppini), stuffed.
Preparation time: 35 min | Cooking time: 25 min | Preheat oven to 375°F/190°C | Yields: 4 servings
CHICKEN PAUPIETTES
6 chicken breasts, flattened scaloppini-style
8 oz / 225 g fresh baby spinach
8 oz / 225 g package Cremini mushrooms, chopped
6 shallots
¼ cup pine nuts
3 tbsp grapeseed or avocado oil
3 tbsp Dijon mustard
1/4 cup / 60 ml white wine
1/4 tsp nutmeg
1 tsp sea salt
Freshly ground pepper
1/4 tsp paprika for garnish
In a small mixing bowl combine the Dijon mustard, 1 tablespoon oil, 1/2 tsp salt and pepper.
Rub the mixture on the chicken breasts and refrigerate.
Filling
Sauté the shallots with 1 tablespoon oil until translucent, about 10 minutes.
Add the chopped mushrooms and cook for another 5 minutes.
Add the spinach, wine and cook until liquid has evaporated.
Set aside.
Scaloppini
Remove the scaloppini from the refrigerator.
Place about 1 tablespoon of filling in the middle of each breast.
Roll, keeping the seam side down.
In a skillet, sauté with 1 tablespoon oil on high heat, until browned.
Set aside.
Place the rolled scaloppini on a skillet then pour 1 tablespoon of the tahini sauce over each one.
Place the skillet in the preheated oven for 10 to 12 minutes, remove.
Garnish each plate with some tahini and pine nuts, 2 paupiettes per serving.
Drizzle tahini sauce and sprinkle with a dash of paprika and serve.
TAHINI SAUCE
4 tbsp tahini from a jar
1 garlic clove, crushed
1 lemon, juiced
1/4 cup of water
1/4 / 60 ml white wine
2 tbsp olive oil
1/4 tsp sea salt
In a small bowl mix the water, wine and the lemon until smooth and creamy.
Add the garlic, keep stirring, add oil and salt.
Adjust water or salt if needed.
Images: Anne Fillion
Read also: other recipes
---
Monique Singer is a cultural creator now based in Montreal, usually found travelling the world, experiencing other cultures and sharing what she finds most interesting. At the top of her food passion is her attraction for spices, their benefits and the distinctive flavour they bring to all dishes. LinkedIn
---