MaisonP, individual housing
in Le Puy-sainte-Réparade
The simple volumes of the house were designed to marry with the orientation of the land
Via v2com
Located in the village of Puy-Sainte-Réparade, MaisonP nestles in a cosy space boasting dense vegetation on a hillside parcel offering a panoramic view over the Alps. The simple volumes of the house were designed to marry with the orientation of the land. Changes to the natural slope of the hill are thus kept to a minimum and its wild character preserved.
The project is composed of two distinct parts: the main house and a dry-stone outbuilding.
The project is composed of two distinct parts: the main house and a dry-stone outbuilding. The house is built on one and the same level but divided into several units. The ground floor comprises three separate same height volumes: the garage, the entrance/kitchen area and the bedroom/living room area, the latter containing four bedrooms, including the master bedroom. The outbuilding is slightly higher than the house and lies on the north-west part of the land.
The project is divided into two, along a plant-lined canal, transparency enhancing its perspective along the full length of the house. The entry proceeds around a pond.
MaisonP is not a monolith but an architectural composition, structured around empty spaces, in reminiscence of the bioclimatic architecture of Provence.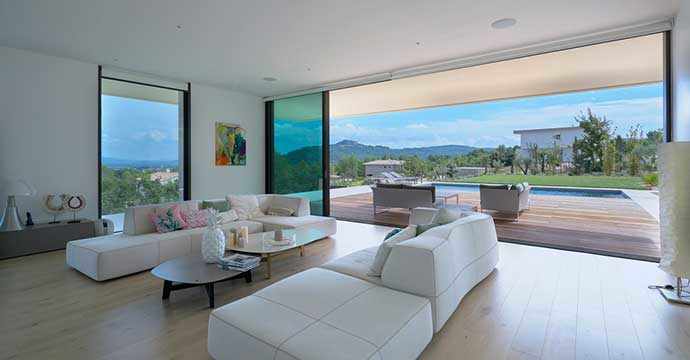 About PietriArchitectes
Founded in 2001 by Jean Baptiste Pietri, graduated from Paris-Belleville architecture school, PietriArchitectes located in Paris has up to about twenty partners. The agency acts especially in Parisian region and South-East of France, with a great diversity of projects. The programs of all types, as well public as private, go to an individual house, an office tower or even a luxury hotel.
The agency claims an architectural approach both demanding and poetic, built and developed around its own philosophy: "the romantic rationalism". This concept connects well a constructive, strict and optimized conception to a precise and meaningful site analysis. The architectures are elegant, soft and timeless.
The material nobility takes a primordial place in the project's conception. This way, PietriArchitectes drew a unique ceramic for the undulating back frontage of La Barquière, a 62-housing program delivered in November 2016 in Marseille.
In 2014, the agency won two awards: a mention at Les Trophées VMZinc in the "2014 collective housing" category for Carré Seine, a housing project in Issy-les-Moulineaux, and "Le Geste d'Or" prize for the rehabilitation of La Major cathedral in Marseille.
In 2016, PietriArchitectes won with two other agencies the international competition for the Rhine embankments renovation in Huningue. PietriArchitectes is also the winner of two other projects: on the side with Linkcity, for a student residence, a hotel and a nursing home conception located in Asnières-sur-Seine, but also with Vinci Immobilier for a housing program in Neuilly-sur-Seine.
For more information: pietriarchitectes on Facebook
Images : Philippe Biolatto
Read also: Ice Shore House: A progressive living home
---
---
---