Montréal en lumière
takes a bite out of winter!
A vast array of activities that will warm-up the city during the cold season!
Hang on to your tuques, because for its 21st edition, Montréal en lumière presented in collaboration with Bell, has prepared a vast array of activities that will warm-up the city during the cold season! From February 20 to March 1, we're taking a bite out of winter!
The return of Quartier Gourmand
More than 15,000 festival-goers visited the site last year! Quartier Gourmand, which is THE home of Quebec gastronomy during Montréal en lumière, is back on the 2nd floor of Maison du Festival, at the corner of Bleury and Sainte-Catherine. Admission is free. Festival-goers will have access to more than 50 activities—they will get to taste terroir products, purchase ready-to-eat meals, attend specially-themed 5-7's (some additional costs may apply), and discover the culinary wealth of Îles-de-la-Madeleine, which will be showcased this year.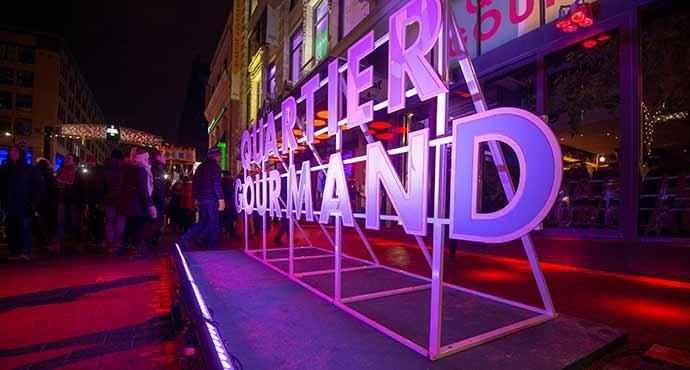 Moreover, a Village Gourmand will be built on the outdoor site, in front of L'Astral. Among other things, it will feature La Nuit du Chocolat chaud, presented by Valrhona for the benefit of La Tablée des chefs, and the Jeu Quiz Gourmand, hosted by Randolph.
Long live the Nuit Gourmande!
The 2nd edition of Nuit Gourmande, presented by Casino de Montréal in collaboration with Air France, will take place on February 22, 2020, starting at 6 pm. Exclusively on that night, more than a hundred establishments — restaurants, bars, bakeries, specialty grocery stores, fish markets, pastry shops, etc. — will remain open late in order to offer unique gourmet experiences to participants on Saturday, February 22, 2020, from 6 pm. to 3 am. (the schedule varies depending on the establishment). Check out the complete programming.
Two inescapable participants: Le Central, located at the corner of St. Catherine and St. Laurent Streets, will offer a wide variety of festive food with 25 different restaurants. Another place brimming with flavours to try: the Time Out Market with its 17 restaurants offering dishes that are as tempting as they are unusual.
Nuit Gourmande is made possible by the collaboration of SDC du Quartier Latin and SDC du Village.
Tons of gourmet activities!
For the first time this year, Montréal en lumière and its major partner Casino de Montréal join forces to create a spectacular culinary event: La Chasse. On February 22, at 7:30 pm. at the Cabaret du Casino de Montréal, high-quality gastronomy will meet state-of-the-art production. The night will end with a dazzling after-party featuring a performance by legendary hip-hop band Nomadic Massive, followed by an exclusive DJ set by Champion. This will be an evening during which all of your senses will be delighted. Tickets, including food, alcohol and entertainment, are on sale here. (Must be 18 or older to participate)
Bistro SAQ is the place to have a nice glass of wine or spirits while enjoying comfort food. New this year: it will be possible to book a table in advance on the website of the Festival.
At Espace SAQ Origine Québec, Montréal en lumière visitors can discover a great selection of Quebec cider cocktails.
At Kiosque Cabral Porto & Douro, an exclusive selection of ports and Douro wine will be served.
The Bar Staropramen and Bar Coors Light will offer a variety of beers on the site.
From February 20 to 22, the 14th edition of Fête des Fromages d'ici will feature 20 Quebec cheesemakers, who will share their unique know-how, at Complexe Desjardins.
From February 28 to March 1, Complexe Desjardins will welcome the Mondial des Cidres SAQ. Cideries from every corner of Quebec will help you discover cider in all of its forms.
Live in concert at Montréal en lumière
Concert presented by Audi:
Franklin Electric, February 21, 8 pm., MTELUS
Opening act: Old Sea Brigade
Montreal collective Franklin Electric toured the world with such artists as Mumford & Sons, Ben Howard, Edward Sharpe, and City and Colour. Last year they released In Your Head, which was recorded in British Columbia.
Double bill presented by RBC:
Shay Lia and Jon Vinyl, February 26, 8 pm., L'Astral.
Montreal-based Franco-Djiboutian artist Shay Lia became known by writing hits for Kaytranada Leave me Alone and Chances. Her debut album, Dangerous, has hit 10 million streams.
Jon Vinyl is a young Toronto artist whose pop-soul songs are both sophisticated and vulnerable, with strummed guitar chords and waving synths.
An electrifying outdoor site!
This year, two new free shows will dazzle festival-goers.
Voltigo RBC: Would you dare to jump into your pool during the winter? The divers from Haut vol and Canadian diver Lysanne Richard ranked third on the Red Bull Cliff Diving circuit in 2019, will do so! Laughs and goosebumps guaranteed as they perform a series of acrobatic feats from up to 25 metres in the air, with only 3 feet of water to stop them. Every evening at 5:30, 7 and 8:30 pm. at Place des Festivals, corner of Sainte-Catherine. At 9 pm., the night continues with the music of the RBC DJs.
Dynamo: specially created for the festival, this fun blend of circus acts, trampoline, and choreography is sure to please you. A breathtaking show for those who defy the laws of gravity! On the Énergir stage, every weekday at 6 and 7:30 pm, and on Saturday and Sunday at 4, 6 and 7:30 pm.
Halte Recettes d'ici
At the Esplanade of Place des Arts, in addition to the iconic slide, the Station Gourmande will offer grilled cheese sandwiches and macaroni and cheese made from local cheese, in addition to several drinks: warm or not, alcoholic or not! Also, the Berlingot mobile du Lait, interactive entertainment, and draws to win treats at the Station Gourmande. Finally, festival-goers can immortalize their visit on Instagram with the giant letters and the #CONCOURSRECETTESDICI hashtag for a chance to win an evening with a chef at home for six people.
Zone sportive RBC
Fun, Olympics-themed installations — ice hockey, curling, diving — will allow you to unleash your inner athlete, individually or as part of a team. Festival-goers can also grill sausages and S'mores over the RBC braziers set up all over the outdoor site.
Érable du Québec Ferris Wheel and sweets
Climb aboard the Grande roue Érable du Québec Ferris Wheel, located in the heart of the Univers de l'incroyable érable, which will once again offer a stunning view of the outdoor site of the festival. Plus at the incroyable érable au menu kiosk, festival-goers can taste drinks, cocktails and delicious bites made from maple, and participate in a tasting game to discover the four colours of maple syrup.
And more…
Festival goers can also activate the Énergir generator to win tons of prizes. Photographers will immortalize the best moments experienced by festival-goers, who can pick up their photos at the Boite à photo Promutuel Assurance.
Hockey lovers can go up against the virtual goalie at the Défi Face-à-Face Tim Hortons, and warm up with the official coffee of Nuit blanche at the Tim Hortons coffee truck.
The Montréal en lumière mobile app, powered by Bell, is back this year! This app will guide festival-goers during their visit, covering all sections: the outdoor site, Nuit Gourmande, Nuit blanche, etc. Available on the Apple Store and Google Play Store.
Luminous installations to discover!
In keeping with tradition, Montréal en lumière will enliven its site with original luminous installations, in collaboration with creators from here and abroad. This year, we can admire the work of renowned artists as well as students, who were inspired by: zoetropes and praxinoscopes, disinformation and post-truth, the daily hustle and bustle, and rainsticks. More details about the seven luminous installations via the link below.
In short, Montréal en lumière is once again offering tons of activities for all ages on its outdoor site!
A green Nuit blanche!
On this leap year, the very popular Nuit blanche will happen on Saturday, February 29, with more than 200 activities across 9 hubs of the city: Quartier des spectacles, downtown, Quartier Latin & Village, Hochelaga, Plateau Mont-Royal, Mile-End, Nord, Old Montreal, and Art Souterrain. Nuit blanche is a great opportunity to hop on the metro and explore the cultural wealth of Montreal: museums, theatres, galleries, bars, shops, and bookstores will join the festivities.
For its 17th edition, the Nuit blanche team presents a green night! Festival-goers will discover many activities showcasing the environment, recyclable/recycled materials, zero waste, the colour green or its homophones!
Nuit blanche, in addition to its major partners — UQAM, Grande Bibliothèque, Montreal Museum of Fine Arts, Musée d'art contemporain, McCord Museum, Musée Pointe-à-Callière, and Art Souterrain — can count on more than a hundred other collaborators, who have proved to be more creative than ever to make this Nuit blanche unforgettable.
Notably, we'll get to admire art at the Canadian Centre for Architecture, Marc Gosselin galleries, Livart; attend original live creations at Ausgang, Société des arts technologiques (SAT), La Guilde, and Phi Centre; enjoy performances at École nationale de l'humour, Cabaret Nutshimit at the Cinémathèque, or the Nuit des 100 improvisateurs.
Nuit magique
Over at Radio-Canada, Jean-Sébastien Girard will be your compère for Nuit magique, a very special program broadcast live from the Salon Urbain of Place des Arts on Ici Première, February 29 from 10 pm to midnight. Join him for this grand celebration of all things audio, in the company of personalities from Ici Première, Ici Musique and our Radio-Canada OHdio podcasts, and enjoy a great lineup of musical performances as well.
It's an inclusive, festive and free extravaganza, overflowing with humour and good times for the most magical of evenings!
Nuit blanche also rhymes with party!
At l'Astral :
070 shake, presented in collaboration with evenko and Greenland. February 29, 8 p.m., L'Astral. The tense, fierce voice of American rapper/singer 070 Shake is among the most distinctive of contemporary rap. She made a name for herself by collaborating with Pusha T and Kanye West.
RapMommies (DJ Kelly) vs Daddy Cool (Eddy King) February 29, midnight, L'Astral. FREE. Montreal's Rapmommies (Dj Kelly), who opened for Loud at the Bell Centre, and comedian Eddy King (Daddy Cool), acting as DJ for a night, will make you dance to the sound of hip-hop.
At Place des Festivals
The party continues outdoors! This year, in collaboration with îLESONIQ, Canada's premier dance party, there will be sets by DJ Tokimonsta and Whipped Cream, at Place des Festivals, from 11 pm to 1:30 am!
This is only a glimpse: Check out the complete programming
Nuit blanche thanks its loyal partners: Ville de Montréal and the Conseil des Arts de Montréal as well as STM with the metro open all night, and Tim Hortons, the official coffee of Nuit blanche.
Getting around
Once again this year, STM is the essential partner of all the trips around the city. The metro will exceptionally be open all night (at the usual rate). The Unlimited evening fare ($5.50) allows you to enjoy unlimited service from 6 p.m. to 5 a.m. the next day.
Twitter @MTLenLumiere
Images courtesy of Montréal en lumière
Read also: Other events and activities in Montréal
---
Montréal en lumière was created in order to boost Montréal's winter tourist season and consolidate its positioning as a cultural, gastronomic and festive metropolis, as well as its title of Festival Capital. The first edition took place in February 2000. The festival stands out thanks to its diversified program combining gastronomy and free outdoor activities. montrealenlumiere.com
---
---