Mount Royal Cemetery event
showcases local artists
Annual exhibition a favourite of artists and art lovers
By Andrew Sarrasin
For an Impressionist to paint from nature is not to paint the subject, but to realize sensations.
Paul Cezanne
The idea of hosting an art exhibition originated during plans to help celebrate the 150th anniversary of the Mount Royal Cemetery in 2002. Our staff was invited to propose ideas for an event that had never been done before in our history. This was to be a one-time event. The idea of an art exhibition was born out of a focus group of which I was a part. It was never envisioned to be an annual event but it quickly became a favourite of art lovers and has remained a standard of our annual events.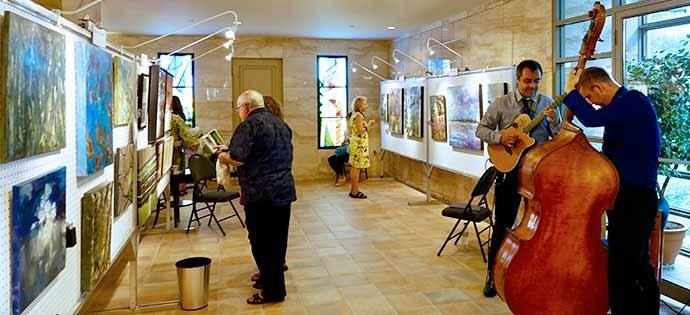 It is a way in which we can help showcase and promote local artists. This year, marking its 18th anniversary, it has become one of the major events hosted by the Friends of the Mount Royal Cemetery. Its longevity is due in large part to the amazing quality of works by artists, and collaborations with artist associations. There is a wonderful mix of music, refreshments, beautiful floral arrangements, wonderful ambiance, camaraderie and energy at the event. This is a unique art exhibition known as the Mount Royal Cemetery Annual Art Exhibition.
This year's theme is Impression, which is quite appropriate in that this exhibition actually is changing the impression people have of cemeteries. The exhibition has evolved over the years and now attracts upwards of 500 people over the two-day weekend. This year, for the first time, we have added three demos by very talented local artists in their favourite artistic styles. So mark your calendars and plan to join us on the weekend of August 24 and 25.

---
Mount Royal Cemetery Annual Art Exhibition "Impression"
Mount Royal Funeral Complex
1297 Chemin de la Forêt, Outremont
Saturday, August 24 and Sunday August 25 from 1 pm to 5 pm
Vernissage: Saturday, August 24 at 1 pm
More information on all Mount Royal Cemetery events can be found at mountroyalcem.com
Images: Susan Ferguson
Read also: other articles about art
---
Andrew Sarrasin is an organiser of the Mount Royal Cemetery Annual Art Exhibition.
---
---