Spring Programming in
the Quartier des spectacles
Get outside and enjoy an incredible variety of free activities!
With the return of the iconic 21 Balançoires/21 Swings on the Promenade des Artistes, spring has finally sprung in the Quartier des Spectacles. After a turn on the swings, Montrealers of all ages can check out the installation Our DNA before a game of giant chess, while workers and other visitors can take a break in the Quartier's "backyard" with Dans ma cour… ç'a du chien ! on pedestrians-only Sainte-Catherine Street throughout the spring and summer. When night falls, the buildings light up with the delightfully colourful architectural projections Synergies and UQAM : 50 ans d'audace. Get outside and enjoy spring in the welcoming Quartier des Spectacles, complete with an incredible variety of free activities!
21 BALANÇOIRES/21 SWINGS AND OUR DNA
Until May 28
For the 9th straight year, be part of a unique cooperative musical experience with 21 Balançoires/21 Swings, an interactive installation that's part street furniture, part playground. As you swing, you trigger musical notes. With multiple swings in motion, a melody emerges. The installation, by Daily tous les jours, lights up after dark.
While visiting the Promenade des Artistes, discover Our DNA by artist and sculptor Patrick Bérubé. The enormous spiral staircase – an iconic part of Montreal's streetscapes – embodies the friendly neighbourhood culture of the city's back alleys. Suspended in the air and loaded with unusual items, the installation evokes the DNA double helix, reminding us that our differences are what shape our collective identity.
UQAM : 50 ANS D'AUDACE
Architectural projection
Until May 19
To mark the 50th anniversary of the Université du Québec à Montréal, HUB Studio has created a tribute to the university with an architectural projection comprising seven vignettes linked by a common theme. The work was premiere on April 9, the anniversary of UQAM's inception.
SYNERGIE
Architectural projection
Until June 2
You might already be familiar with Synergie, the photographic installation on a wall at the corner of Marquette St. and Mont-Royal Ave. Creators Patrick Dionne and Miki Gingras have adapted it for the wall outside Saint-Laurent metro station, where it comes to life. Synergie explores the concept of a neighbourhood as a territory – a space we share with a group with which we identify. The projection depicts the everyday activities of Plateau Mont-Royal residents, illustrating the many different kinds of energy that embody the dynamism and atmosphere of a cosmopolitan neighbourhood.
SAINTE-CATHERINE STREET FOR PEDESTRIANS ONLY
Until September 24
Visitors will enjoy Sainte-Catherine's summer layout, with no vehicle traffic between De Bleury St. and Saint-Laurent Blvd. Take a refreshing break by the fountain in Place des Festivals.
Game enthusiasts: come challenge your friends or a stranger to a game of chess on one of the giant boards. There will be two tournaments this year to maximize the fun.
DANS MA COUR… Ç'A DU CHIEN !
Until May 29
For its second season, this quirky and original installation inspired by Montreal backyards returns to bring a whimsical touch to Sainte-Catherine St. Comprising several fun rest and picnic areas, Dans ma cour… ç'a du chien ! will be the perfect spot to enjoy an al fresco meal or bask in the sunshine. This year, meet the silly, colourful and very kitschy dogs, each with a funny story to tell. The installation is the brainchild of artist and multidisciplinary designer Mélanie Crespin.
---
COMING TO THE QUARTIER IN MAY
More spring and summer activities are coming soon to the Quartier des Spectacles, before summer festival season:
Pouzza Fest
May 17 to 19 
OFFTA
May 24 to June 2 
Le Festival TransAmériques with the dance show Innervision from Martin Messier
May 29 to June 1 
Les Jardins Gamelin
May 30 to September 29 
---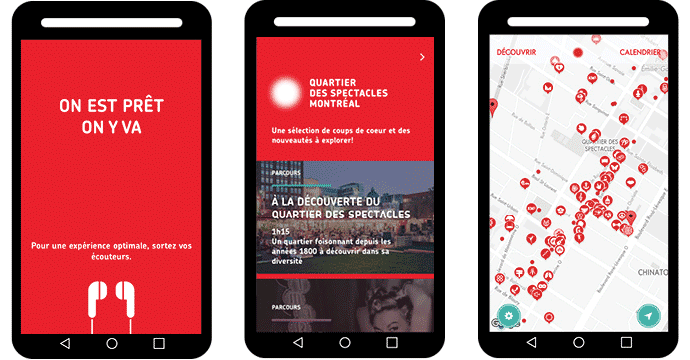 DISCOVER THE QUARTIER WITH THE MOBILE APP
Whether you're a regular or a first-time visitor, the Quartier's mobile app is brimming with interesting original content to help you discover the many facets of Montreal's cultural heart. The app covers everything from the Quartier's colourful history to the exceptional individuals who continue to shape it. There are also numerous themed walks through the district. Let the built-in map guide you through the Quartier's cultural venues and points of interest, and use the shows and events calendar to plan your outings.
More information at quartierdesspectacles.com
PROMENADE DES ARTISTES
Until May 28
21 Balançoires/21 Swings
Sunday to Wednesday: 10 am to 11 pm
Thursday to Saturday: 10 am to midnight
In case of rain, the swings will be closed.
Our DNA
Open at all times
FAÇADE OF PAVILLON PRÉSIDENT-KENNEDY
Until May 19 
UQAM : 50 ans d'audace
Thursday to Sunday: sunset to 11 pm
SAINTE-CATHERINE ST.
Until May 29
Dans ma cour… ç'a du chien !
On Sainte-Catherine St., between Jeanne-Mance and Saint-Urbain and in Place des Festivals
Giant chessboards
On Sainte-Catherine, between Jeanne-Mance and Saint-Urbain
Noon to 8 pm daily
Tournaments:
Saturday, May 18 and Sunday, May 26
Free registration on-site.
Open to all!
SAINT-LAURENT METRO
Until June 2
Synergie
Thursday to Sunday: sunset to 11 pm
---
Stay up to date by visiting quartierdesspectacles.com and Facebook
Images: Quartier des Spectacles
Read also: Montreal to welcome a new city museum
---

Montreal's cultural heart, the Quartier des spectacles offers the largest concentration and diversity of cultural venues in North America. It is animated all year round by a large number of festivals and events, which include a large amount of free outdoor programming.
---
---