Shoebox Project
a Westmount tradition
Local chapter of North-American movement offers good will to women in need
By Cynthia Grahame and Kathleen Roger
This year's edition of the Shoebox Project is well underway. The project focuses on providing a gift to women who are currently using shelters in the Montreal area. Katherine Velan and Debbi Jardine have actively grown this chapter of the Shoebox Project across Montreal for the past 12 years. It started off as a small party making 30 boxes in Katherine's home and has grown into a community project. This year, the group aims to assist over 1,700 women in 34 different shelters across the Island of Montreal. These shelters provide services to women who are dealing with issues such as homelessness, addiction, abusive relationships, teen pregnancies, and mental illness.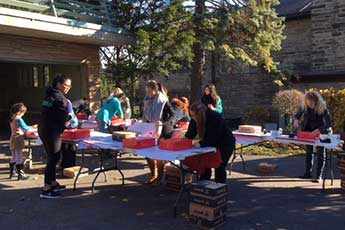 The making of the shoeboxes takes several months from start to finish. A team of dedicated volunteers, who primarily live in Westmount, plan and execute each step, right up to the delivery of the gifts to the shelters. These volunteers reach out to the shelters to determine their needs, coordinate with schools and volunteers, liaise with donors and foundations, and contact companies who donate products to make and fill the boxes. The workshop is at a home in Westmount and we are lucky to have the help and the ongoing commitment and generosity of the owner. Starting in October, groups of students come in to do their community hours for school. The students are from local schools including The Study, Trafalgar, LCC, and Loyola. Along with other volunteers, everyone helps prepare the donated items, write supportive messages, fill the boxes and even wrap the gifts. This year, the group prepared 1,100 boxes and will continue until the last delivery is made in early December.
A team of dedicated volunteers, who primarily live in Westmount, plan and execute each step, right up to the delivery of the gifts to the shelters.
Our community volunteer list continues to expand and includes corporate involvement and community volunteers, who also take part in the project. Several community members continue to host private events such as dinner parties or a book club shoebox party. We added a coordinator who provides support to companies who wish to hold team-building events to support the cause. These valuable contributions help the Shoebox Project support the shelters and brighten up the holidays for the women who receive these gifts.
Each shoebox contains several necessities such as 2-in-1 shampoo/conditioner, body wash, toothpaste, toothbrush and deodorant as well as warm items like socks, gloves and a hat. Little luxuries such as a tea package, hot chocolate pouches, nail polish, makeup, hair ties, brush or comb, body or face cream, chocolates, $5.00 gift card for coffee, a bus ticket or movie pass help to make the woman receiving the package feel special and beautiful. It is also nice to include a personal note or card to let these women know that they are not alone and are being thought of and supported by their community. The total value of a box is approximately $50.00.
Last year, we were grateful to receive 480 boxes from our surrounding communities. This year, we need 600 additional boxes. We have drop-off centres at Victoria Hall as well as the West Island and NDG YMCAs. Completed shoeboxes may be dropped off at any of these locations up until December 8th. We have delivered 1,100 boxes to shelters in November and would like to share some of the feedback we received in response to our community's generosity in previous years.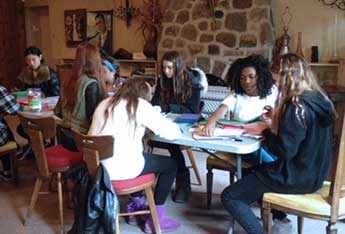 St. Michael's Mission: "Thank you so very much for including St. Michael's Mission. Though not many women pass through our doors, the 12 or less are extremely happy with such a thoughtful box of goodies and pretty scarf or pin as well as the personal hygiene products just for a woman. You are all to be congratulated for your kindness, respect for the client, generosity and good will. Thank you on behalf of the women from St Michael's Mission."
'…when the women in need open those magic boxes, it is a ray of sunshine and hope that comes out of their box and that they see first.'
Le Chaînon
Le Chaînon: "To all the wonderful people involved with the Shoebox project, please never forget that when the women in need open those magic boxes, it is a ray of sunshine and hope that comes out of their box and that they see first."
"The women loved the boxes and all of the items in them. A few of the women were ecstatic as they have never received or owned a bottle of perfume. They loved the makeup, chocolates and body care products. … I personally have worked the holiday for the past seven years and this year was one of the most successful. The women were shocked to see that women in the community cared enough to put such wonderful things together for them."
For more information about The Shoebox Project, to get involved with us, or to make a donation to help make the boxes, kindly visit the Montreal Chapter at shoeboxproject.com/montreal or email at sbpvolunteers@gmail.com
The Shoebox Project, sponsored by Dream, has grown into a North American movement with over 300 chapters across Canada and the United States. The organization has its national office in Toronto.
We would like to extend our gratitude and thank all the students, volunteers, companies, foundations and the community for their ongoing support and generosity in helping women during this time of year. Happy Holidays!
Images: Miranda Mok (unless specified otherwise)
Read also: Ringing the bell for victory over cancer

---
Cynthia Grahame and Kathleen Roger are Westmount residents and have been contributing members to the Shoebox Project for a number of years. Helping the community and making a positive impact is an important aspect of their volunteer work, especially in terms of women's issues.
---
---